The time is a painter too… – says Bogdan Czesak poetically, a Cracovian art conservator who claims that his job – despite being rather difficult and demanding – gives him a lot of joy. Currently, Bogdan and his team are starting to work on renovating the main altar in the St. George parish church in Wilkanow, made by Michael Klahr Senior from Ladek Zdroj.
See photojournal of the meeting with the artist >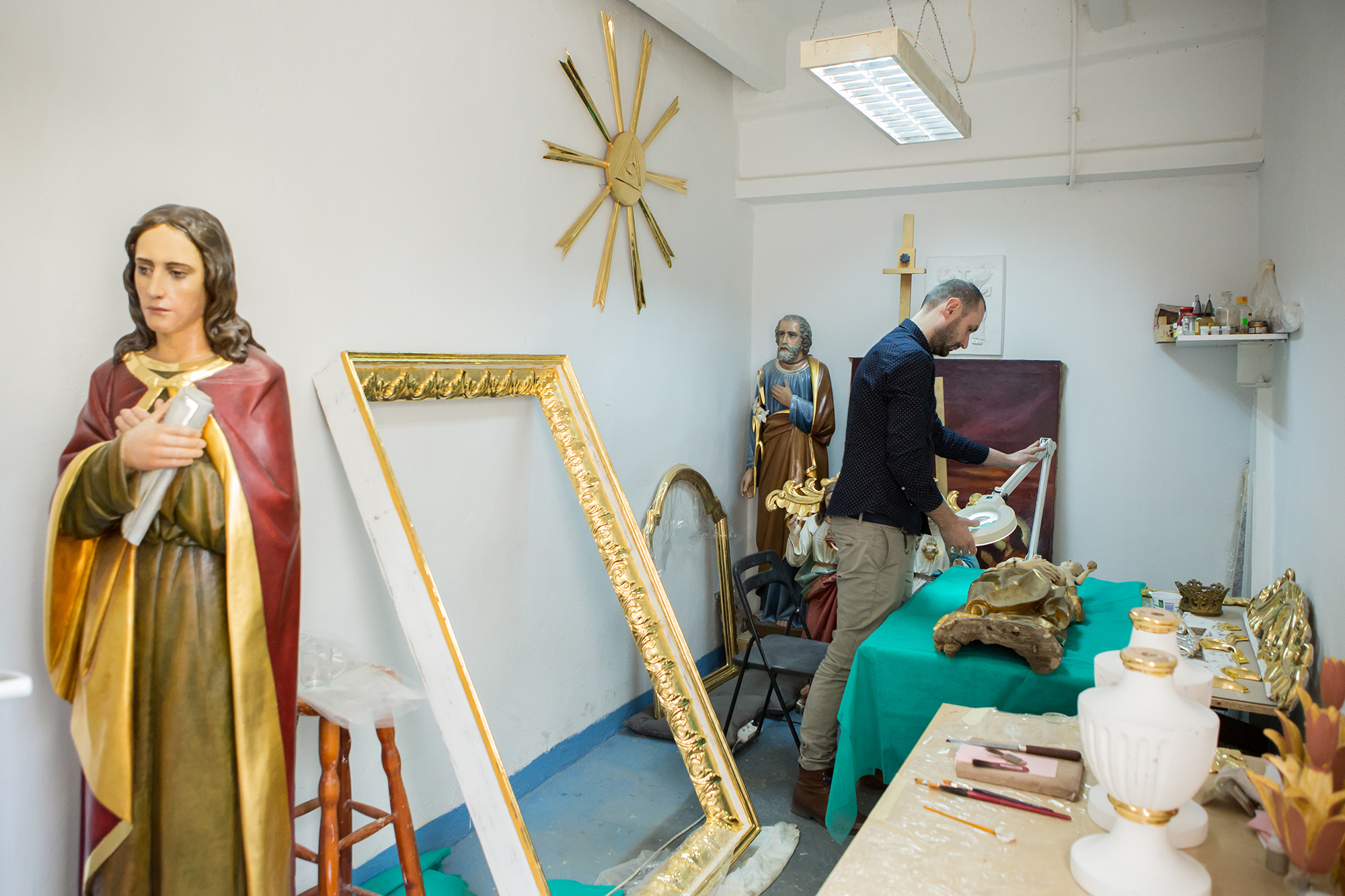 Rzeczy Piekne: You're an art conservator and a sculptor. You also do designs, ceramics and medals, which surely helps you in expressing yourself in various areas of art. But today, let us focus on art conservation – as the field of work of your choice.
Bogdan Czesak: I've once heard that 'the best art conservatory work is the one that you cannot see the conservator in' and I think there's some truth in it. During the conservatory work you often have to be moderate in purely creative actions because there's always a temptation to add something more from yourself. But this 'something more' is not always good in the art conservatory job. I try my best to separate my own creations from the art conservatory works.
What's the most important thing for you in the profession that 'reanimates', rescues the relics of art?
BCz: It's a hard question. I think that art conservation is an interdisciplinary job and you have to look at an object from multiple perspectives. It's important to get to know it, not only from the purely artistic side but also to learn about its story. You have to look closely at every modification it's been under, get to the points in history it's related to and only then, with the full knowledge about the object, you can approach it professionally.
And that's the most important thing. We have to remember that the objects have their own life and story, that they were modified a lot because of various reasons. The elements that had been once added (like the added crown of Holy Mary) are also adding to a history of the object as the time passes, therefore erasing traces of conservatory work to reveal the original piece is not always justified.
Today I heard someone from the art conservation environment saying that a good art conservator is also an artist who can skillfully convey their artistry in the work. Someone answered to that: 'It's not true, a good art conservator must be a good craftsman'.  Do you think a good art conservator should be a good craftsman?
BCz: I think that separating an artist and a craftsman is kind of difficult to do here. Can't a craftsman be a good artist? Maybe. I don't want to go all megalomaniac and claim that I'm a good artist, but one doesn't cancel the other, that's for sure.
Why did you choose this job, what struck you about art conservation?
BCz: It's the hardest question for me to answer because, truth to be told, art conservation has always been alive for me, it's been close to me. Since I was a little kid I was around people who worked in this field, which gave me an opportunity to watch their job. I think it's what made me take this path, because looking at a conservation studio through the eyes of a young boy, itwas extremely captivating. It wasn't all about being fascinated by beautiful artifacts, but by the whole lab, the varnishes, mixtures, smells that blended together there… The atmosphere and magic of the place, watching how to lay gold, how sculptures are made and how to polish them – it all stirred my imagination. That's why I decided to become an art conservator – a modern alchemist.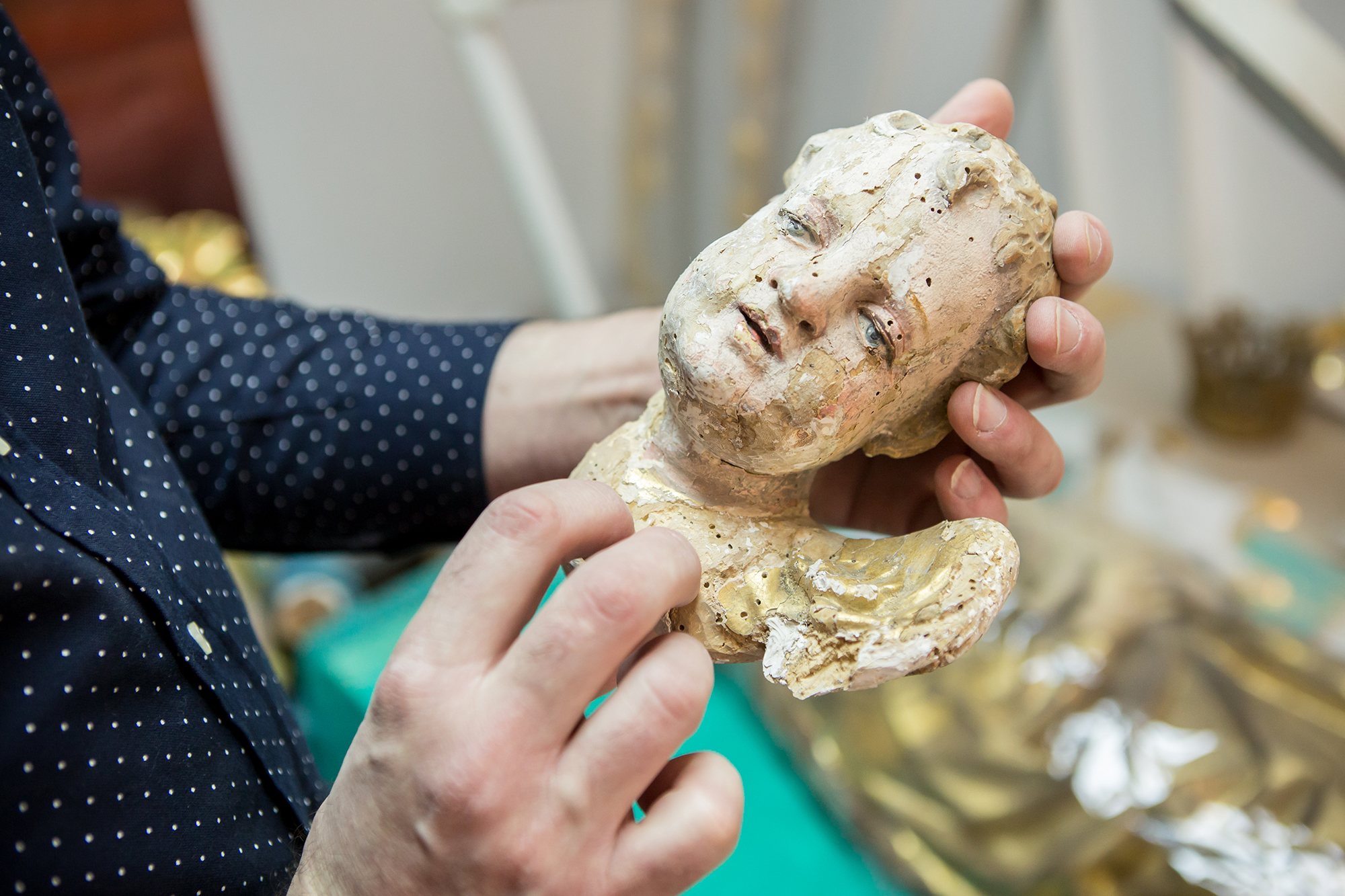 You're specialized in sculpture conservation but you also renovate polychrome. Which one is more problematic for you when it comes to renovation?
BCz: I'm currently on a project of preserving a polychrome wall in a church in Lubcza, which had been completely repainted in 1970s. We removed the repaint and, to our surprise, it revealed quite a wide range of well-preserved polychrome. It's a polychrome of figural scenes on a pretty good artistic level.
But when it comes to difficulties with polychromes in churches then I think any object is a hard one, every one is different, has its own specifics. The most problematic thing about polychrome is the need to separate layers of a repaint job. It's a serious challenge because you have to pick the tools that are not going to damage the original layer but reveal the primary one. Usually it takes many trials before the actual work starts.
It's a long process.
BCz: Yes, it's very time-consuming. Often, it takes up half of the time of the work. A job must be done humbly, with precision and attention to every millimeter of the original work. It's a very painstaking process but it brings great satisfaction, like revealing repainted polychromes in the church in Lubcza that I mentioned before.
What sorts of objects end up in your workshop most often? What state are they in?
BCz: The objects that end up in my workshop are in various states. They're usually altars and polychrome wooden sculptures. It's obvious that the preservation state of those from 19th century is, or should be, way better than those from 17th or 18th century. But it's not a rule. A lot depends on a place, how were they presented or secured. The biggest disappointments might occur even on the initial stages of work, when getting rid of the top layers. Things that seemed to be in a decent state turn out to be damaged by time, various pest or incompetent conservatory work from previous years.
Have you ever laid your hands on an object from 16th century?
BCz: Yes, and even older ones, like artworks from Late Gothic period. They're in many different states because of how they were preserved. Working on them is a huge challenge but it brings a lot of satisfaction.
Is it true that you're especially interested in religious sculpture?
BCz: It's true, 99% of the objects that end up in my workshop are from churches, which are in the so-called cult. It's another one of the conservator's hardships, because these objects are still in use in churches so they need a special treatment. Artworks that go to the museums or private collections don't usually have to be conserved in an esthetical way, so we can finish at the technical stage – to fix the relic's substance and present it in the state it had been in till this day. In the 'cult' objects' case, they usually – but not at all times – have to go under conservatory and renovation works, or technical and esthetical conservation. Why? Because it's hard to present a painting of Holy Maryin a church, if she only has half of the face.
Can you say that an esthetical conservation = a complete conservation?
BCz: Strictly speaking, or using specialist words, art conservation divides into technical and esthetical. Technical conservation would be preserving an object, stopping the damage process, 'stabilizing it', meanwhile renovation would be restoring esthetical values ofan object ? It means that restoration is the main point when it comes to religious objects.
Do you remember the one object that was the hardest for you?
BCz: Every object is hard. To be honest, I had difficulties with every one of them. I can't remember which one was the worst, the hardest, because I think the ones that I worked on had been through a lot and have their own stories.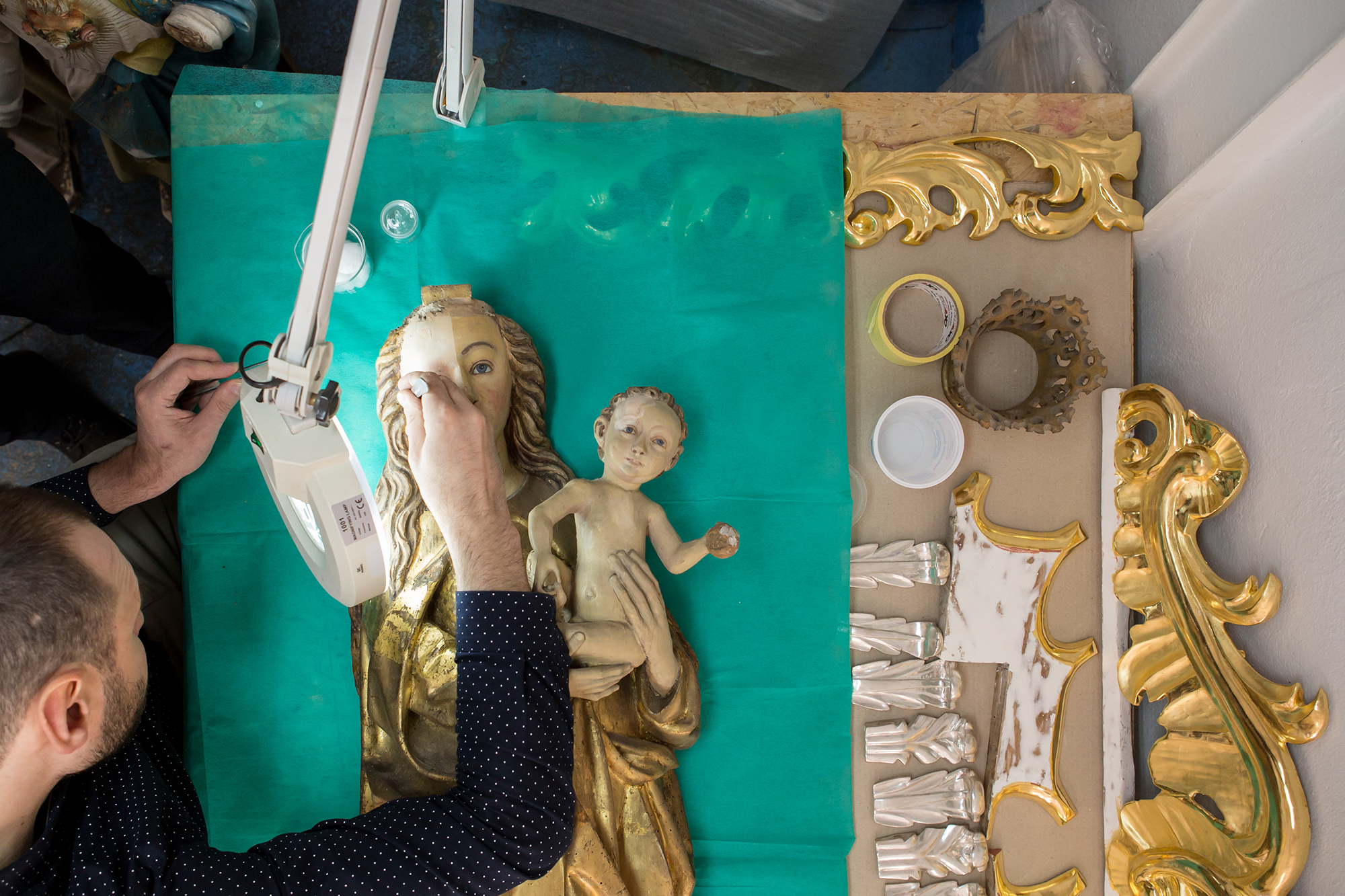 Recently you've been working on an amazing statue of Holy Mary from Wilkanow, dated for year 1510. How did that beautiful sculpture end up with you?
BCz: Speaking frankly – I spotted that Holy Mary myself ? Few years ago I went to Lower Silesia [pl. Dolny Śląsk] because I was asked to prepare a program to work on a pipe organ in Nowy and StaryWaliszow. During that time I went to look around the village. Lower Silesia is really captivating, it's a beautiful place, and the Klodzko Valley [pl. Kotlina Kłodzka] is the focus point for beautiful objects and amazing landscapes. I stumbled upon a church in Wilkanow (St. George parish church) and it left a huge impression on me, especially its main altar, quite unusual, not very architectural, made by Michael Klahr Senior from Ladek Zdroj. Soon we'll be working on a conservation of the object, as we managed to get resources from Ministry of Culture and National Heritage (MKiDN). The church, like many churches in Lower Silesia, is overwhelming in its sizefor a small village like that. It has beautiful rococo furnishing. Having a look around the church, in one of the side naves' Neogothic pseudo-closet, I noticed the statue of Madonna that desperately needed some conservatory attention. It was in a catastrophic state in some parts, there was wood dust coming out of the holes, which means that superworms had been very active. And what did I love about it? The little Jesus' hand holding his big toe.
I immediately took action and contacted the parson of the church because the object needed to be saved straight away. I was convinced, almost sure, that we can do it ? The priest, very nice and kind person, liked my enthusiasm. We also managed to get resources from Voivodeship's Conservator in Wroclaw to conduct a full conservation of the statue and that's how it ended up in my workshop.
What a beautiful story ? Is a job of an art conservator hard for you?
BCz: Yes, I think it's a hard job. On the other hand it's difficult for me to say what's easy and what's hard. I think everything in life is hard, if one's approach is serious and honest. It's just one of many jobs, rather difficult, demanding, but bringing a lot of joy.
What personality traits come in useful in this kind of job?
BCz: I would say intuition. Skills too, of course, but you need intuition and respect to the objects. Keeping in mind that the time is a painter too and it's not alright to remove it alljust like that. Manual skills are a must, because we are working with techniques that are historical, that only art conservators are using anymore. Decorative techniques are being put to the side, gliding, polychromic wall works are on the margin, almost gone, so… it's very important.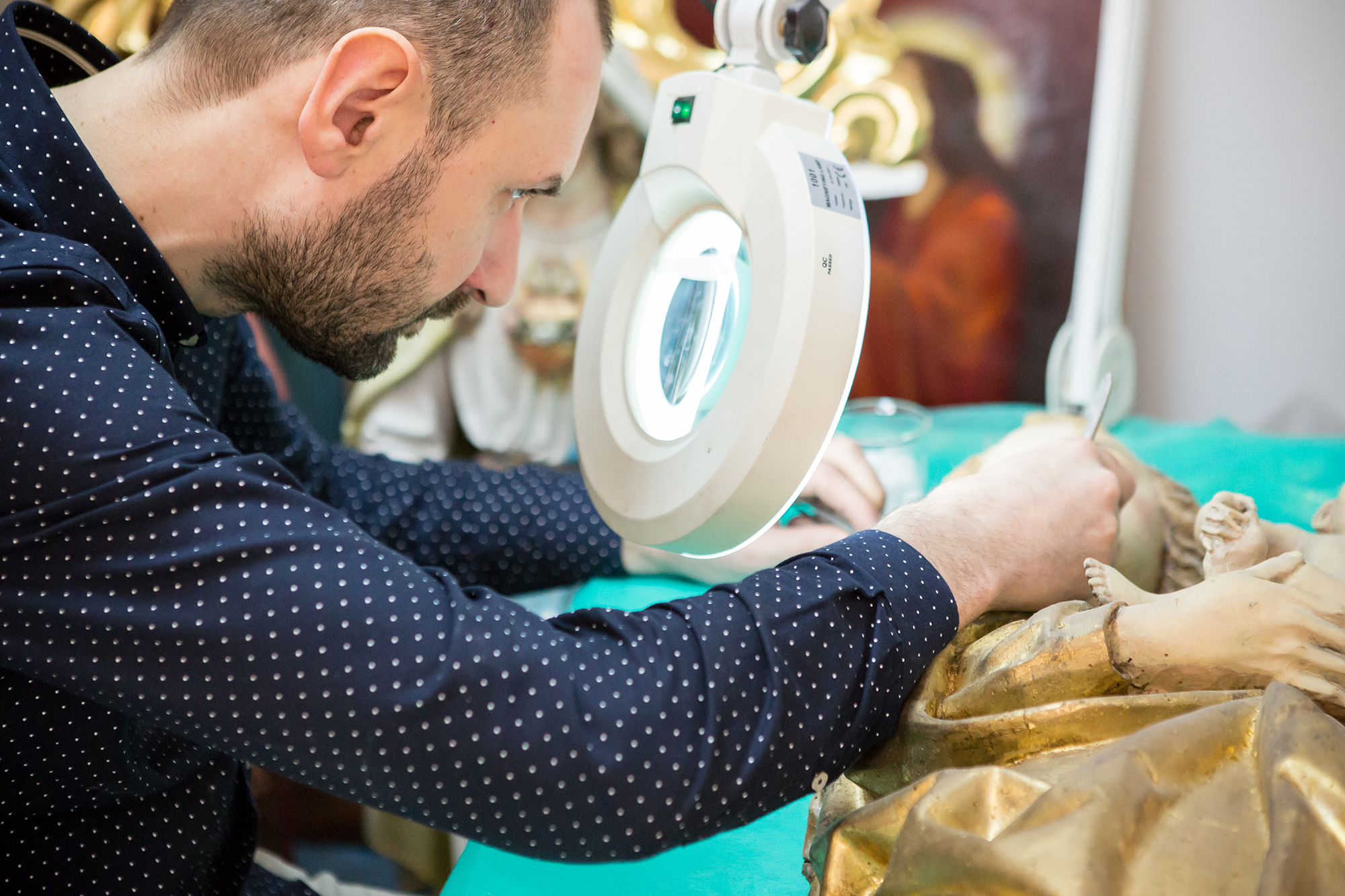 What about patience?
BCz: Yes, you need it in this profession. Working on an object takes up a really long time, and it extends over time. Some of the objects are being finished after two years and only because of deadlines and other responsibilities. And you know that there are many things in this job that you can't rush with. The time is crucial in the process. You cannot hurry with decision making or other actions. It's just like in real life when you grow to make some decisions – you need to grow to make decisions in the conservatory activities. It's important to do a research: looking at an object in a daylight when we start to analyze it, slowly removing the layers that are a repaint job, dirt or dust… And the artwork is always showing us new things, and we discover these all the time. That's why some of our initial ideas about the work can change throughout time. It's a long process that requires time and patience.
How does the situation of an art conservator look like nowadays in Poland? Is there anything you would improve?
BCz: Yes, definitely. For example the grants are admitted on a given year and have to be settled at the end of the year. It's a strict official deadline and all of our tasks must be done by that time.
How would you change these rigid obligatory rules that affects your work?
BCz: You could divide the conservatory process into stages. There is some work that pops up during the process and, although it was included in the initial plan, sometimes it requires an extension in time. Unfortunately, the time frame stated in the grant rules are rigid. So we have to finish the job in the calendar year to be able to settle the grant. It's the biggest problem for me right now. The battle with time.
Do you think that Polish art conservators are going to have a lot of work in the future? Would you recommend the profession to young people?
BCz: Yes, of course. There will always be a demand for art conservation as a profession. The technologies and materials are changing. Our thinking is changing. Conservatory works from fifty, twenty years ago don't stand the test of time. So we're dealing with the so-called 're-conservations' – updated conservations. We cannot stop things from getting old.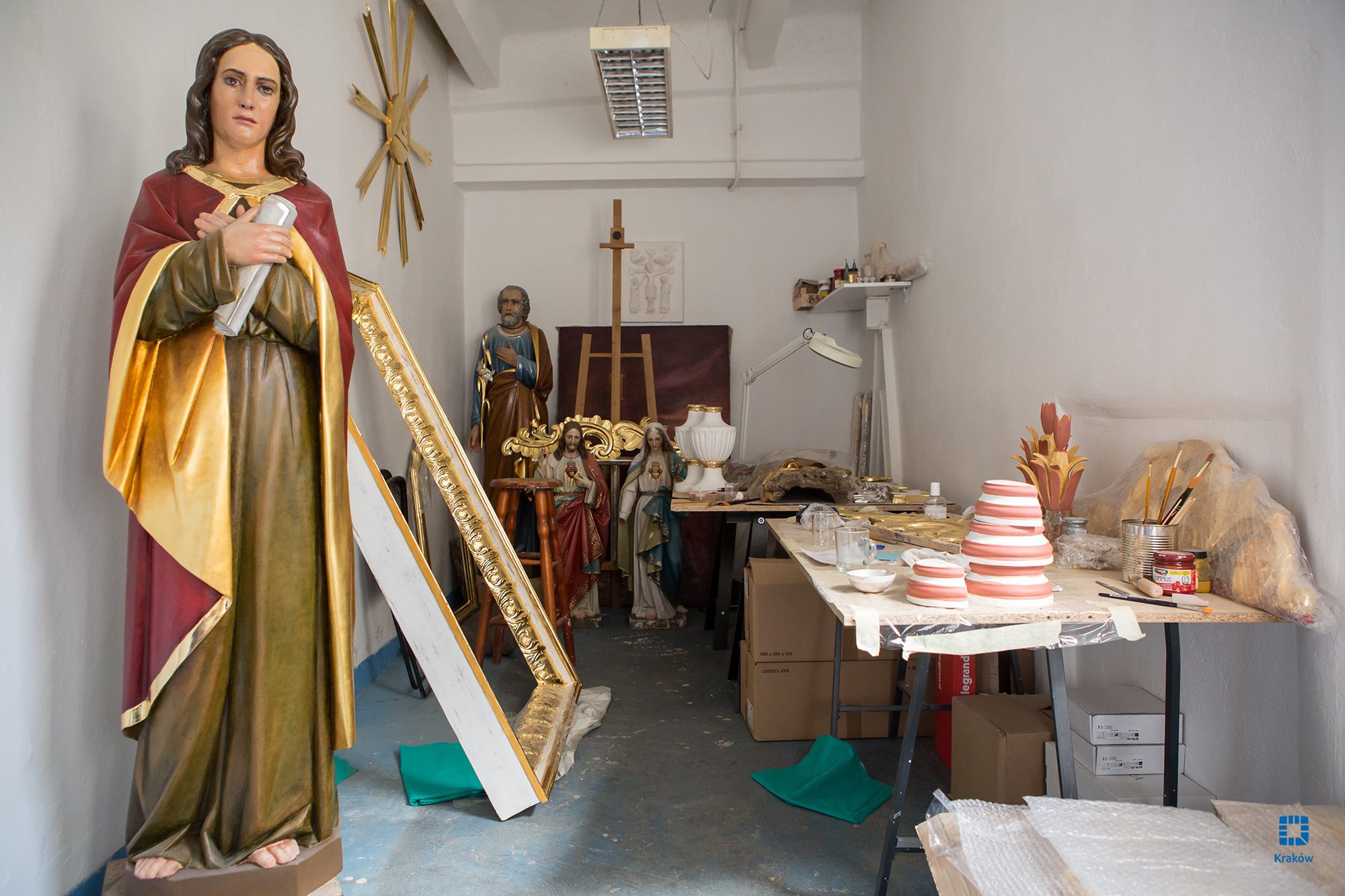 What are you working on right now?
BCz: We're currently finishing working ona conservation of a polychrome wall in the Sacred Heart Church in Lubcza, Lesser Poland (the Tarnow diocese) and we're starting to work on the main altar in the church in Wilkanow. It's the piece of work of the greatest Late Baroque artist from Lower Silesia, Michael Klahr Senior from LadekZdroj. And it's remarkable – just like most of his work that preserved to this day.
How many people are working with you in Wilkanow?
BCz: There will be three people in Wilkanow. There's a ten people team in Lubcza though, we want to have the job done as fast as we can.
Is there any project you dream about that you would like to take?
BCz: I would like to find more time formaing my own art.
Do you have any other passions or interests, beside art?
BCz: I would say travelling, but it's also work-related. And I charge my 'batteries' in Spain 🙂
---
Interview from June, 2019.
Interviewer: Joanna Zawierucha-Gomułka / Rzeczy Piękne
Photos: Bartosz Cygan © Rzeczy Piękne
Translator: Dagny Zawierucha
---
The project is financed by 'Stypendium Twórcze Miasta Krakowa'