Anna Kaszuba-Debska is an inherent part of the artistic enviroment of Cracow [pl. Kraków]. She's a painter, director of animated films, author of art installations, children's books illustrator and a writer. She is constantly experimenting, initiating new things and coming up with artistic strategies for them. She's fulfilling herself in various art fields, and yet she admits that painting is the closest to her heart.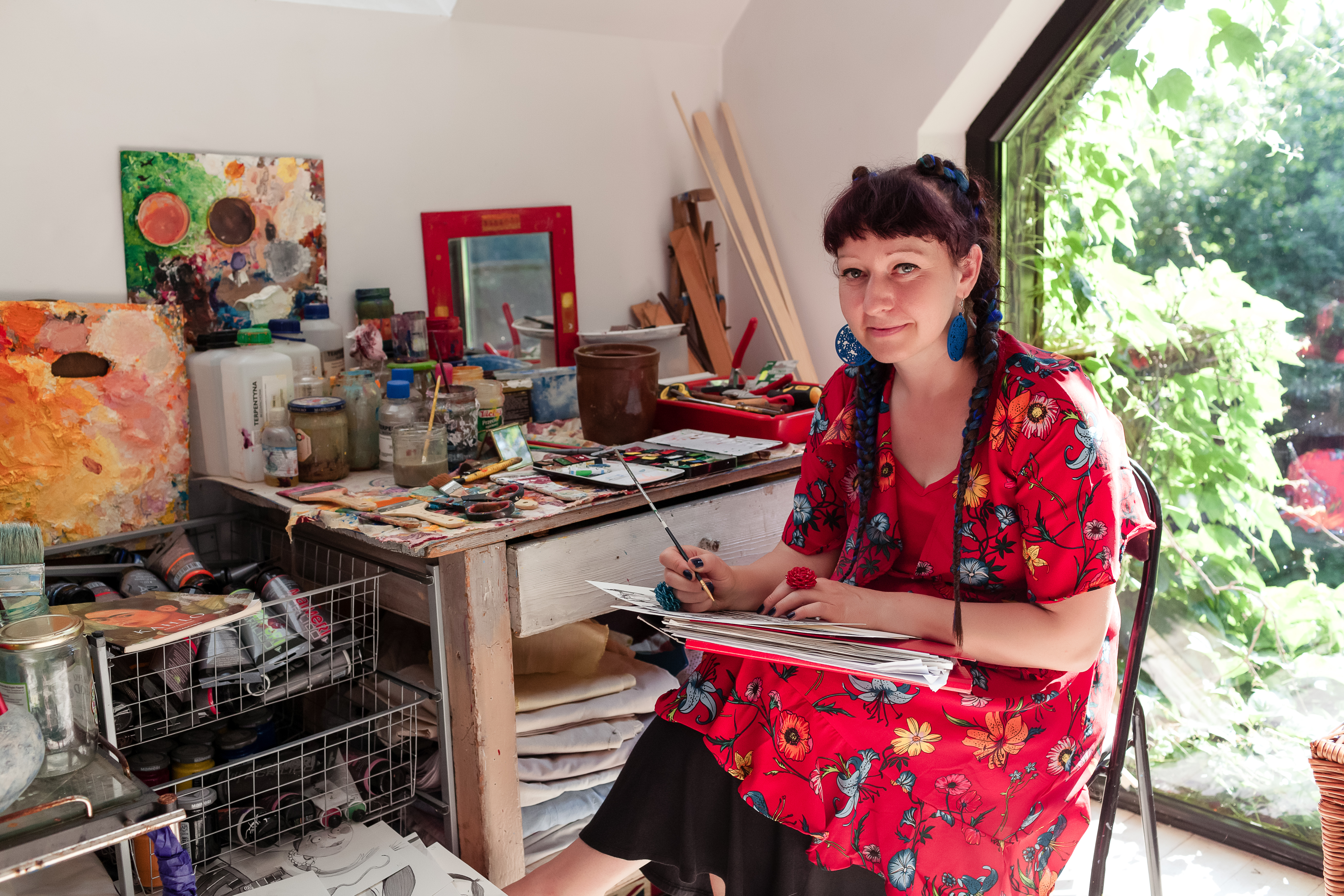 Lately you've been very busy with your newest book about Bruno Schulz. Tell us please, how did you carry out a dialogue with the artist? What were the results of your research on his dark graphics and drawings? Tell us a little about the work of the writer and documentalist, all in one person.
Anna Kaszuba-Debska: Indeed, I got completely caught up in work on the biography about Bruno Schulz in the past few months, so it may have been difficult to reach me. I was writing several hours a day, everyday, including the weekends. It was hard to schedule an appointment with me, and it was even harder to actually meet me. I left the city for the whole winter and spring, I locked myself out with books, albums, notes, pictures, notebook, the Internet and my own thoughts. The result of the writing is million and three thousands letters, that make up my book about Bruno Schulz. What will eventually turn out from it depends on the editor and publisher. For now, I know that it will be shorter, which is understandable, as my writing is so extensive. Working on the biography of Schulz wouldn't be possible without former several years of detailed research, of course. I admit that my personal immense fascination about the artist, that has been there since my childhood, was essential. I started gathering materials in 2010, when I took up work on my dissertation, and for the first time I travelled to the mythical city of Schulz – Drohobych, which, at that time, seemed to be a place full of magic, incredibly charming place.
You're asking how did I carry out a dialogue with the artist. I think that I've been having an artistic dialogue with him for years, first in 2012 when I initiated the social-artistic project of mine, 'Szpilki' [eng. high heels], then in 2015 when I continued his ideas in the next artistic activity – the project 'Emeryty' [eng. retirees]. In both cases, the actions were inspired by graphics and literary works of Schulz. The core idea was to juxtapose two beings, two worlds: the one that exists and the one that doesn't, what passed away and what goes on. Now, after writing the biography of Schulz in terms of those artistic Schulz-about actions, I think (and answer your question at the same time) that I became aware of Schulz' dualism at almost every level of perception of him and his work, both graphics and literary one. I felt this tragic longing for experiencing a different time and space, being here and somewhere else at the same time, being yourself here, and desiring to be someone else there. Just like in Schulz' short story 'Mr. Charles' [pl. Pan Karol, from 'The Street of Crocodiles' collection], when uncle Charles comes out through the door with his head down, while in the room that he's leaving there's someone with their back always turned, moving in the opposite direction, into the depths of a mirror. That someone is going, as Schulz says, 'through an empty enfilade of rooms, that have never existed'. It seems like it's him, uncle Charles, still the same, but actually it's someone completely different.
Working on the biography of Schulz was hard and fascinating at the same time. As a painter, I mainly wanted to introduce Bruno Schulz – the painter, then Bruno Schulz – the writer, as he's generally known amongst people. The paradox is that he spent his whole life persistently seeking to be called a painter, and yet, after his literary debut, he was named a great writer. I think that my appreciation for beauty allows me see some things from a different angle than critics or scientists. The biographer is some kind of detective: you have to constantly browse the archives, literary subjects, look for connections, find new clues and connect the dots. I personally enjoy the thrill of discovering something that (at least I think so) no one has ever done. It was the same with my fist Schulz-about book, titled 'Kobiety i Schulz' [eng. women and Schulz], released in 2016. To discover something, though, you first need to dig through thousands of documents, countless archival materials, and, before that, spend some time on getting them, then read them, organize and translate to the new language, the literary one, the one that's I interesting for – I hope – the reader.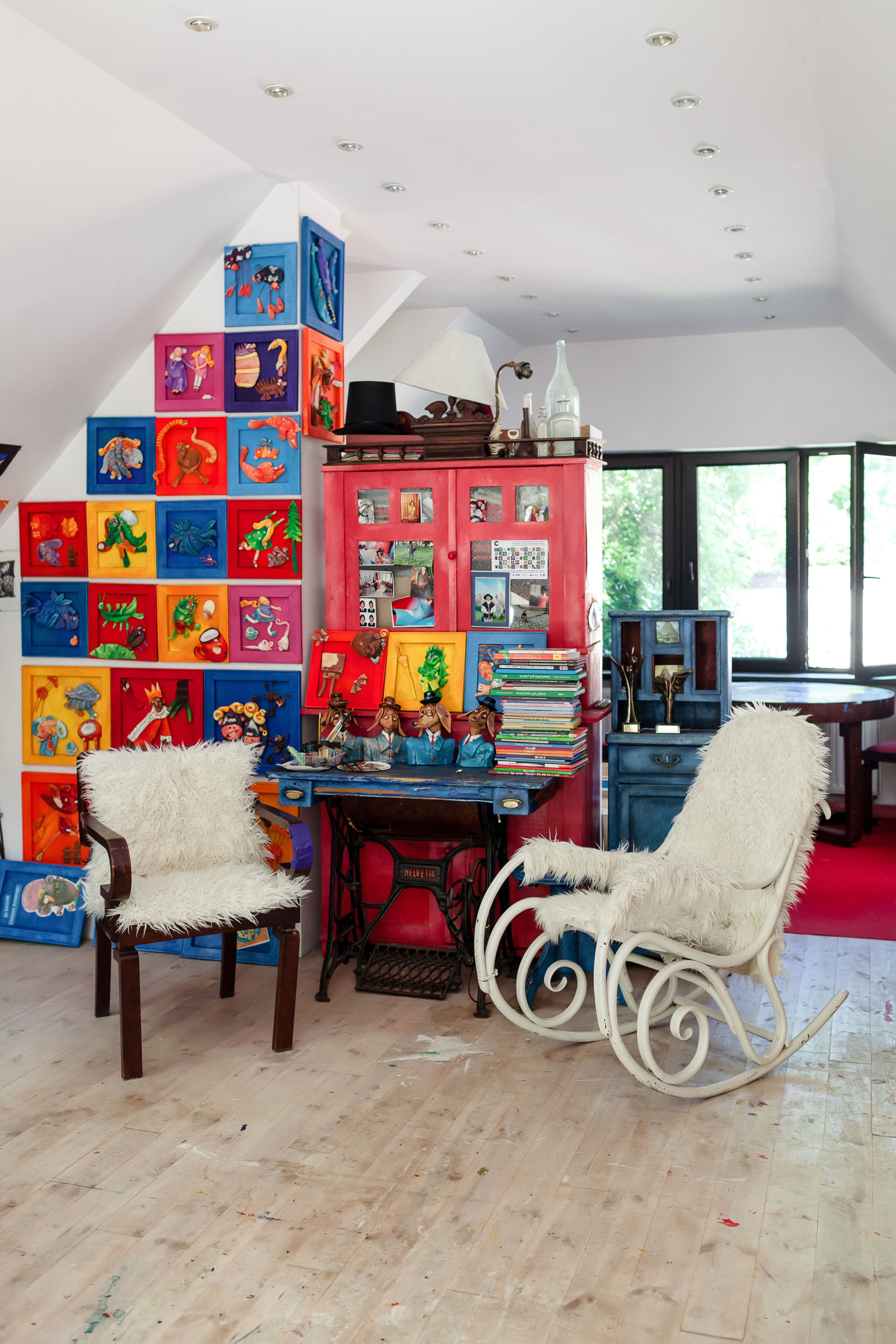 Could you unveil the secret and tell us where and when will you launch your new book about Schulz?
AK-D: The book is going to be released by the 'Znak' publishing house. I've already sent the extensive literary material to the leading editor and the work is in progress. The launching of the book is just a matter of time, and the official date is going to be released soon by the publisher.
You're the real artist, because action is art for you, and art is the action. Your range of options is wide, because, beside painting, graphic design, illustrating books and writing you're also directing animated films and make art installations – I am referring to your dissertation project 'Szpilki'. You also create socio-artistic events, inviting people to interact. You search a lot, study various subjects of artistic expression and communication with the viewer. Which one of the domains mentioned above is particularly close to your heart and why?
AK-D: Several years of work in an independent artistic profession is making you do a variety of things. It's not always great and you're an artist, so you have to take up projects that are not always so attractive. Fortunately, when I work on such, it's always with a brush, pencil, or a computer mouse in hand. I try to create them myself too, by initiating new ones and coming up with some artistic strategies. From the outside, it may seem that I work in many fields, but they're actually related – graphic design, painting, animated film. Besides, those are all majors that I studied at the Academy of Fine Arts in Cracow or Warsaw [pl. Warszawa] and it is my profession. But the art form that is closest to my heart and that I long for, to answer your question, is easel painting with oil. Maybe because it's been desired since childhood, and the professional duties keep me from doing it. When I was five, six years old girl I already knew I'm going to be a painter. I used to stand on my tiptoes at my uncle's – the painter's – table, packed with oil paints, palettes, jars and bottles full with scented turpentines and varnish. I barely reached the table with my nose, but I really wanted to paint with same tools as he did.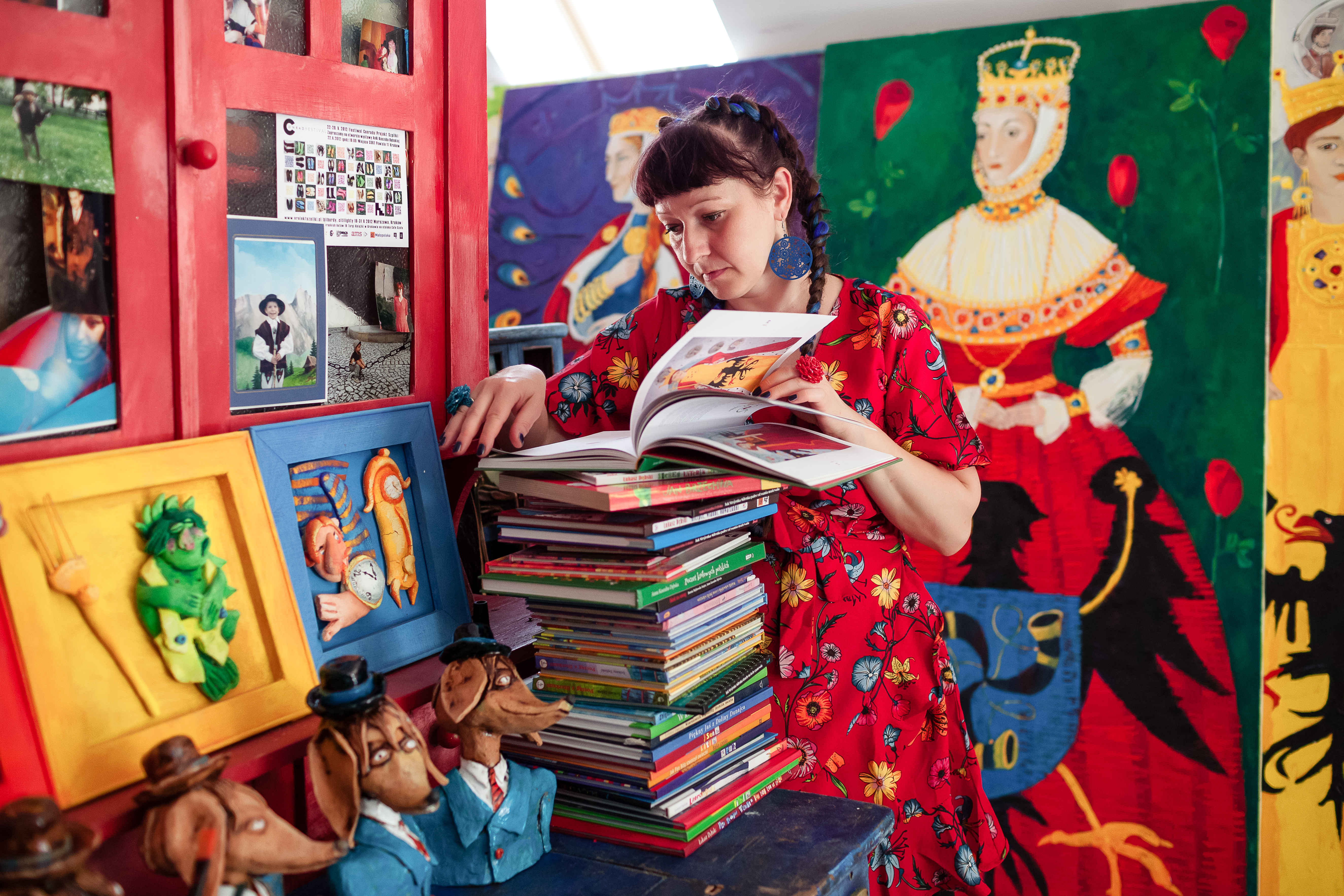 I wonder if you reach within yourself and listen to your intuition when you make art, or do you treat your new projects like new artistic challenges?
AK-D: I think that anyone who makes art, might it be a musician, writer, or visual artist, has to reach inside and listen to the inner voice, search for oneself. Bringing out what's hidden may be a painful process. You can be a creator or re-creator. For me, being a creator is about the element of truth. I think of Bruno Schulz as an example of a creator that follows this path. As for me, I believe I can be both creator and re-creator. As for my artistic activities, or more like professional-artistic, I separate the two. When it comes to the intuition then, from my experience, it's essential and reliable when creating and it's worth following.
Every artist that I meet and talk with consciously builds one's own space for expressing art, crosses it, sometimes taking from something or someone. How is it with you?
AK-D: At various stages of life there were times that I was giving in to the fascination of other artists, but it was never about copying the models of painting they had left behind. My first fascination, during primary school, was obviously impressionism. But I have to admit that I was more into the environment, skills, artistic biographies. I was indulging myself in lecture about great artists like Van Gogh, Gauguin, or Cezanne, and digging up stories of women-artists along the way – like Berta Morisot, Suzanne Valadon, or Camille Claudel. Even at that time, I was feeling a sense of protest against historical imbalance between opportunities for men and women. Later, when I was a teenager, because I was living in Krynica-Zdroj town, I was fascinated with Nikifor, primitivism, kitsch, and folk art. On the other hand, during my studies, I had a stage of love towards tenebrism and seeking light. At that time, Marc Rothko, the abstractionist, was my master. All of those artists inspired me, pushed me to action, impressed me. I admit that, with time, less and less things or artists impress me as much as then. But the thing that's always been driving my artistic expression is the time and coming back to my childhood, magical, fantastic, mythical in my imagination. Maybe that's why Schulz' prose, that I discovered when I was growing up, which is the time of losing the childhood for good, spoke to me so much. And if I derive from anything as an artist, it would be literature.
What does the Mexican artist, Frida Kahlo, mean to you, the one that used to say: 'I paint myself because I am so often alone and because I am the subject I know best'. What do you value her for?
AK-D: Frida Kahlo is the artist that I am touched by, or I should use a stronger word – I'm moved by her. Not because of the physical suffering, that is often the subject of her lifetime work, but because of her huge determination to create. Making art despite everything and against everything. Expressing oneself with the language of painting, color, light, primitive sometimes, inspired by folk kitsch, but always genuine. Frida is genuine. That's what I value her for.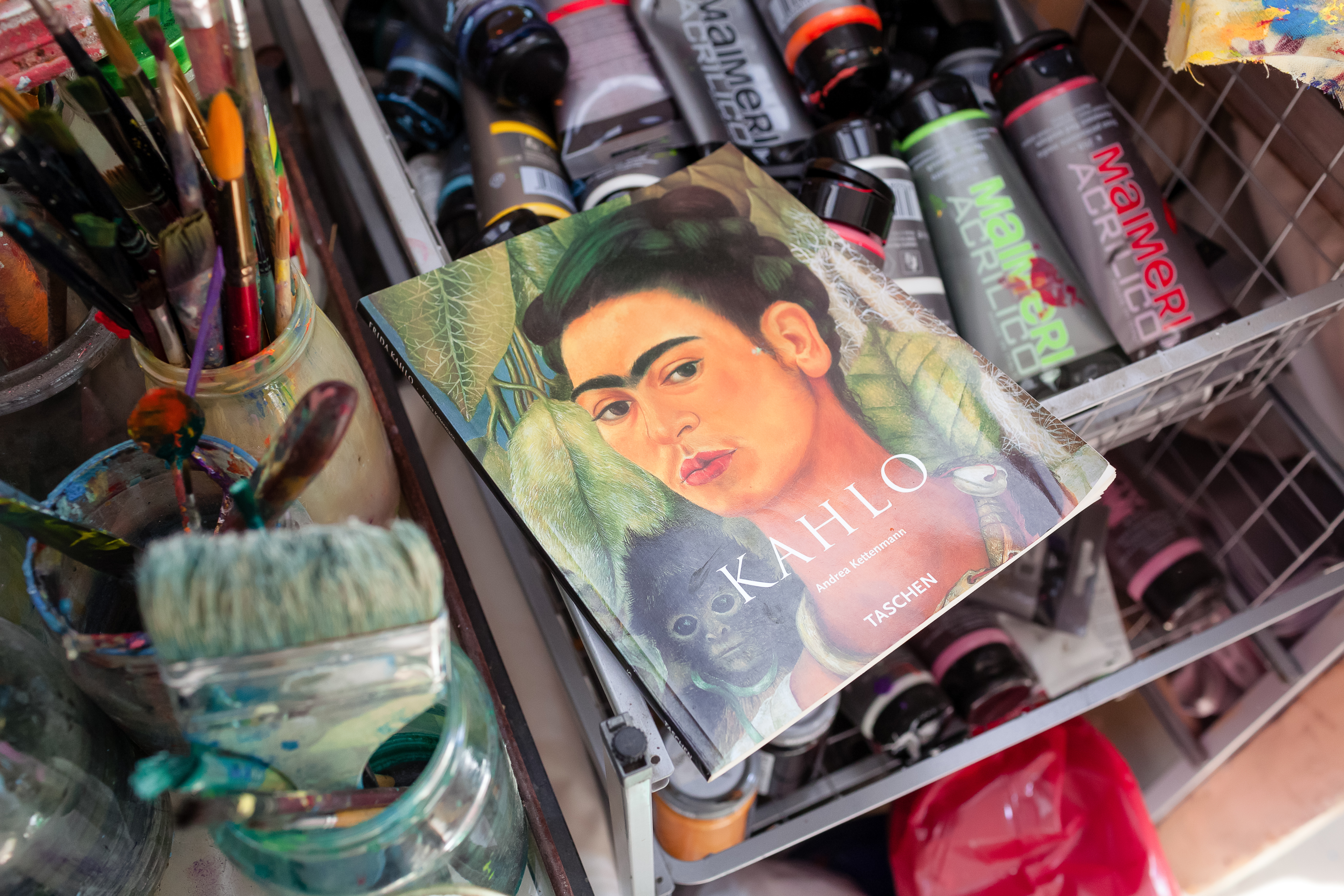 Do you think Frida Kahlo set the new direction for the modern feminist art?
AK-D: Frida marked her presence in the art field very deeply, that's for sure. She had a strong personality, and did not lack sense of humor, despite the chain of tragic events. She was intelligent, compassionate, classy, with the will to push and passion for life. She couldn't carry a baby to term, had multiple miscarriages, and with that dominant feeling of having lost a child, she managed to tell the world about these aspects of womanhood. It's a story of a woman told by a woman-painter, a man-painter would probably tell this story in a different way – if he wanted to tell it at all. But did she set a new direction for the feminist art? I can't answer a question asked in that way. Frida for me is a total artist, surreal and extremely genuine.
We're in your house and studio in Cracow, I was amazed by beautiful furniture and old photos of your family. Do you enjoy looking back on the past, does it inspire you?
AK-D: Yes, I do look back on the past. It gives me strength. The ancestors give me something to hang onto, I find warmth and kindness in them. I managed to keep some nice objects after my great-grandparents: several of over hundred years old cupboards, some knick-knaks. The oldest picture I have is a Vilnian photograph from the 19th century, picturing the great-grandmother of my great-grandmother. As for the interior, I'm a fan of putting together old junk and modern objects. I am fascinated by the latest technological innovations. But I don't fall into family sentimentalism, the past builds me rather than make me sad because it passed. I like what's new.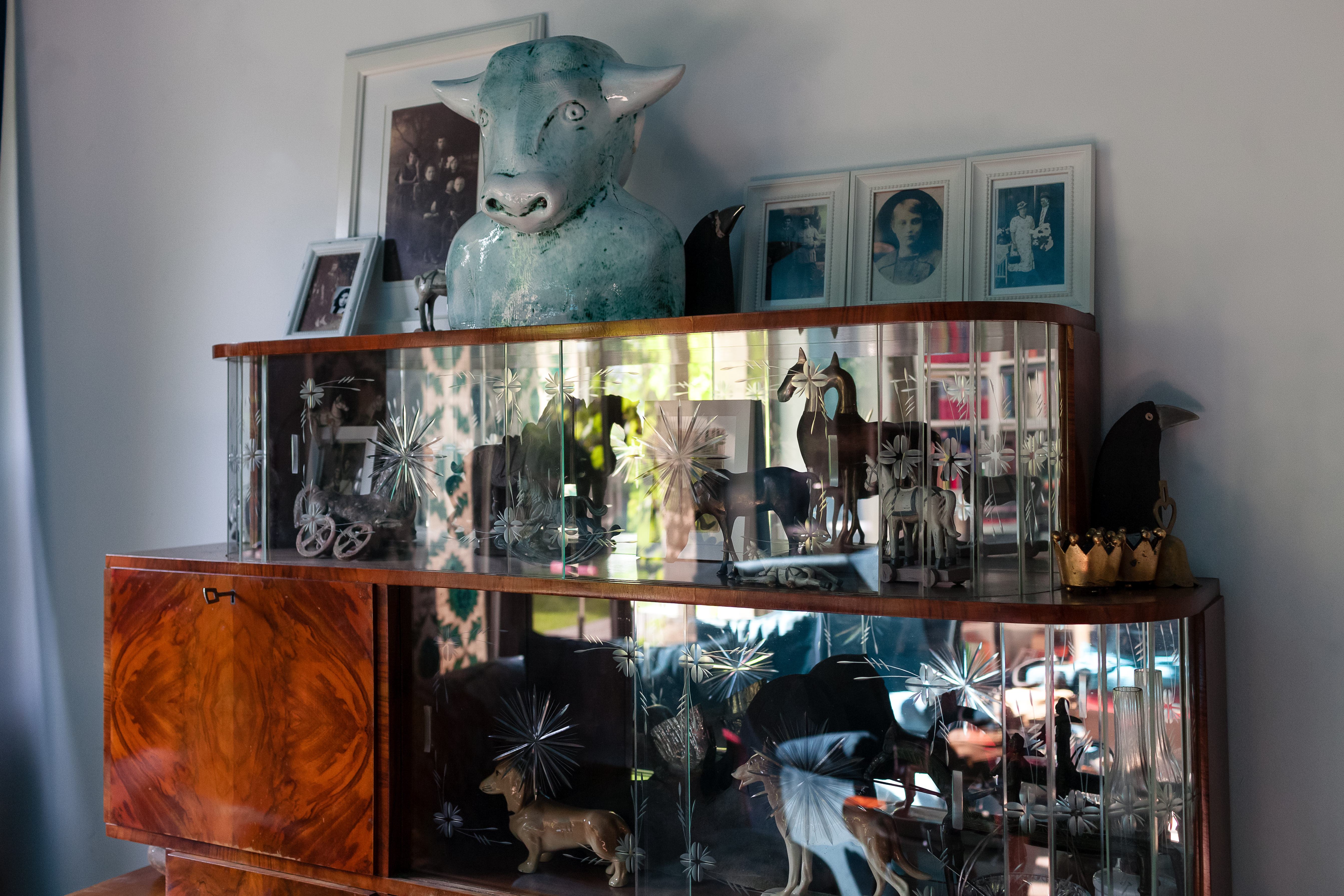 How do you remember your childhood home? How did it shape your artistic side?
AK-D: I had three childhood homes at the same time. The first was my parents' house built in the 80s, the second one – my grandparents' house from the 50s, and the third one was my great-grandparents' house from the beginnings of the 20th century. Every one of them had influence on shaping the child's sensitivity to art. My parents were quick to notice my interests and made sure I had paints, crayons, easels, albums with paintings, and books about art. I could paint walls in my room, doors, furniture. I was never forbidden to do it, in fact I was encouraged and praised for it. On the other hand, at my grandparents' house, I was mainly developing my plasticine skills. It wasn't just small figures, but huge scenes that told a story. For example, not forgetting about any of the literary characters, I made Julian Tuwim's 'Bird Radio' [pl. Ptasie Radio], I built scenes of balls with orchestras, pairs dancing. Everything on a grand scale. I remember that, when I was running out of plasticine, I was going to a store with my grandma and getting 10 boxes at once, then my grandpa was squashing it in his big hands and I, sitting on his lap, built whatever I wanted. That's how my time was passing by till the evening, when we sat together in the chairs, my grandpa and I, and waited to catch my grandpa's name in the credits of cartoon Bolek and Lolek [pl. Bolek i Lolek]. Because the creator of these characters was my uncle Leszek Lorek. I think that's why I ended up in professor Jerzy Kucia's studio of Animated Film, and the name Lorek opened the door to the Studio Filmow Rysunkowych [eng. Animated Film Studio] in Bielsko Biala, founded by Leszek Lorek. There, I managed to complete few small film projects. The third of my childhood houses, the most magical and mystical one, belonged to my great-grandparents. There stood a house, garden, orchard, a lot of fruits, flowers, smells and space, my paradise. My great-grandpa used to paint and crave in wood in his free time, and for a question: 'Grandpa, what are you doing?' he used to answer: 'I'm making the gate to the paradise'. My grandpas had talent in their hands, a bent for tinkering, and a skill to make something out of nothing. My grandmas, on the other hand, did sewing, embroidering, made bouquets, ikebana, could make fake flowers that looked like the real ones. A painter Maria Plonowska was an often visitor to my great-grandparents' house, she's an Academy's graduate and one of the Parisian École de Paris. I have one of her little landscape paintings. I found out recently that my teenage great-grandma, under the eye of a teacher and with other students, used to make kilims and drapes on the project of Zofia Stryjenska, ordered for the Paris Salon.
In one of the interviews you said that you belong to a different era. Which one and why?
AK-D: I don't remember the context of the interview but I may have had the era of my great-grandparents in mind, the beginnings of the 20th century. During my childhood I was filled with the stories from their youth. It's an interesting period of time anyway: winning the independence after partitions, emancipation of women, opportunity to study at the Universities and Academies for them, fighting for suffrage for our gender.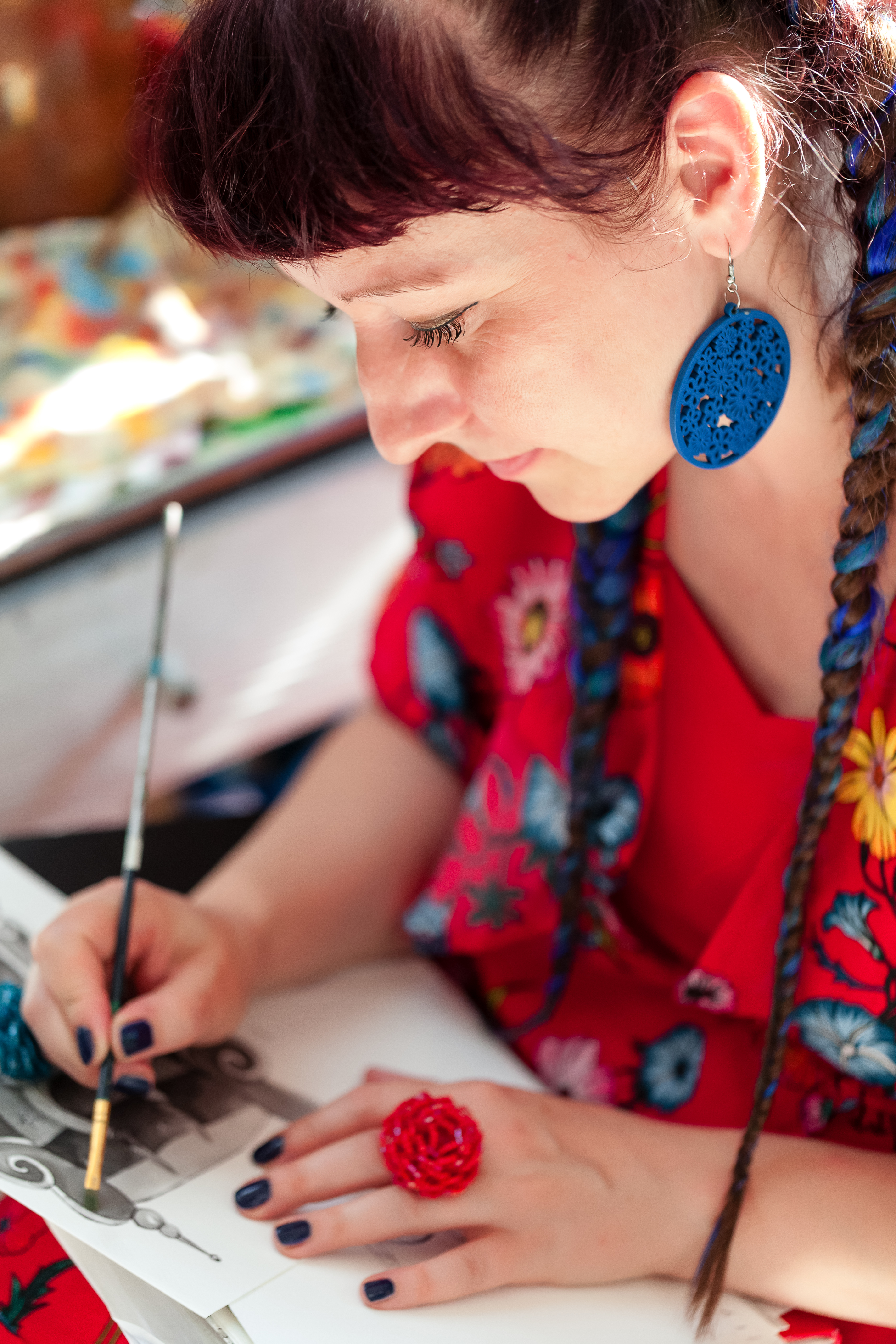 You marked your existence in some of the parents' minds as an illustrator of educational books for children, put together by you and your husband Lukasz Debski. I remember singer Anna Maria Jopek being amazed by them, saying that they were an integral part in the education process of her sons. Your last book that was released in 2018 is 'Poczet królowych polskich' [eng. Polish queens association]. It's a collection of biographical stories about 25 queens. How long have you been painting the collection of big oil paintings that were used as illustrations to the book?
AK-D: One of my jobs is illustrating and designing books. Over last several years I've managed to gather quite a lot of them, there were educational projects, as well as literary ones. Obviously the closest to my heart are the books that were co-created with Lukasz, for our children. Recently I've been illustrating my own stories as well. The book 'Poczet królowych polskich' was a particularly hard of a challenge for me, not only because of the type of illustration, that is actually oil painting, but due to important historical topic. No one, till this point, has created an association of Polish empresses, let alone for a young reader. I'm glad that this book, despite many failed attempts to interest publishers, has finally come out. I was frustrated by the fact that in the country, where we talk so much about history, no one wants to focus on the topic of Polish queens. But we did it, maybe because recently historical books about women are getting more and more popular. The images picturing profiles of 25 queens take on a life of their own, they're publicly displayed, there are workshops being held about them. I'm happy I can introduce to a modern man these twenty five characters of Polish empresses, and there are more getting ready to be painted.
I'm looking at large format portraits of the queens and I get the feeling that art for you is the source of great joy, one can see that in the color palette that you use. The explosion of clear, strong, vibrant colors make one want to interact with your art in everyday life. Where do you get the positive energy from?
AK-D: Paining them was great fun. On one hand, I wanted to go crazy on large canvas, and by painting life-size characters of the queens I wanted to pay my tribute to them. They're Polish queens after all, but there are no portraits left of some of them. On the other hand, I had to keep in mind that my paintings are going to be used as illustrations in children's book. I had to find some key to hold the characters and eras they lived in together, because it's a span of almost thousand years. That's why I had decided to use clear, strong colors and introduce colorful flower elements in the background. It came out colorful and expressive.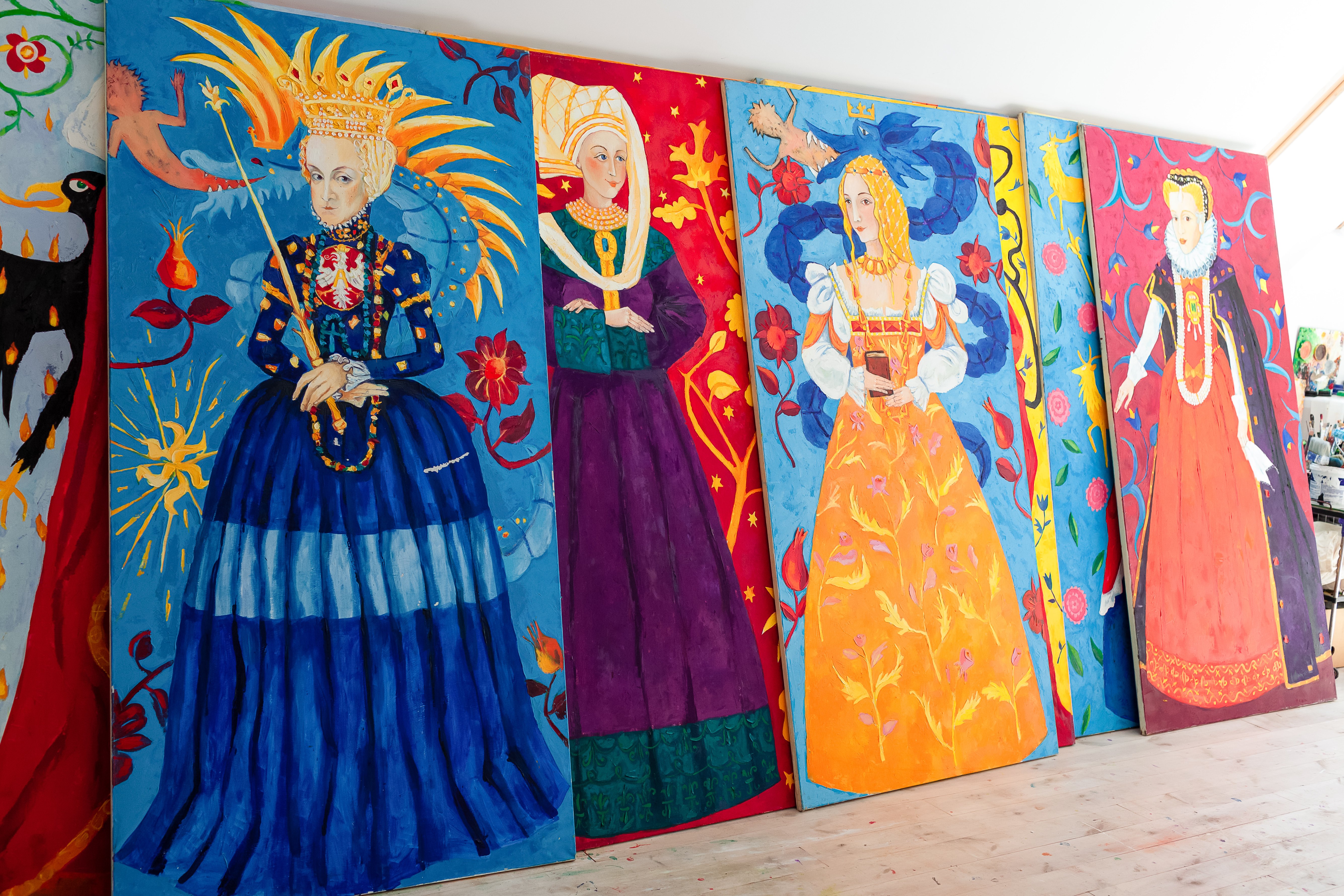 Let's focus on the process of work on an illustration. How does it look like, how many stages there are, is it long?
AK-D: In my case I would prefer to talk about the process of work on a book, and not on a single illustration. Painting one illustration is terrible torture for me and I never succeed. I prefer to illustrate the whole book, rather than a single poem or story made for an anthology, with the contribution of various illustrators. I'm trying to avoid that. So the process that you're asking about is following: first, I read the story, then I put it apart in a graphic design software to check how much space would the illustrations take, after that I print out the file, read it again and sketch the ideas directly on the text. That's the first step. Next is the work on the illustrations and that's when it's getting complicated, because I like to change the style and use variety of tools. Sometimes I paint illustrations on a paper and then scan them, sometimes I create them in a graphic design software, the other times I build them in salt dough and bake them in the kitchen's oven, I paint and take pictures, sometimes I use rags and newspapers to create collages and photomontages, and sometimes – just like in the book 'Poczet królowych polskich' – I make oil paintings. The process of creating an illustration takes a month or two, in the case of painting the queens it took half a year.
What's important for you in your profession?
AK-D: The overall thinking, as in the interaction between the illustration and typography. Another important thing is the freedom of creating, not limited by a publisher or editor who doesn't always have arts education or the sense of designing. But when I design books, covers, or illustrations I try to remember that it's my job, so I listen to my client's needs.
Do you have a master of illustration, someone who's important to you? If so, what are the reasons?
AK-D: I think and think and I can't find any illustrator, whom I would call my personal master of illustration. Of course there are master painters who amaze me, like Giotto and his blue frescos from the chapel in Padua. It's nothing more than huge illustrations telling some, in this case – biblical, story. Anyway, I love figurative art from medieval times and renaissance. With a great respect and fascination I look at frescos in old abbeys and churches in the Southern Europe, picturing scenes from the lives of Saints. It's the same with paintings in the North, I'm fascinated by the imagination of Hieronymus Bosch or Pieter Bruegel.
List three artists that you respect and tell us what for.
AK-D: Just three?! There are more. Modern or historic ones? Painters, or non-painters? I already mentioned Bruno Schulz, Frida Kahlo, Marc Rothko, Nikifor, Giotto, the impressionists and the Flemish. Three? Is that so? Can they be women only? Ok. Then I pick the singer Kora, for her uncompromising nature, bravery, and authenticity. Patti Smith for the energy that doesn't go away with age, quite the opposite actually. And for the wisdom, insight, talent, and intelligence, I pick the painter Janina Kraupe-Swiderska.
What are your career plans for now? Would you like to do some new project?
AK-D: My career plans for the nearest future are work, work, and work. I'm designing two new books, I have scheduled workshops for children, teenagers, and adults. As for new plans, not necessarily work-related, I would finally want to use the ceramic clay that's been laying around in my studio for quite some time now, and sculpt something. Working in ceramics is relaxing and soothing for me.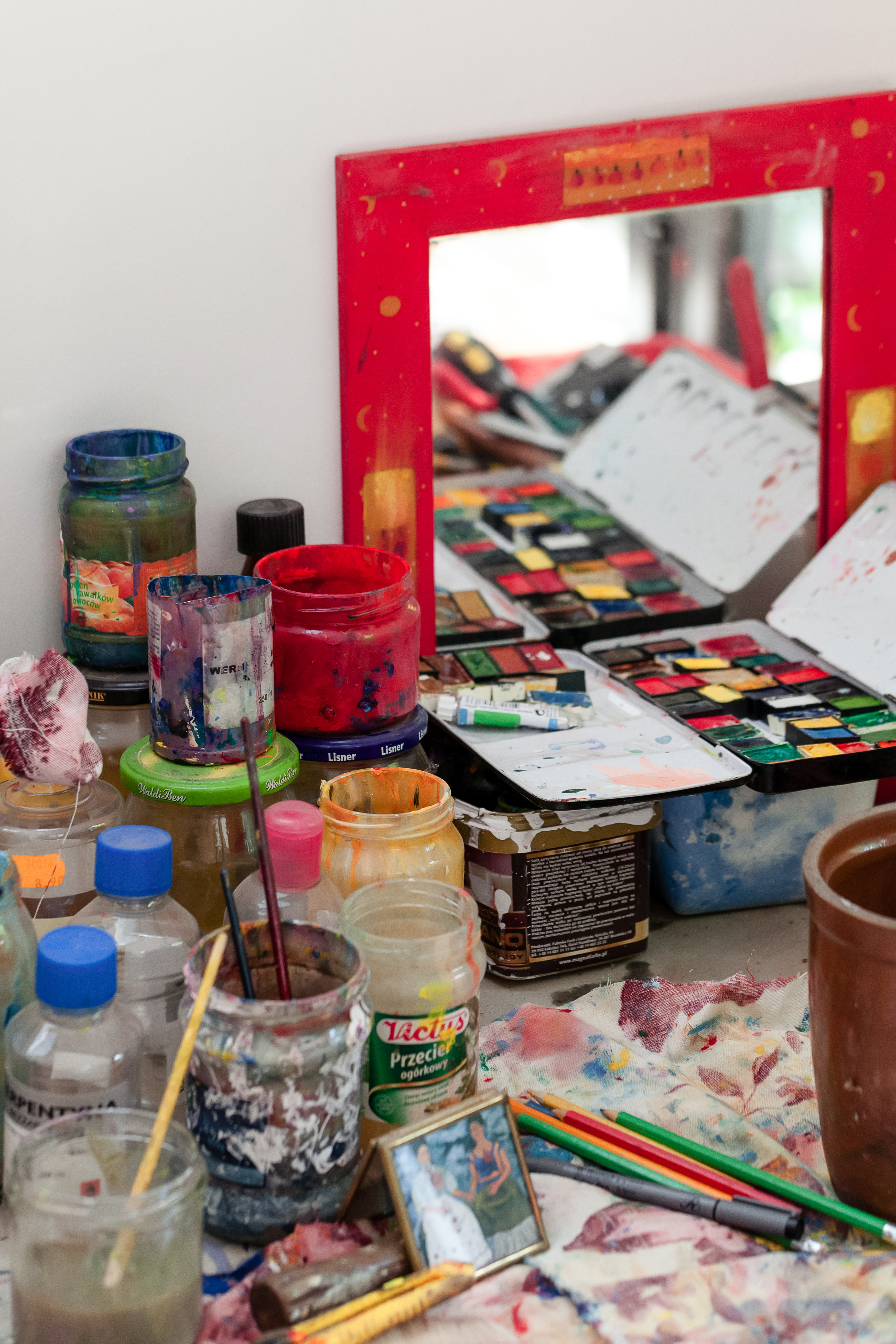 How do you balance being an active, travelling artist and the responsibilities of a mom of three children?
AK-D: It's a question that only women are asked, I hear it quite often. A man will never hear something like that. But I'm going to answer. I'm doing great.
Lastly, tell us if you, in the load of professional and private matters, have time to do nothing, lay on the grass and just laze around? That's how I imagine the carefree moments, when you look for inspiration in nature and the world around you.
AK-D: Of course I do. I work in a monthly cycle and I long for a break and some rest. In January, at the beginning of the year, I live off of a hope of sunny holidays somewhere in the Southern Europe. And when I come back, charged with warmth and energy, from September I wait for the winter, December and wonderful Christmas.
Ania, we're waiting for your new book! Thank you for the talk.
---
Interview from September, 2019.
Interviewer: Joanna Zawierucha-Gomułka / Rzeczy Piękne
Photos: Elżbieta Oracz © Rzeczy Piękne
Translator: Dagny Zawierucha
---
The project is financed by 'Stypendium Twórcze Miasta Krakowa'