Magdalena Kasprzak is a historic textile conservator. She claims to be a 'perfectionist with her head in the clouds', then she smiles and doesn't want to talk about herself anymore. She grows orchids in every color and variety possible and climbs mountains during fall with her husband Piotr, who strongly supports her in her passion. That's how Magda's artistic love for textiles is starting to bear fruits. Figuratively and literally.
See photojournal of the meeting with the artist >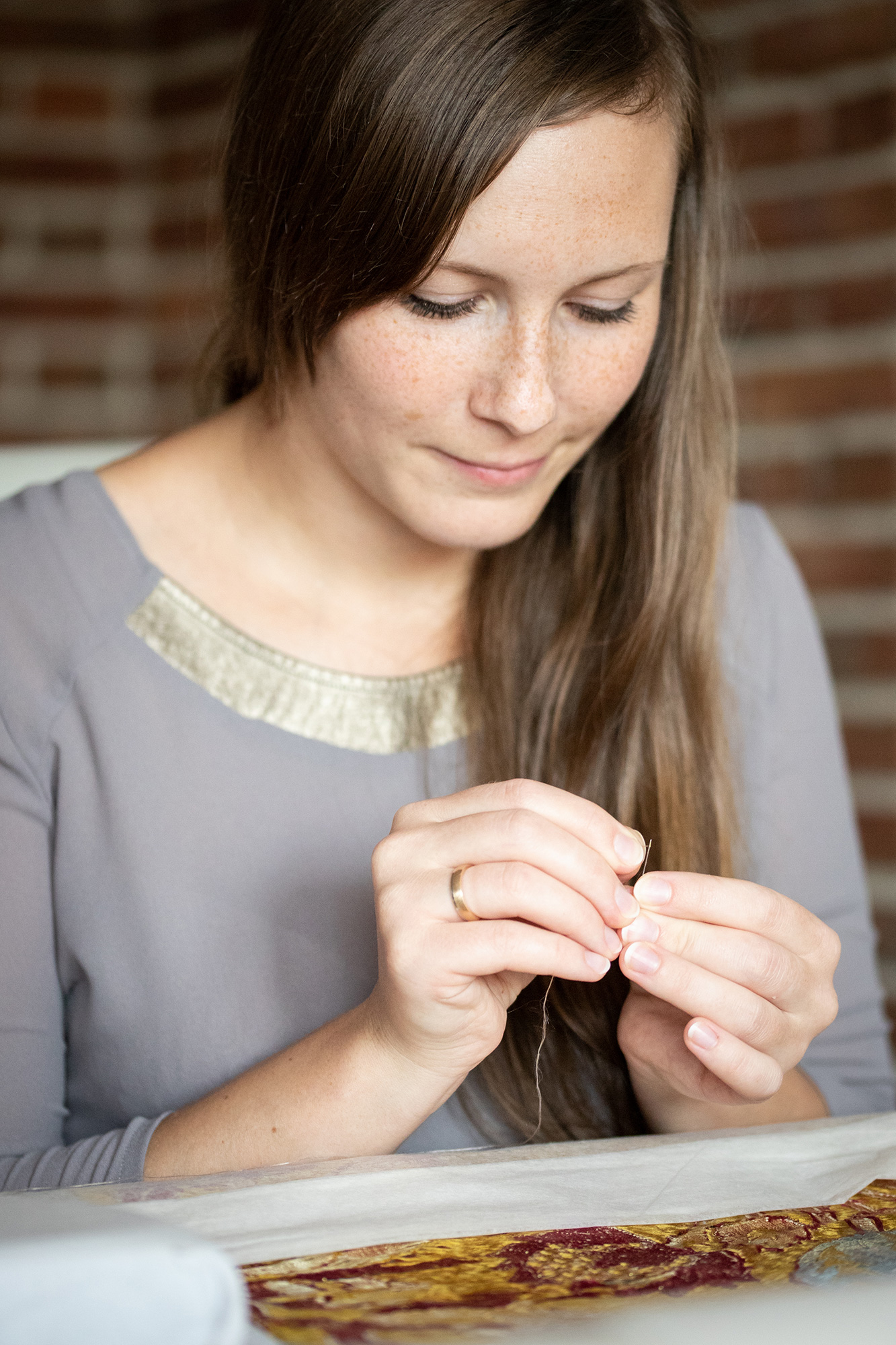 Rzeczy Piękne: You're young but experienced historic textile conservator. Tell us a little about yourself. When did you realize that historic textiles are the topic that particularly interests you?
Madalena Kasprzak: For a long time I didn't know what would I want to do and I had a few totally different ideas for it. I've always enjoyed any manual work and drawing so – to the dismay of my parents – Art School was the perfect solution for me. I picked the artistic weaving for the major, the teachers were always trying to recognize our potentials to the fullest and sometimes gave advices on which direction we could test ourselves in. Before I knew I got in my first internship in one of the Cracovian museums and the moment I got my first tapestry for conservation, it was torn and looked like it had been through wars, I knew I wanted to do it. Everything has happened very fast and now I work at the National Museum in Cracow [pl. Muzeum Narodowe w Krakowie] with the biggest and the most various collection of historic textiles in Poland.
Where did you learn weaving and embroidering techniques? Did you have any practical classes during your studies that helped you learn secrets of reconstructing textiles?
MK: My journey with textiles started in the Art High School. In weaving class I was learning all the weaves and weaving techniques, one by one. It was time of fun and experimenting, mixing the traditional weaves with metal, wood or handmade paper. But there's a difference between the techniques of kilim or tapestry and complicated weaves of silk textiles, you can learn about their qualities only during work with the object itself. The real conservatory work started during my studies, in the Laboratory of Antique Textile Restoration [pl. Pracownia Badań i Konserwacji Tkanin] at the Pontifical University of John Paul II [pl. Uniwersytet Papieski Jana Pawla II w Krakowie]. Having worked there gave me a clear picture of what a conservatory work, restoration, and textile reconstruction is, as well as the knowledge of when to use them.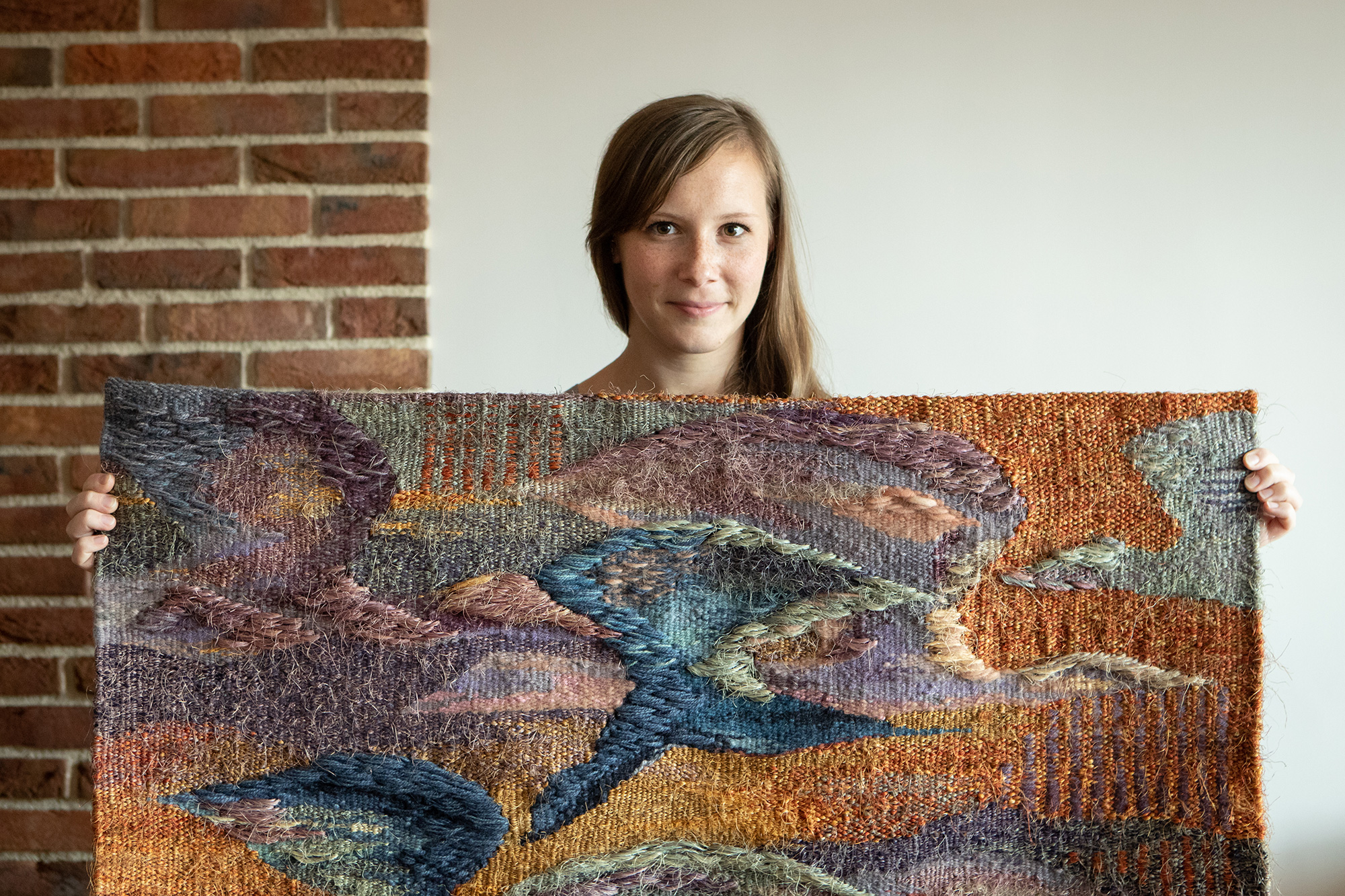 What kind of objects were or are tough for you, as in the conservatory work? Tell us, why?
MK: Every objects is different and every one of them is tough. A small piece of fabric can bring a lot of trouble, and few people need to work on it, whereas a big upholstery scares with the size, as its conservatory work is technically challenging. In my opinion, multilayer objects are the most problematic, like historical costumes or liturgical paraments, and those that are the mix of different materials, like saddles or upholstered furniture. The conservator's work is all about securing and preserving the given object with little to none interference in its structure.  Sometimes, the most proper methods of preserving textile lead to losing the historical values of the object, and there comes a questions of work ethics: what's the most important for us – stabilization and security or keeping the history and authenticity?
How to prevent degradation of textile objects?
MK: It's impossible to fully stop the degradation process, you can only slow it down by preventive measures. Conservatory prevention is a broad topic and difficult issue, that's being worked on based on many years of research and experience of conservators and museologists. To provide a stable environment for textile objects, you need to observe and keep very specific parameters of temperature, humidity, and light, as well as carefully select clear materials to meticulously put between the old textiles. Textiles should be kept flat, without any folds and bending of the material. As for the rugs and kilims, they should be rolled out on shafts with big enough diameters and hung on suitable frames. All of the textile objects have a determined time of presentation and corresponding withdrawal period, meaning the resting time after the display. These kind of actions do not put a strain on the textiles, and, with the proper microclimatic conditions and elimination of microbiological hazard, they can remain in good condition for a long time.
At the beginning of conservation of an object, do you decide on choosing a specific technique or method of working from the start or only after a series of tests?
MK: Every object is treated individually. Textiles are incredibly tough materials, because we can have several weaves in one object, several raw materials, a lot of various weaving and embroidery techniques, or everything at once. Before starting the conservatory work, there's a detailed conservatory plan for the object prepared, based on its state of preservation. The object is being evaluated for weaving techniques, materials it's been made from, stability of pigments used in the dyeing process, all of the addition elements are being identified, such as tassels, embroideries, metal threads, patches, letterings, etc. Basing on the acquired information, the proper conservatory method is chosen. Sometimes, creating the conservatory procedure lasts longer than the actual work on the object.
What's important for you in your profession?
MK: The joy of work. Conservatory work is an incredibly tough job and, to be good at it, you have to like it. Often, it's a one-sided sympathy, but it gives a lot of satisfaction.
The object that Magdalena has been working on for the project Konserwacja unikatowych w skali światowej zabytków związanych z historią Krakowskiej Kapituły Metropolitalnej oraz udostępnienie ich w przestrzeni wystawienniczej w postaci interaktywnej multimedialnej ekspozycji dostosowanej do potrzeb różnorodnych grup docelowych, developed as Regionaly program Operacyjny Wojewodztwa Malopolskiego during years 2014-2020.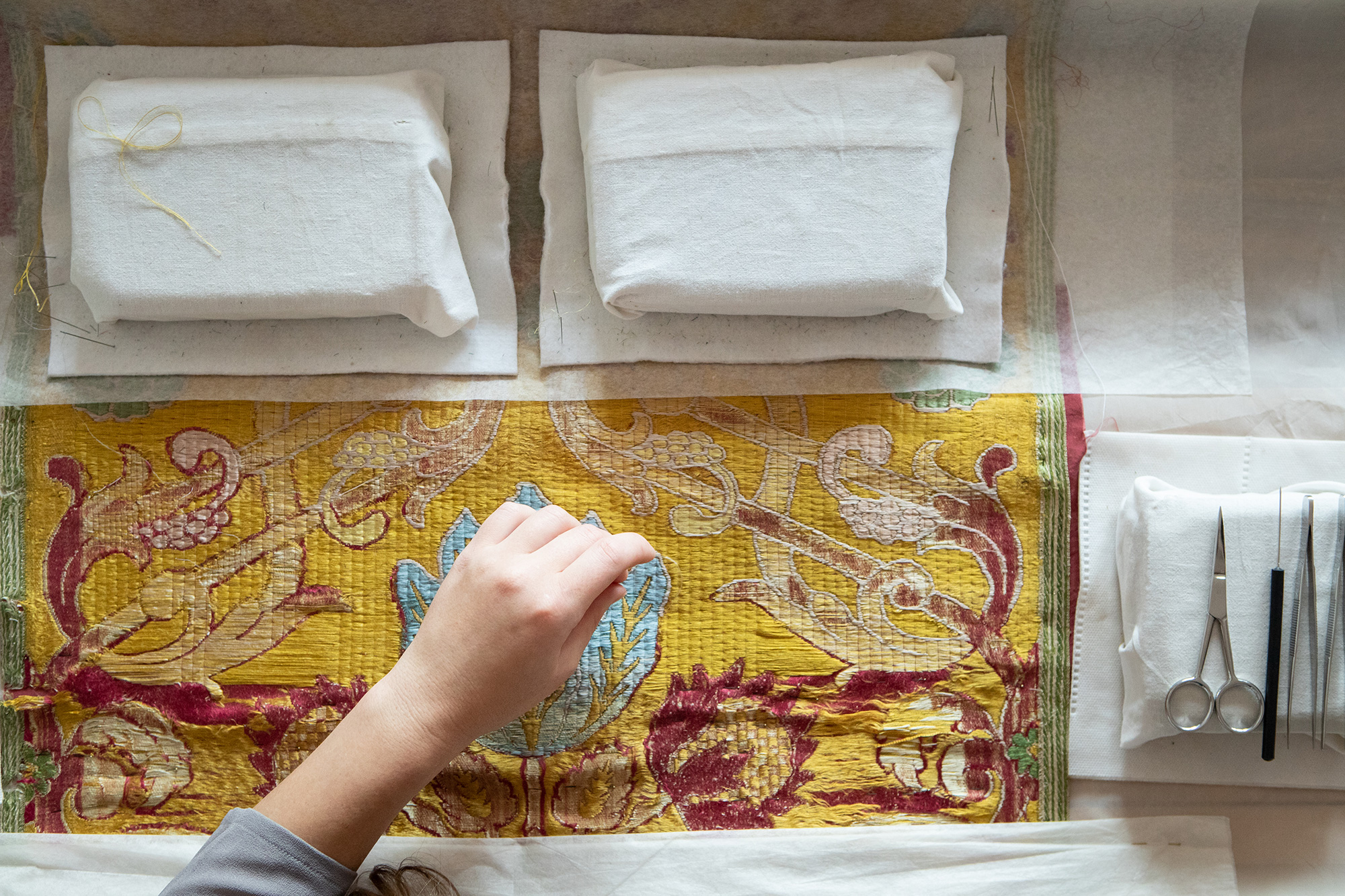 Do you follow modern trends in conservatory world? How do you think, what direction are they going in?
MK: A lot of the European museums have been focusing on the prevention measures for couple of years now, paying attention to provide optimal microclimatic conditions. Overall conservatory work or reconstruction are no longer being performed, instead the original matter is being revealed. I think that it's one of the steps in the museum trends, the contrary of what was happening not so long ago in almost every museum, when all of the textiles were being reconstructed. Conservators can get inspired by actions of the biggest museums and adapt their experience and practises used in specialized laboratories, and keep an individual approach towards the objects at the same time, as what's good for some can harm the others.
Do you participate in industry conferences?
MK: I try to, because they're very interesting. Industry conferences are no longer touching on the subject of art conservation as it is, or art history. Antique conservatory is open to many analytical methods, physiochemical or microbiological research that allow you to learn the most about the given topic. Conferences present the work of interdisciplinary teams, and methods of conservation that are based on it. It allows you to constantly broaden your knowledge, compare given methods, and try out solutions that have already been tested. When listening to a lecture about, let's say, carpets, you get the feeling that you're in a class abut genetics.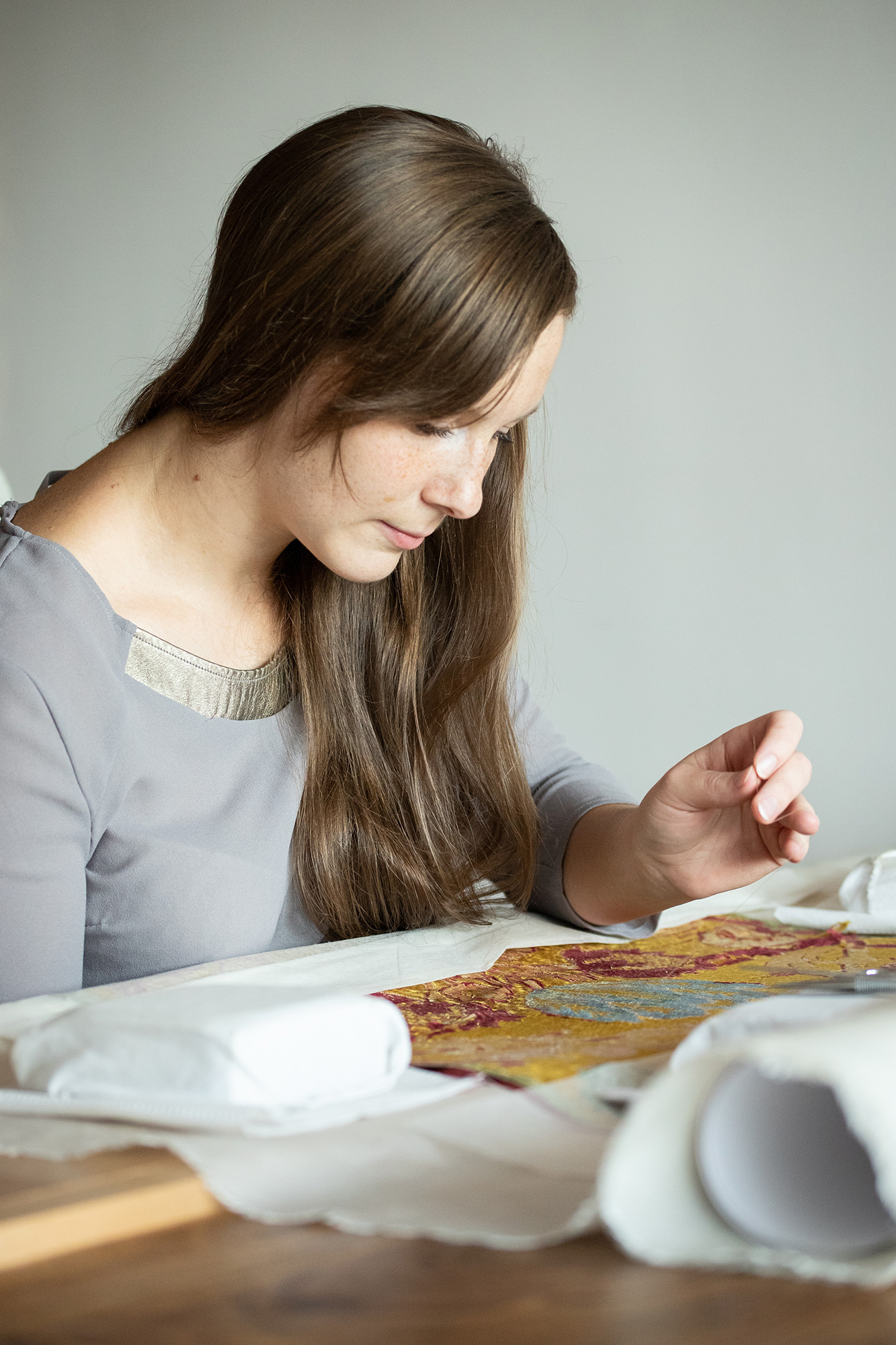 Every piece of art has been preserved, and has an extensive documentation of conservatory work. Nowadays, the display of such documentation is in the new media form, during exhibitions and conservatory shows. The conservators are more eager to post the effects of their work on social media. Do you think it's a good method for showing the tough and strenuous work of a conservator?
MK: We're living in times when it's hard to avoid the new media. A lot of people wouldn't willingly go to a museum, or they just indifferently walk past an exhibition, but when they see the same exhibition or its parts on social media or website, that are displayed in an interesting multimedia form, maybe next time they would stop by and take a look at a seemingly boring exposition. Conservatory work now is not only about showing the before and after effects. Conservators are drawing on technological innovations, using many modern analytical techniques, they're collaborating with educational centres and technical universities, reaching more and more people. Museums need to adapt to demands and habits of modern viewers. But the conservatory workshops are not accessible and quite mysterious for the most, that's why showing the process of working and teaching the viewers how difficult the process of getting the desired effect is, it's only possible via the new media, exhibition displays or conference presentations.
Would you be up for keeping this kind of a 'journal' of your work on Instagram, for example?
MK: I'm all for it, though I'm not sure if anyone would want to follow such irregular journal. The process of long conservatory work is not that interesting for a follower.
What kind of qualities should a prospective candidate for an art conservator have, beside precision, thoroughness, and manual skills?
MK: The passion, incredible patience, and dedication.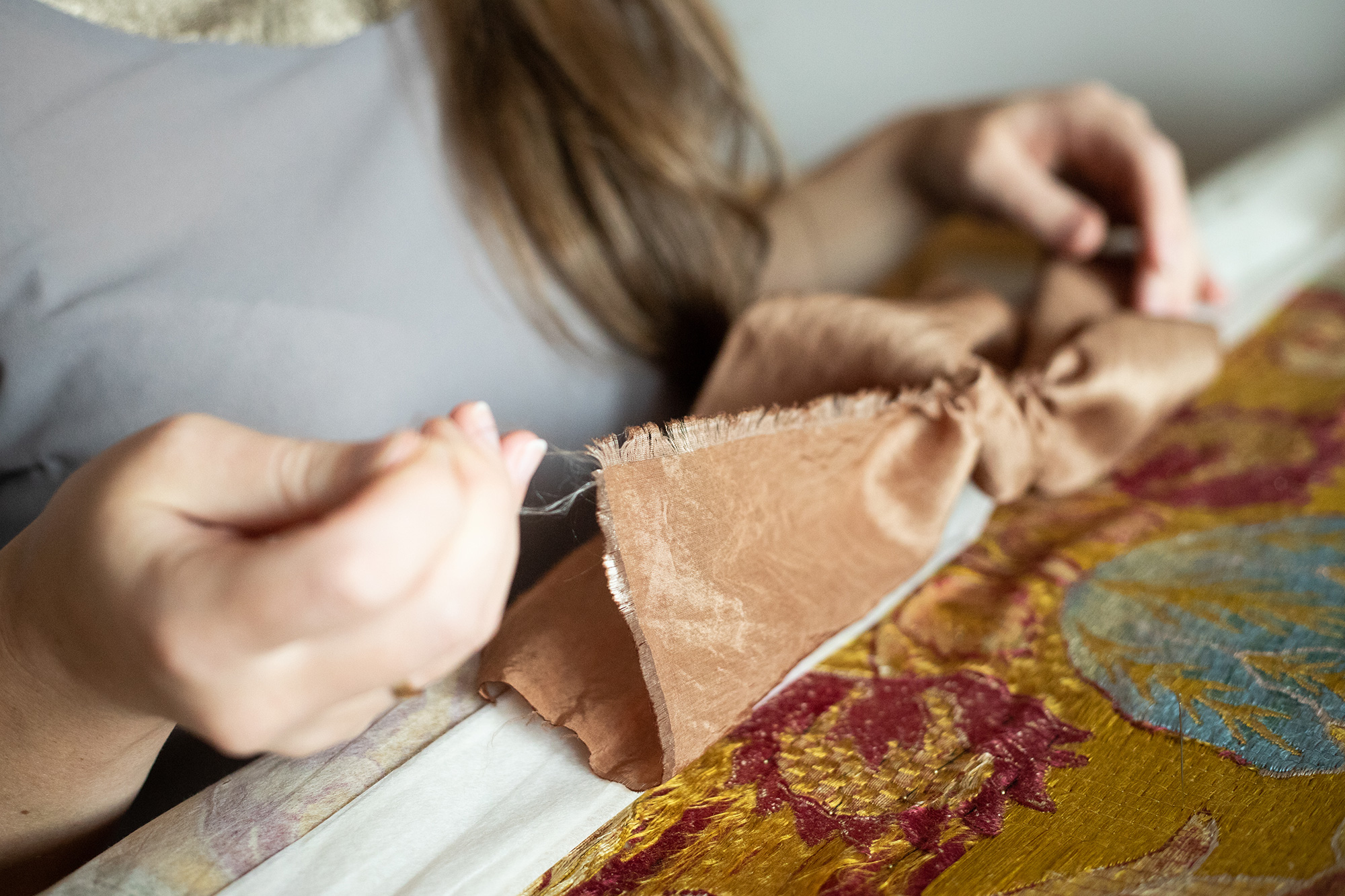 How can you assess predispositions for the job of a historic textile conservator?
MK: That's a very hard question. Some people come to the conclusion after few years that they're not suitable for this job. The work of a conservator is usually calm and pleasant, but when we work on one object for six months and we're only halfway through, that's when the irritation and weariness hit in. When working in a museum you have to be a multitasker, have extensive expertise in conservatory work, fill out tons of paperwork, prepare exhibitions, monitor the departments, do periodical inspections of the warehouses, give lectures at conferences. Not many people are aware that it's a hard physical work in harmful conditions, often exposed to chemical substances, dust and dirt, sometimes in a microbiological hazard. You have to work well under pressure and fear about the valuable, often centuries-old objects, but also have a sense of color while painting, that's the real alchemy there.
What exhibition left a big impression on you recently?
MK: It was the exhibition where I brought the object from our museum to, Il Monefeltro e l'oriente Islamico. It was in Urbino in September 2018. I knew that it would be a huge and interesting exhibition, but it managed to exceed my expectations. It was a classic exposition in a historical interior, but seeing the collection of that many valuable objects in one place, especially the textiles that are unique at the global level, was an incredible and touching experience.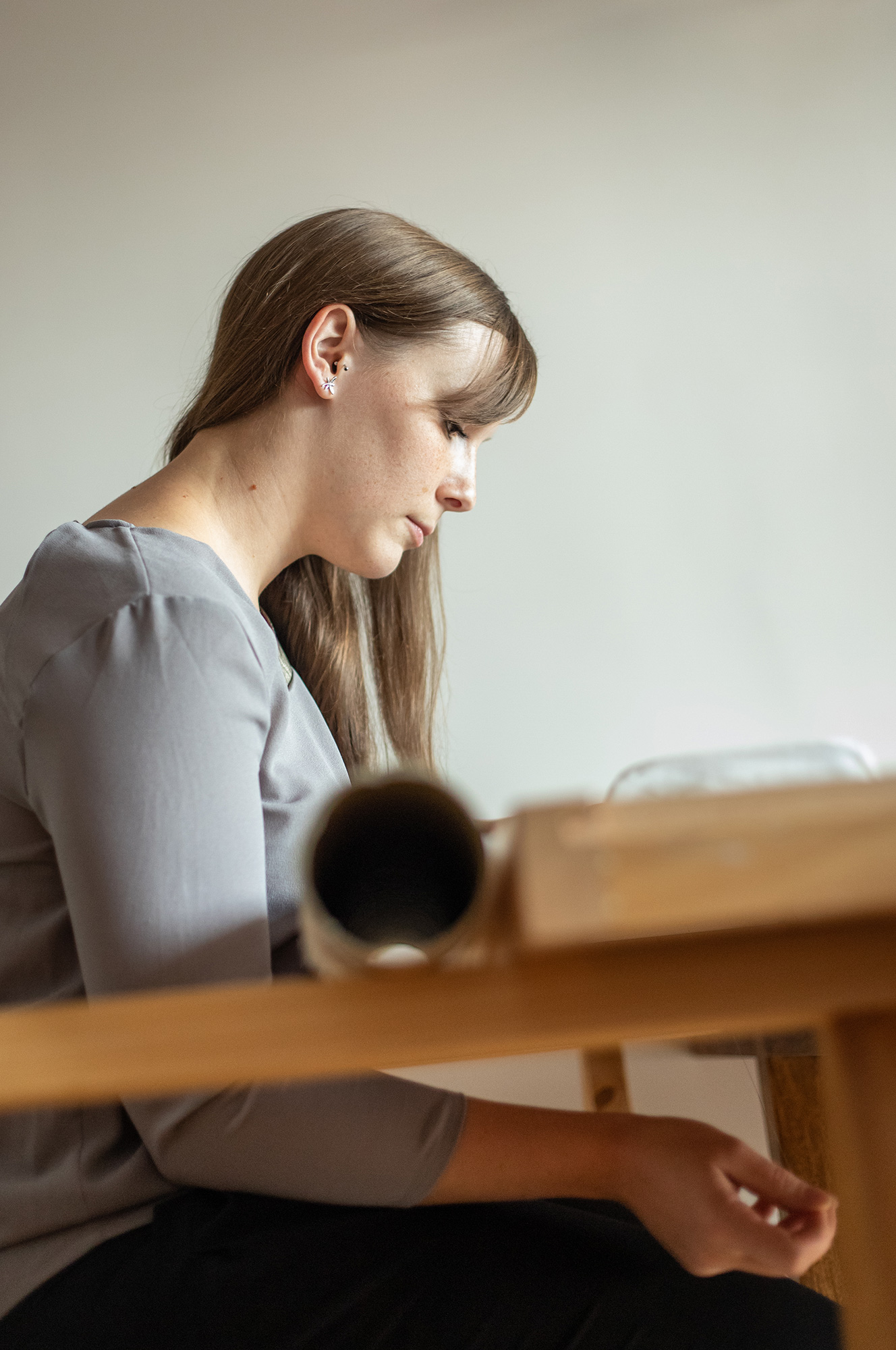 What's important for you, besides job satisfaction?
MK: The feeling that my work is useful and gives the second life to particularly fragile objects. The passion is also important for me, it doesn't let you fall into a rut.
What object would you like to work on?
MK: For now, I would like some easy and nice textile, because recently I've been working on amazing but very technologically challenging textiles. Like byssus cloth (or sea silk). I don't think I'll ever have a chance to touch it so, just out of curiosity, I'd like to work on it.
What do you like to do when you don't work?
MK: Spend time in the kitchen and prepare something delicious for my family and friends, follow the latest designs while looking for a new pair of shoes.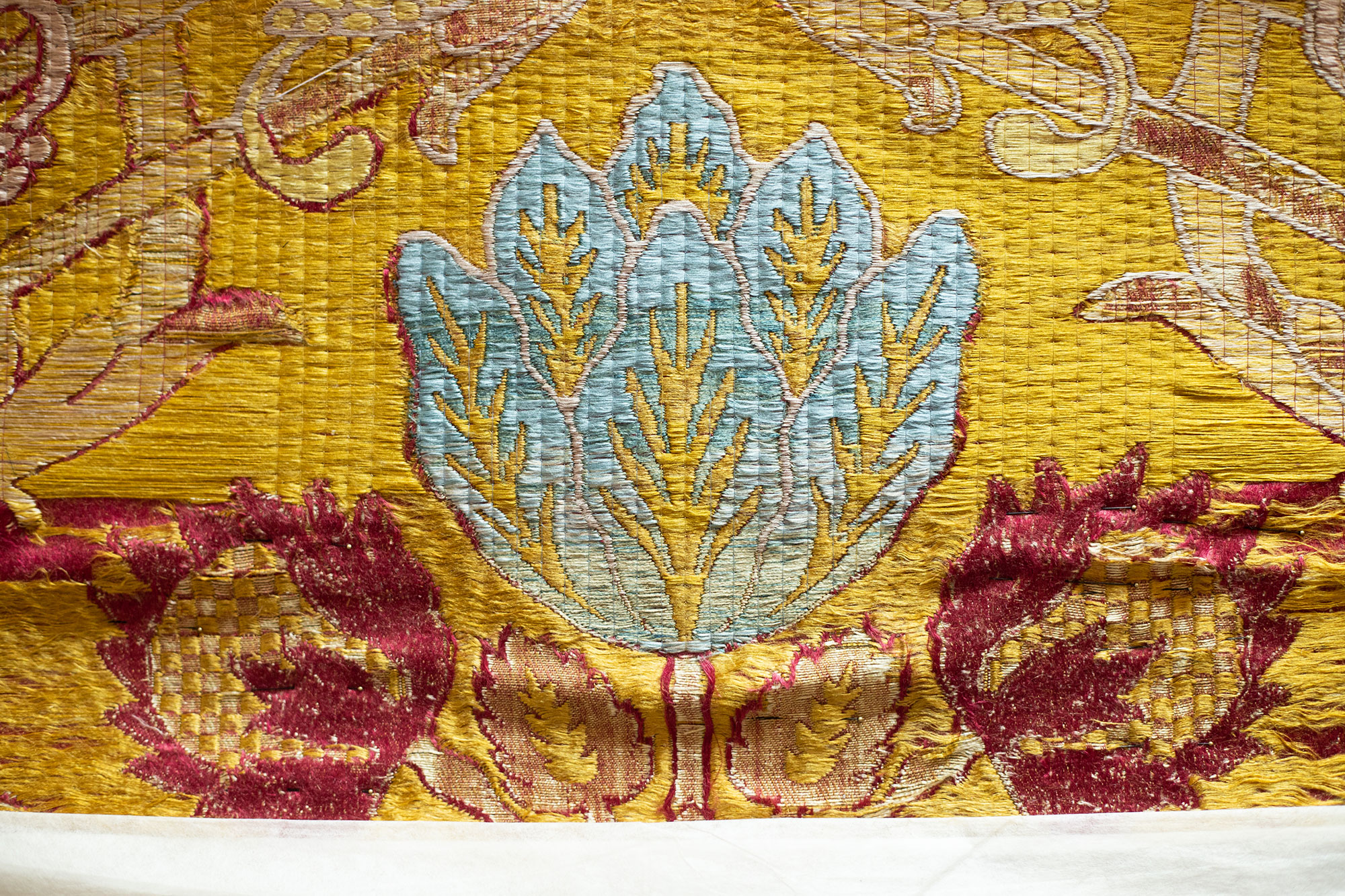 ---
Interview from September, 2019.
Interviewer: Joanna Zawierucha-Gomułka / Rzeczy Piękne
Photos: Bartosz Cygan © Rzeczy Piękne
Translator: Dagny Zawierucha
---
The project is financed by 'Stypendium Twórcze Miasta Krakowa'