'A day without embroidery is a day wasted' – says Halina Dulemba, Cravovian embroiderer, known for her beautiful, meticulously embroidered artworks and active participation in Stowarzyszenie Miłośników Tradycyjnego Rękodzieła Ludowego i Artystycznego 'Lud-Art' [eng. folk and artistic handcrafts association]. Embroidery has been a great passion of Halina for over 20 years now. She spends few hours on it every day, emphasising that, during a precise manual work, you must not and don't need to hurry. She can talk about her fascination for various embroidery techniques, color symbolism, and the meaning behind it for long hours, and in an entertaining way.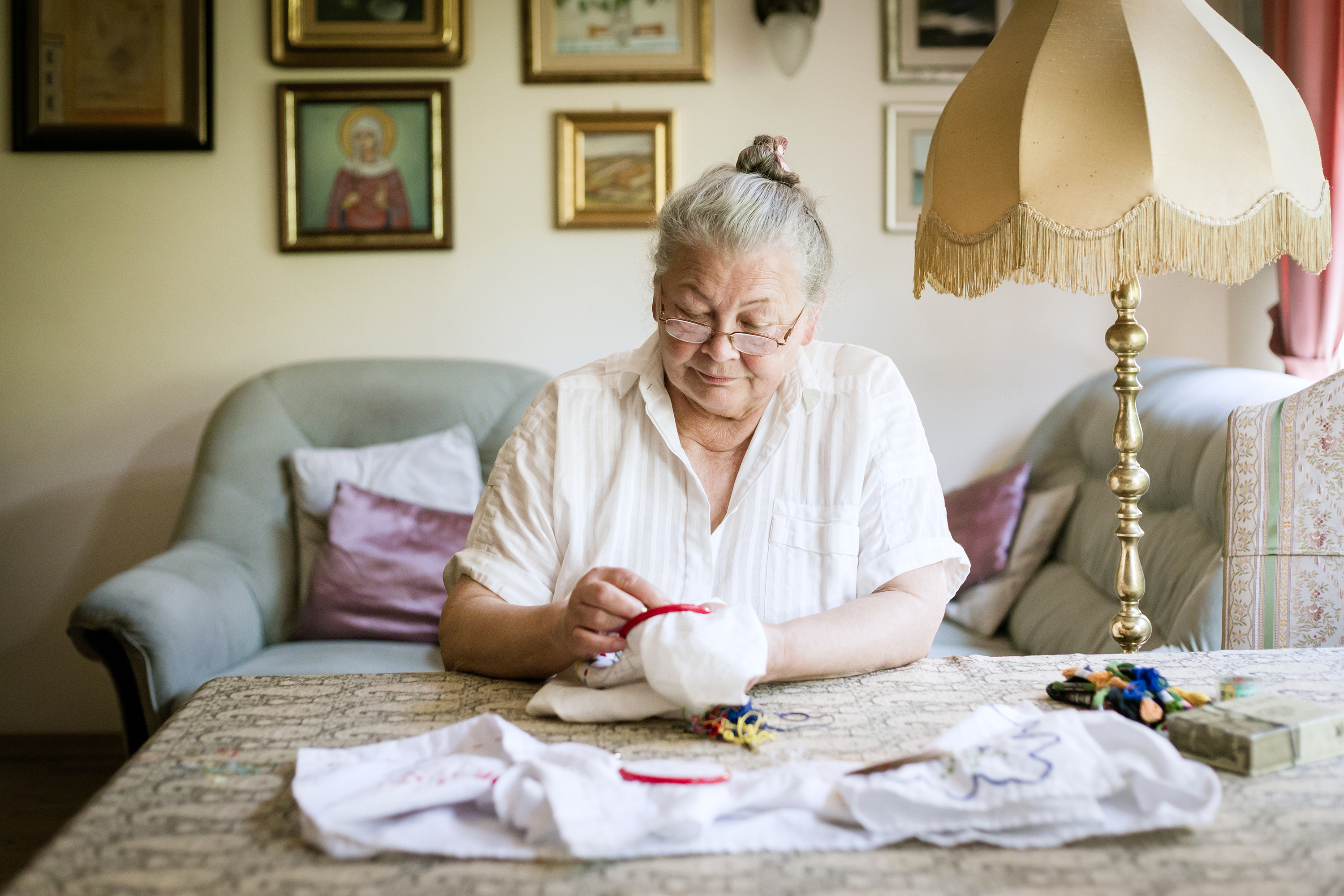 Rzeczy Piękne: You're one of the most popular embroiderer in Cracow [pl. Kraków], your works are highly rated amongst ethnographers. I know that you love handcraft that upholds Cracovian folk tradition. Who got you interested in embroidery, when did that big love appear?
Halina Dumbela: It was twenty-three years ago that I noticed beautiful drapes made with Kashubian embroidery, in my friend's kitchen. That kitchen was different, warm, unusual and that's when I got hooked on it. But I didn't know it'd be such a big deal for me. I didn't know how to embroider at that time, but I promised myself to try to learn it. I wasn't very competent. Only when I signed up to the Embroidery Club in 1999, saw my friends' art works, and recognized my manual skills, did I start to learn stitches, because I literally knew nothing. The day when I was accepted as a member of the Embroidery Club of that time, was one of the happiest day in past years, and I admit that after twenty years in 'Lud-Art' Association my feelings haven't changed a bit.
But it came rather late, right?
HD: Yes, I started working with embroidery when I was 53 years old. That was the time I got interested in patterns, color symbolism and, above all, the essence of embroidery, because this essence has been, and is going to be, the most important for me.
What year did you sign up to Stowarzyszenie Miłośników Tradycyjnego Rękodzieła Ludowego i Artystycznego 'Lud-Art', that runs at the Ethnographic Museum of Kraków?
HD: The Association originated from the Embroidery Club, that ran at the Cracovian Department of Polish Ethnographic Association. In 2005, we decided to transform into the 'Lud-Art' Association. The goal remained the same. Dr Urszula Janicka-Krzywda, who was an ethnographer, folklorist, museologist, and initiator, founder, instructor, and a kind soul of our Embroidery Club, became the first president of the association. She had to resign later because of the health problems, but by that time we had the status and we were strong enough to know what to do next. Thanks to the lectures Urszula had given us, concerning the history of embroidery, techniques, customs and folk rituals, we could go on with our activity. We were in our element already.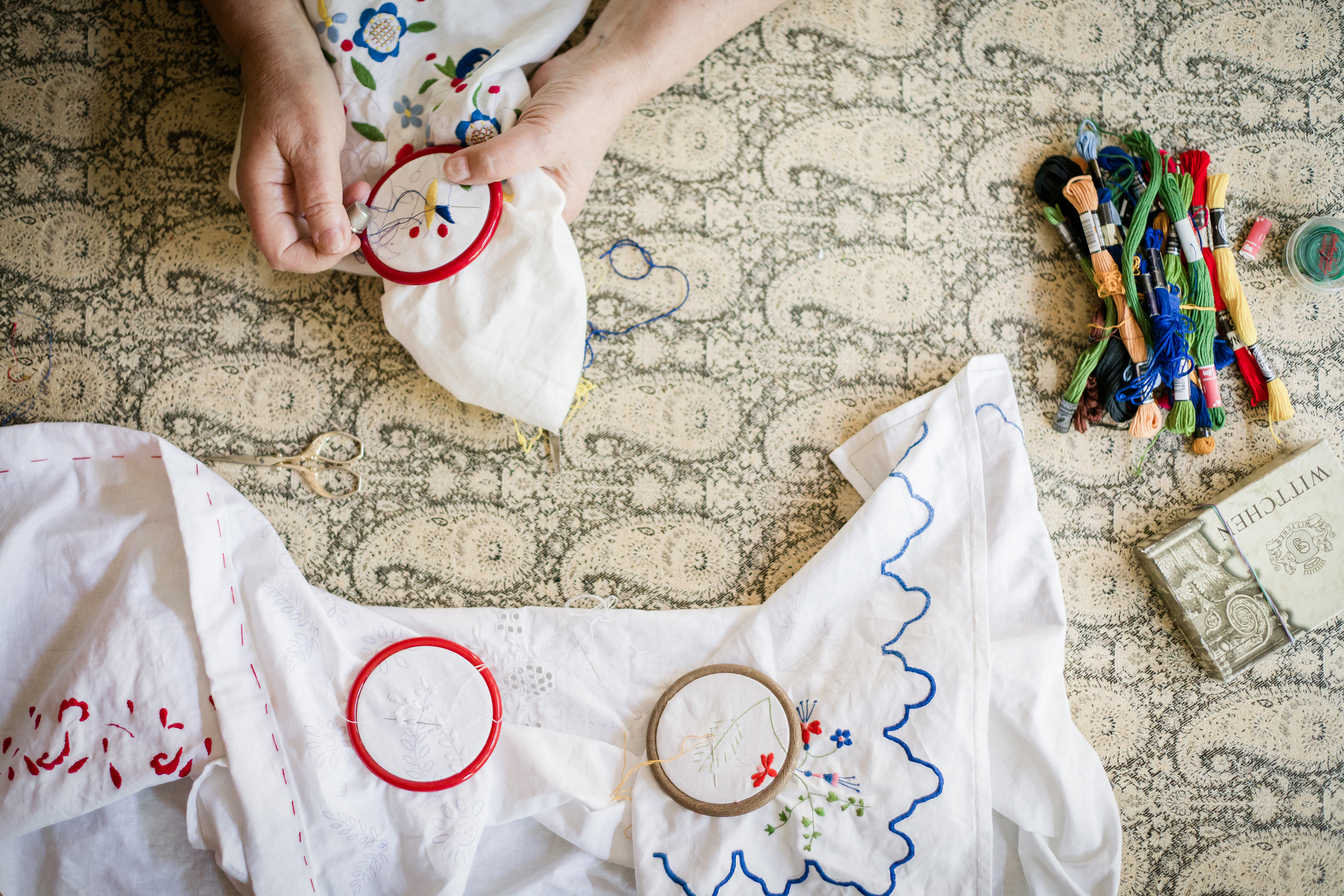 Embroidery craft used to be the higher degree of initiation into many decoration techniques. You had to be professionally trained to become an embroiderer. What was your path? Tell us, please.
HD: It was a very difficult path, because I taught myself to embroider, I was observing, attending various workshops, meetings. I was looking at my friends' works and I was thinking mine are not as pretty. I had my moments of doubts, if it's worth it to follow this path, as those beautiful art works of my friends were discouraging to the point of losing faith in my skills. However, thanks to my husband, I managed to survive that hard period of time, he used to say: 'Don't look at the others, do your thing, do what you want to do, what you come up with'.
During my first exhibition 'Flowers', in the open air museum in Zubrzyca Górna, one of my friend who does beautiful embroidery, approached me and said: 'Mrs. Halinka, your works are beautiful'. And those were two very simple works, 'Snowdrop' and 'Lily of the valley', and they were the ones standing out with their simplicity. They were standing out amongst all this abundance and feast of colors. And those simple works were noticed after all. It's very important that someone likes it, it gives a huge satisfaction for the person that created it.
Which embroidery work do you value the most at this moment?
HD: It's a very hard question, because I like all of them. That's why I'm trying to make embroideries of the whole Poland, all of the regions, so I have the comparison. I believe that Poland is a country so rich in tradition. And we know that embroidery is the language that people used to communicate with. They couldn't write or read, and thanks to embroideries they knew who and where they are from.
So the embroidery used to be a symbol of belonging to a place and tradition?
HD: Yes, there used to be strictly defined principles of decoration and cut of the corsets, aprons [pl. zapaski] and skirts, or headscarfs [pl. chusty czepcowe]. Everything was specified. You couldn't change anything. That's what it was like.
But today it's different.
HD: Yes, it's completely different. Before, unmarried girls couldn't wear what married women did. Nowadays, children from the womb wear completely different clothes. It's all mixed up. Fortunately, we have embroideries and we can savor our ancestors' wisdom.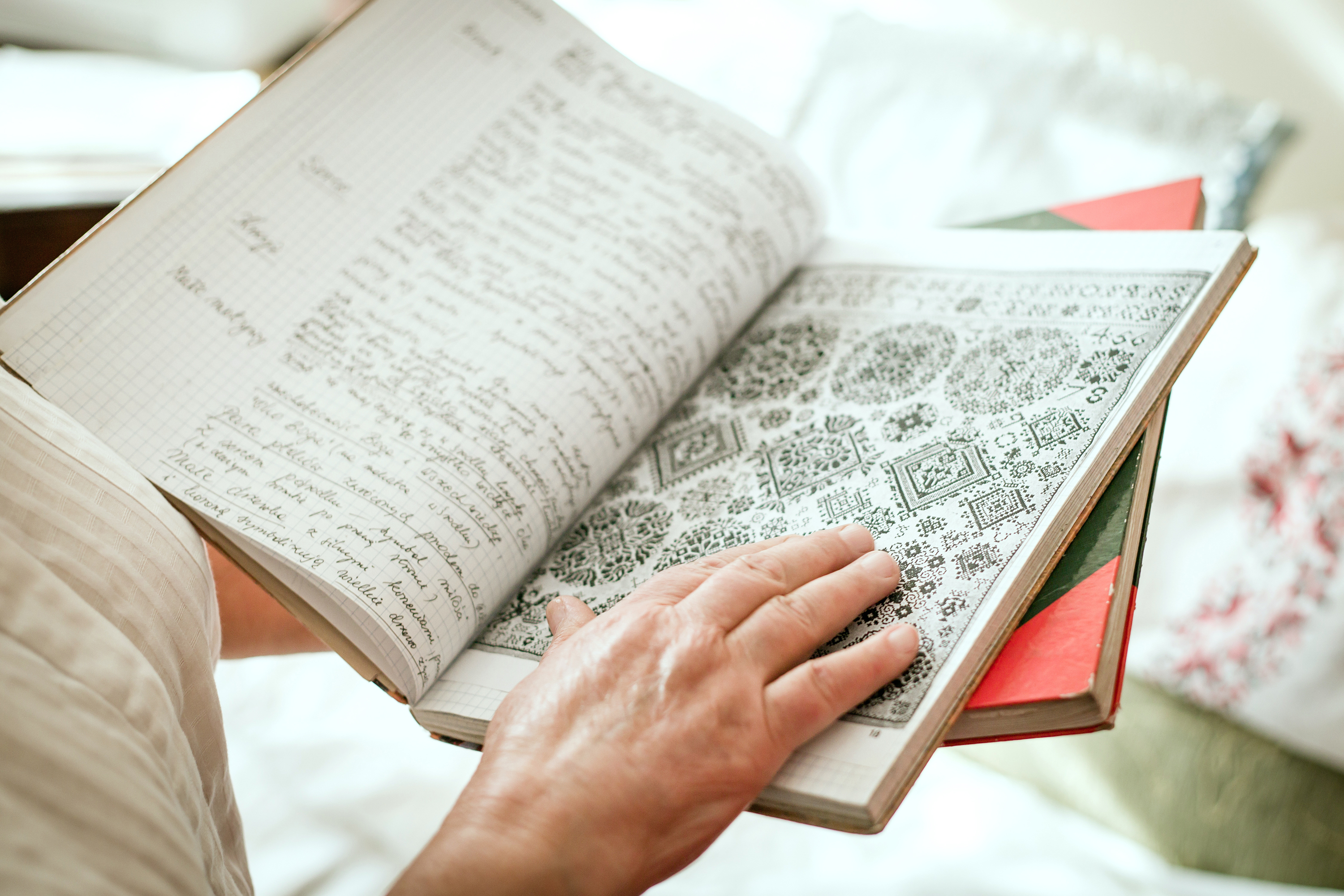 What does your work day look like?
HD: When I sit at the table in the afternoon, I start with very difficult embroidery. It's usually the Cracovian embroidery, which I really like, but they require a proper lighting, well rested eyes, some kind of peace and calmness. When the eyes get tired, or the hands, because the embroidery is so tiny and there's a lot of little holes in it, and I'm working with a thin thread on very thin fabrics so it's exhausting for me, I change the embroideries, so I don't get bored. I have other works at hand, and I switch to the easier ones. In the evening I only do the easiest ones, the cross-stich, especially on old linen that no one uses anymore. At this time I can see the threads very well so it goes smoothly. Mistakes happen of course, so one evening I'm embroidering, and the other I'm ripping at the fabric. It takes just one cross to be bad, because it requires a huge amount of concentration. The cross-stich is a counted-thread embroidery and you need to focus on it so it all adds up.
What does the traditional Cracovian embroidery represent, also called a hole-stitch embroidery [pl. haft dziurczasty]?
HD: It's called like that because it took over a lot from the English embroidery, there's many holes in it. The more holes on an apron, headscarf, or blouses, shirts for women and men, the wealthier the owner seemed to be. The Cracovian embroidery only has floral motifs.
What kind of flowers are there?
HD: Usually the ones that our ancestors had seen around them. They had observed the nature, trying to recreate the flora from their surroundings. So the daisies, poppies, etc.
How many variations does the Cracovian embroidery have?
HD: There's only one Cracovian embroidery but it's divided based on regions: western Cracovian embroidery and eastern Cracovian embroidery. In the north-east of Cracow, so Jędrzejów, Pińczów, on the way to Świętokrzyskie Voivodeship, these used to be very poor regions, as the soil there is barren and sandy. In this region, the embroidery had its own color scheme, and the woollen sukmana coats or corsets were embroidered with sequins or beads. There are characteristic colors on the blouses or aprons, like the embroideries from Zalipie are red and black, headscarves and aprons are embroidered with red threads. The Zalipie embroidery was discovered by professor Reinfuss (a prominent ethnographer and folk art researcher, author of great works about Lemkos culture), whose daughter works at the Museum of Ethnography in Cracow. The Zalipie embroidery is some kind of engraved embroidery [pl. haft rzezany]. There's a strict division between colors red and black. It requires a precise movement of needle and threads, so there's no gaps of fabrics between colors.
In the western Cracovian embroidery, they often use a chain, that you can't see in western Cracovian embroidery, so in the area from Cracow to Chrzanów. It's a huge area and there is no chain for the basic decorative stich, there are others though, like a string, toledo (a kind of embroidery from Toledo city), flat embroidery, velvet stich, and above all the patterns and holes are not really big – that's how you can easily recognize this embroidery.
The big holes are in the mountains and Outer Subcarphatia. Everyone needed to see from afar how many holes there are, to evaluate the owner's wealth. It used to be very important.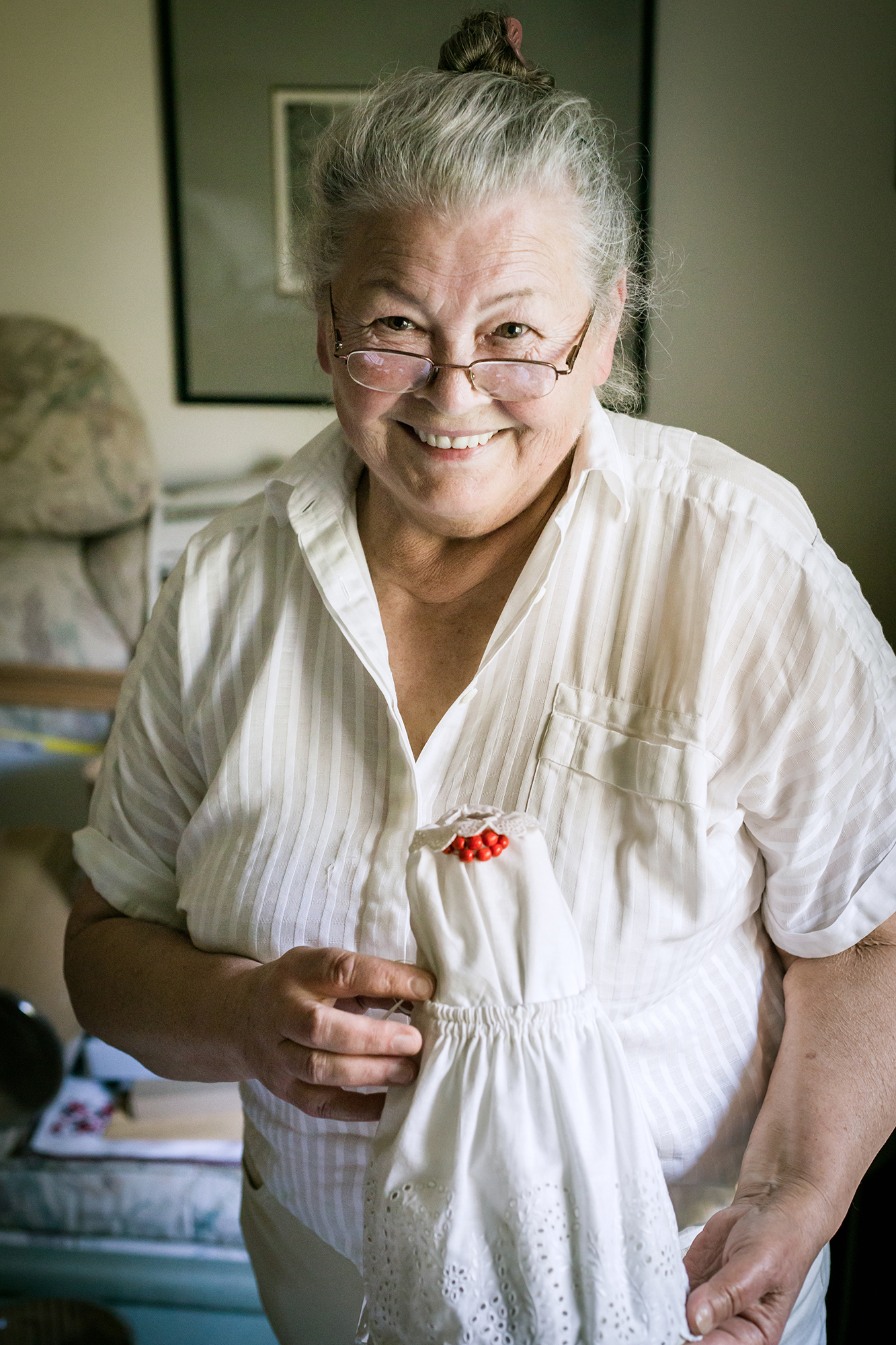 I know that you also like the cross-stich, in which the most important is consistency and humility. Please tell us why do you like it so much?
HD: It's all geometrical shapes of flowers, but I think I do this embroidery because the cross-stiches that I've seen are [just] big crosses, often made on canvases. In Polish tradition there's no canvas as the part of making women's or men's shirts, or aprons. It was linen, that was supposed to protect from misfortune, to keep a person in good health. Linen as a material used to hold a magical power.
Nowadays, linen is called the eco-fabric.
HD: But there's still some magic in it, we like to wear linen in summer. Linen is not perfectly ironed. But I'm personally impressed with the small crosses on the linen. Linen has various types of stiches, tiny ones, big ones. Humility is the most important.
Embroidery is about practising various techniques. There are many people coming to the Association, they want to learn e.g. cross-stich only. And I think that every embroiderer should know every technique and from those techniques pick the favorite one. If you don't try out various techniques you can't really know anything about embroidery.
That's true, it's a matter of skill.
HD: Of course. It can be like someone is great at cross-stitching and achieves stunning results in this technique, but in others – unfortunately they don't. To find this out, though, you need to learn a lot.
What is a shaded embroidery, so called pictorial, that's made on loom, on an evenly stretched fabric? It's made using both hands. Do you like this technique?
HD: I don't do embroidery on loom at all, because there's a lot of preparatory work needed. I don't do it because of the condition of my spine, you need both hands up in the air in this technique. It's a huge strain on a spine. That's why I do the shaded embroidery on an embroidery hoop, the fabric is stretched out well too. But I don't make the big formats of the shaded embroidery. I want to get the most joy out of my work, I do it all for fun, so I mustn't suffer because of it.
Embroidering is truly a painstaking work, requiring humility, focus, and passion, to achieve the desired result in a masterly way. Before a headscarf, apron, petticoat, or tablecloth end up in the exhibition, there's a lot of work to be done. How many hours a day do you spend on embroidering?
HD: I always have embroidery at hand, whether I'm at home or out. I always come back to it whenever I'm free, if I have half an hour or and hour of free time. There used to be times when I was embroidering for 6, 7, 8 hours a day, virtually nonstop, and I can't say it was a hard work because the time was passing by so quickly I didn't even realize it. Not until my legs got swollen or my hands went numb, of course. But I'm not young anymore and I need to be careful and take hygienic breaks.
Do you embroider in the evenings, or also during the day?
HD: During the day, in the evenings too. I go to sleep very late, at midnight or 1 A.M. At this moment I have works prepared for the exhibition next year, but I need to think about future competitions, like the 25th Kashubian embroidery contest. I've been taking part in that for couple of years now.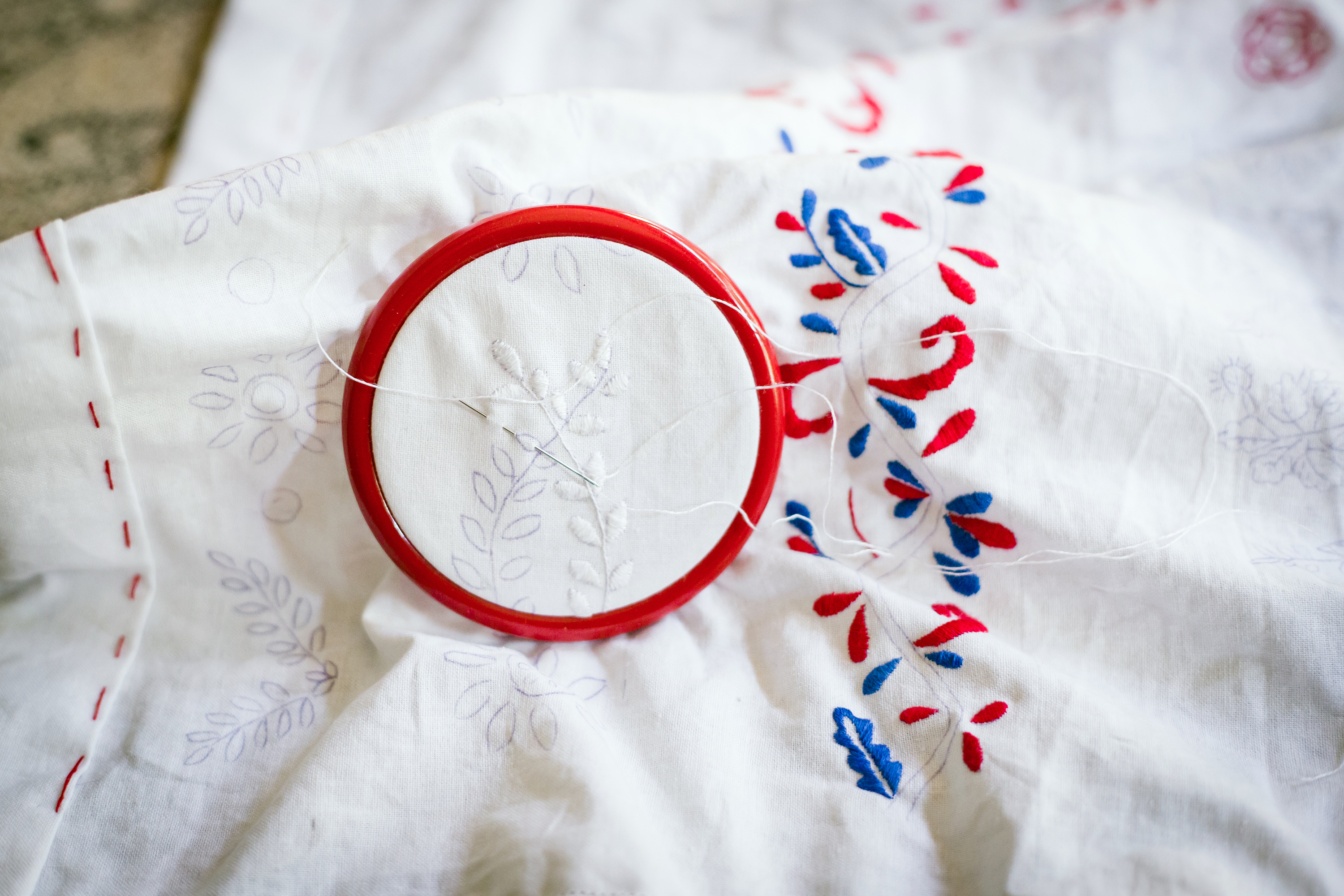 Where is it?
HD: In Linia, on Pomerania, in Kashubia. It was initiated by a man who started embroidering at the age of 10, by his mother's side. He's around 80 years old now. There are a lot of people taking part in this contest, children and teenagers too. But they work there with instructors, and I don't have one. I stumbled upon the information about the contest 7 years ago and I called to ask if people from Cracow can also take part in it. They can, so I do, and as the 25th anniversary of the contest falls on the year 2020, I really want to take part in it, because it's not about the prize but the challenge, searching for the topic. I don't do large formats anymore, it's a lot of work.
Through embroidering you can show your talent, creativity, and technical skill. Is it a way to make s living for you, or it's more of a big passion?
HD: It's more of a big passion 😊 For almost 20 years I've been in cycles: 'Music', 'Stoves', 'Chapels', 'Monograms', 'Peacocks', 'Regionals', 'Portraits', 'Makatka patterns', 'Flowers'.
Why did the 'Music' series happen? Because my daughter, then grandchildren, attended musical schools and they play on various musical instruments up to this day. I gave the 'Music' series to the Museum of Folk Musical Instruments in Szydłowiec. This series was done with the pictorial, shaded embroidery. It was hard to depict the shape of a musical instrument that shines.
The 'Stoves' series happen because I've always said that stoves warm up bodies, and the music warms up hearts. Besides, my husband used to work with stoves so I wanted to make him happy and I took up the topic, motif that captivated me so much that I started to look for patterns of very old cupola furnaces. It wasn't an easy motif, I struggled with it for a while.
The 'Chapels' series is my favorite topic, I took inspiration from photos of chapels from Lesser Poland province, taken by the husband of Dr Urszula Janicka-Krzywda.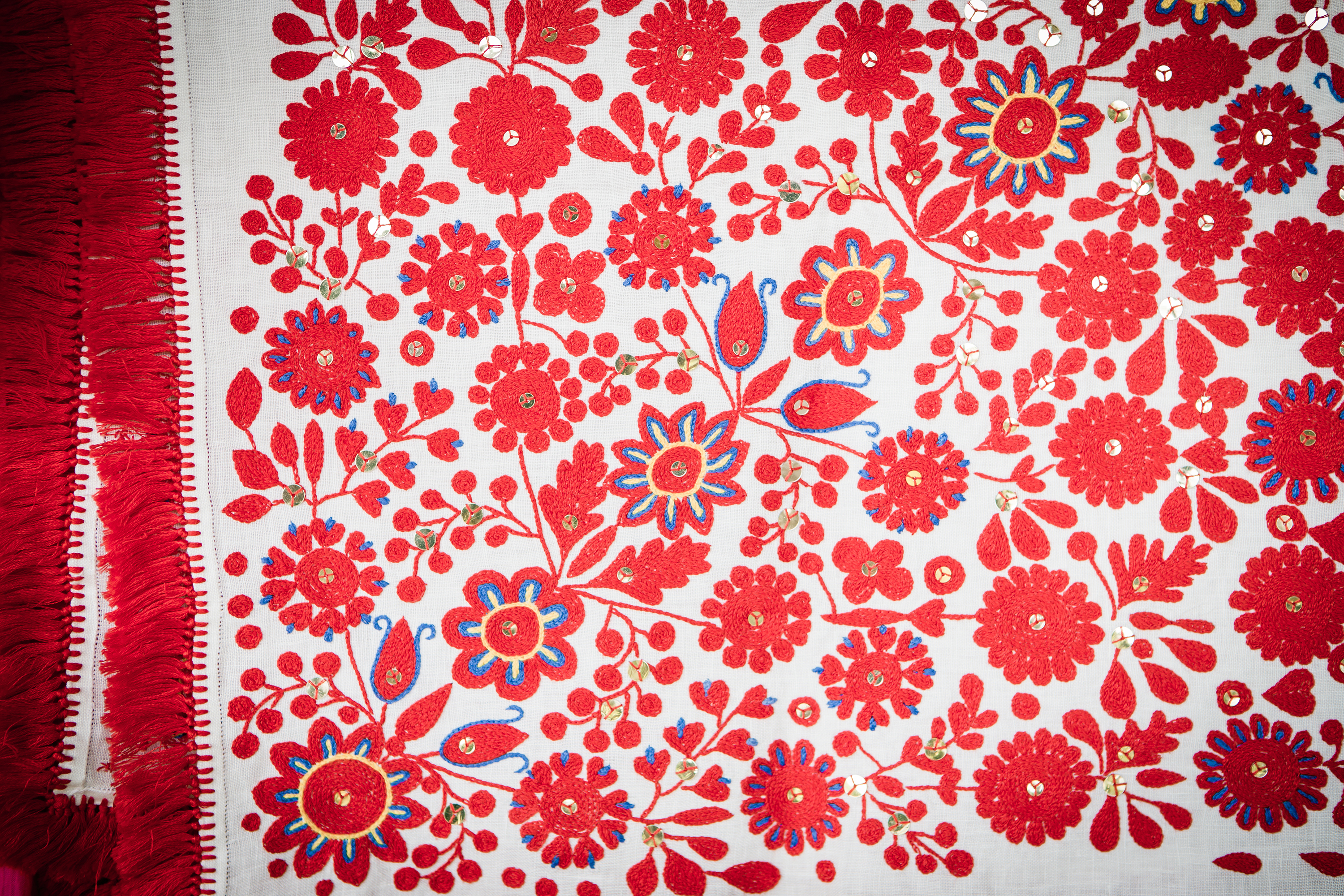 How many art works there are in the 'Chapels' series?
HD: A lot, maybe 18.
In one of the interviews you said: 'Embroidery is a talk without words'. These are words of wisdom. Is embroidery the 'school of silence'?
HD: Yes, but only when you embroider something that has a theme. The other party, the recipient, should be prepared, know what was the author's idea behind their art work.
Do you work in silence?
HD: Yes, in silence. I do like to watch tennis tournaments, but I watch them on TV with the sound off. I glance at it from time to time. I have to be focused, fully concentrated on the embroidery. Sometimes I do small formats using tatting, for a present or something. I like to work on a train, I'm focused and counting słupki, półsłupki weaves. But the moment someone interrupts me, I make a mistake. And if I make a mistake, I need to rip it out…
You have a big collection of beautiful thimbles. How did you start collecting them?
HD: I read somewhere in a paper about embroidery that some lady was collecting thimbles, and I liked it so much I started doing it myself.
You bring them home from every journey?
HD: From around the world, I would say. My friends and family have been bringing me thimbles as gifts. A big part of the collection is from my friend, who's been all over the world. Now it turned into quite a big collection. There's almost 490 of them.
I remember that there used to be a shop on the Szpitalna Street, that were selling silver thimbles. They were tiny works of art, like heads of dogs or owls, etc. The shop is no longer there, unfortunately.
What does the support from organizations in charge of promoting folk culture look like in Cracow? Do you get this kind of support in 'Lud-Art'?
HD: For 26 years Stowarzyszenie Miłośników Tradycyjnego Rękodzieła Ludowego i Artystycznego 'Lud-Art', thanks to a huge selfless courtesy of management of Museum of Ethnography in Cracow, has been meeting up on every Tuesday from October till June (July, August, and September are summer holidays), and we are really grateful for that. In the 'Lud-Art' Association there are three generations that meet every week to work together.
We get a big support from the Cracow City Office. We are under the honorary patronage of the President Prof. Jacek Majchrowski, of the exhibitions we organize. At the big anniversary exhibitions, that you need to invite a lot of people to, print out the invitations, posters, we got an important grant for our activity, which is a great help. It's a huge favour and honor. Moreover, the President Prof. Jacek Majchrowski sent us a congratulatory letter.
Do you think that the interest in folk art is dropping, or growing? Embroiderers complain that few years ago they were sewing wedding dresses, folk costumes, and now the embroidered tablecloths are being replaced with Chinese stuff, because it's cheap and easy to clean. From my point of view, making folk costumes with machines is a profanation.
HD: In the last year, four young people in their 20s joined our Association, it gives a lot to think about. Chinese stuff and all those factory-made things are wearing out. Embroidery is the most noble technique after all, that's why the museums are gathering this kind of priceless pieces, it used to be a fortune passed on through generations. Embroidery used to be valued. In the 18th century, near the Chrzanów city, and it used to be a rich area, there was only four houseowners who had the full regional costume (caftan with sleeves or without, magierka hat, hat knitted with white wool, rogatywka cap with a chunk of peacock's feathers – for a white sukmana coat – few pairs of pants, shirt, richly decorated with brass buttons and tassels, belt with clinkers with a place for folding knife, purse for flint and tinder), because it cost a lot of money, it was a fortune. After war the folk tradition disappeared because people were ashamed of their origins. They didn't want it, denied it.
It used to be like that, but it's not anymore. Now we're in a transitional phase, you can see young people coming back to the tradition. It's a slow process of course, but there's a hope that the interest in the rich legacy of our ancestors will continue to grow amongst young people.
HD: I think it's because of the lack of education. They don't talk about tradition at all. Sometimes I go to the lectures in school or clubs and there even older people have no idea what the tradition used to be like. We don't talk about the rituals from the past. After all, ceremonialism is strongly connected with embroidery, costumes, decorations, isn't it? It's all connected.
So can the intelligence of modern machines threaten the tradition of embroidery? We have embroidering machines, and big clothing companies are introducing clothes embroidered mechanically.
HD: I don't think so. Embroidery is a great field of art. There are no two of the same holes, no two of the same leaves – that's what's beautiful about handcrafts. In the embroidery by hand there is no such unification like in the one by machine, in which everything precise down to the millimetre. Not everyone likes it. I wouldn't want a tablecloth embroidered by a machine, I prefer to have a piece of linen canvas on the table.
How do you think, what rules should every creator follow? I mean in improving oneself, paying attention to the detail and the highest quality of the materials.
HD: As for a folk art creator, one should, above all, follow the rules that our ancestors made. That's what we should stick to. This is my opinion. To keep up the tradition, you have to stick to what was established before. Not for nothing are ethnographers doing queries. The color palette, decorations, symbols are important. It's about following the layout of threads, to bring out the light from the embroidery, and space, subtlety, that all come together creating a wonderful result. You gather the knowledge to save the future generations.
Is there any bible of embroidery, a publishing house from which you can learn about the topic?
HD: Over 200 years ago in the DMC company there used to be an embroiderer who worked out and released the encyclopaedia of embroidery. It covers all the stiches and it's used by embroiderers up to this day. There's an atlas of folk costumes 'Strój ludowy w Polsce. Opisy I wykroje' [eng. folk costume in Poland. Descriptions and patterns] by Prof. Barbara Maria Bazielich (Polish ethnographer, human sciences professor, specialized in costumes, folk art, and ethnographic museology), who passed away last year. It's the encyclopaedia of Polish folk costumes decorations, including patterns for corsets, shirts, etc. It's a beautiful book with photos, unfortunately you can't get it anywhere now. There's also a book titled 'Polskie hafty i koronki. Zdobienia stroju ludowego' [eng. Polish embroideries and laces. Folk costume decorations] by Elżbieta Piskorz-Branekova, released unther the series of 'Ocalić od zapomnienia' [eng. save from forgetting].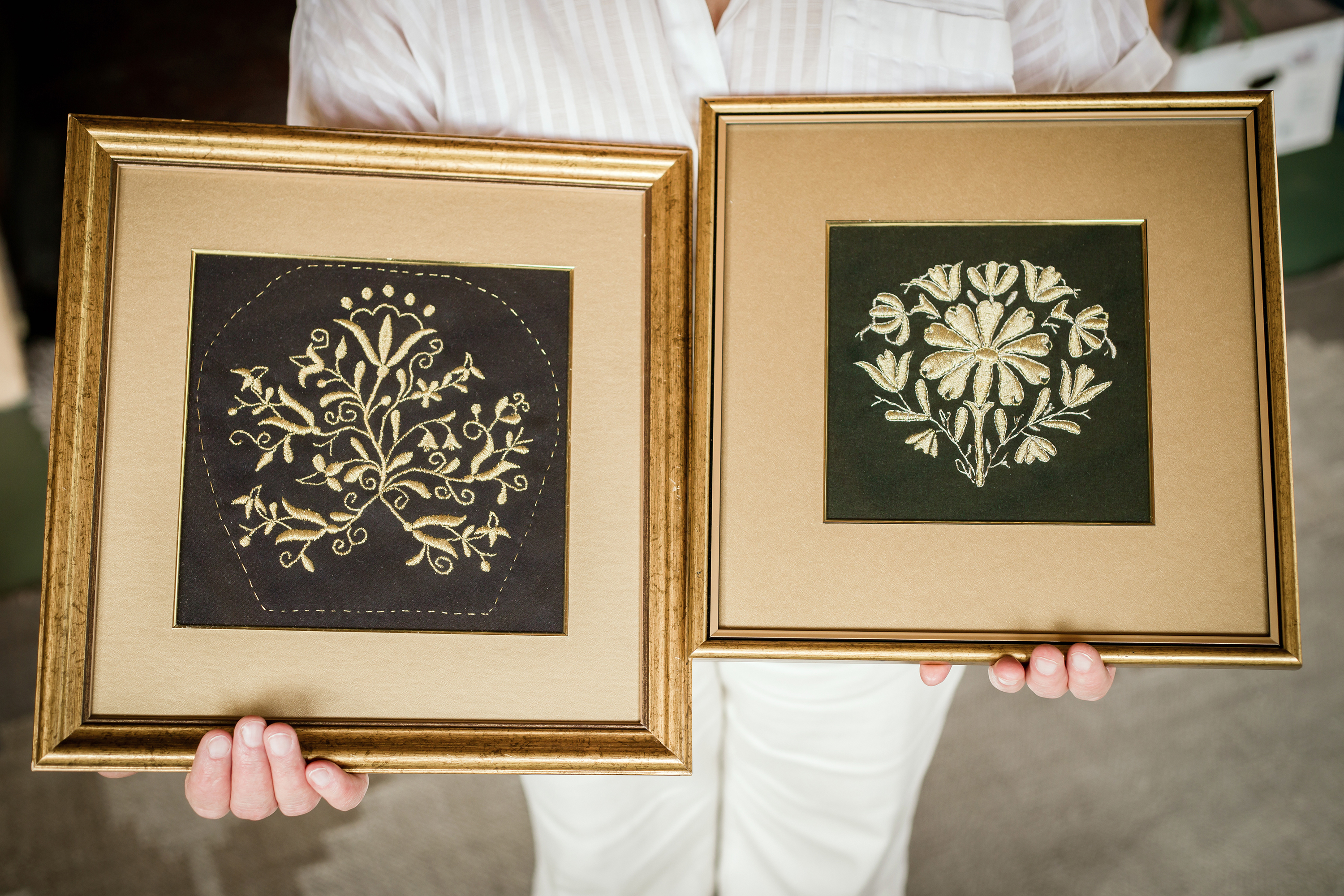 Is there a way of measuring the skill in the embroidery field? Like if you reach some technical level and then then it's only about repeating the processes, or does an embroiderer learn something new every day, improving? What's your opinion on that?
HD: My first, private opinion is that you can't just stop at some level. There is no way to measure it, there's always going to be something that you want to improve. It's the hands that are working, raising the efficiency.
Where can I buy your art works?
HD: Nowhere. I don't sell my works. You can see themthe Central Museum of Textile in Łódź or in the Museum of Folk Musical Instruments in Szydłowiec.
I gave them my works from the 'Music' series – the musical instruments and the art work titled 'Ineffable', female panties created at the pattern of the ones from the Polish interwar period, made on a batiste, finished with lace. I managed to get the original buttons from that period of time, clad in cloth and threads. I won a competition and the Central Museum of Textile in Łódź reached out to me offering to get this art work. I said yes, of course. I waited for a whole for the selection committee's opinion, that's responsible for accepting the objects to the museum, and then finally I got an honorable letter stating that the committee recognizes it as a museal object, so they took it in the lingerie department. I was supposed to make a shirt to go with it, but when I change a subject I find it hard to go back. And I will not make two of the same things.
Mrs. Halina, I'm anxious about your legacy and that you sacrificed so many years of your life to the embroidery, you have some amazing collections of your works. Who is going to take care of your heritage?
HD: My daughter promised to pass it all on to a museum, maybe some open air museum will be interested too. I've been having a great amount of joy because of embroidering and no one is ever going to take that joy away from me. I live my second life with laces, embroideries, going to exhibitions and contests. Me and my friends are an incredibly active group, we often leave for exhibitions, queries to museums around Poland, and even across the border. Some of us had an exhibition in Wilanów, it was a great honor. Incredible. Recently, our small exhibition in the Jan Matejko House in Cracow came under the patronage of Ministry of Culture and National Heritage. It's a wonderful thing, to be a small part of this type of events.
But before the pass-on there has to be some monographic exhibition organized.
HD: I had many exhibitions held in Cracow, about thirteen. I would like to have displays of the art works I love, that I spend the happiest hours at, because the joy I had during working, coming up with the idea, selecting threads, or facing some different technique, is priceless. When I finish working on one piece I'm happy that it's done, and I already think about the next one.
I don't make two of the same things, unless it's something tiny for an auction, or for a child as a present.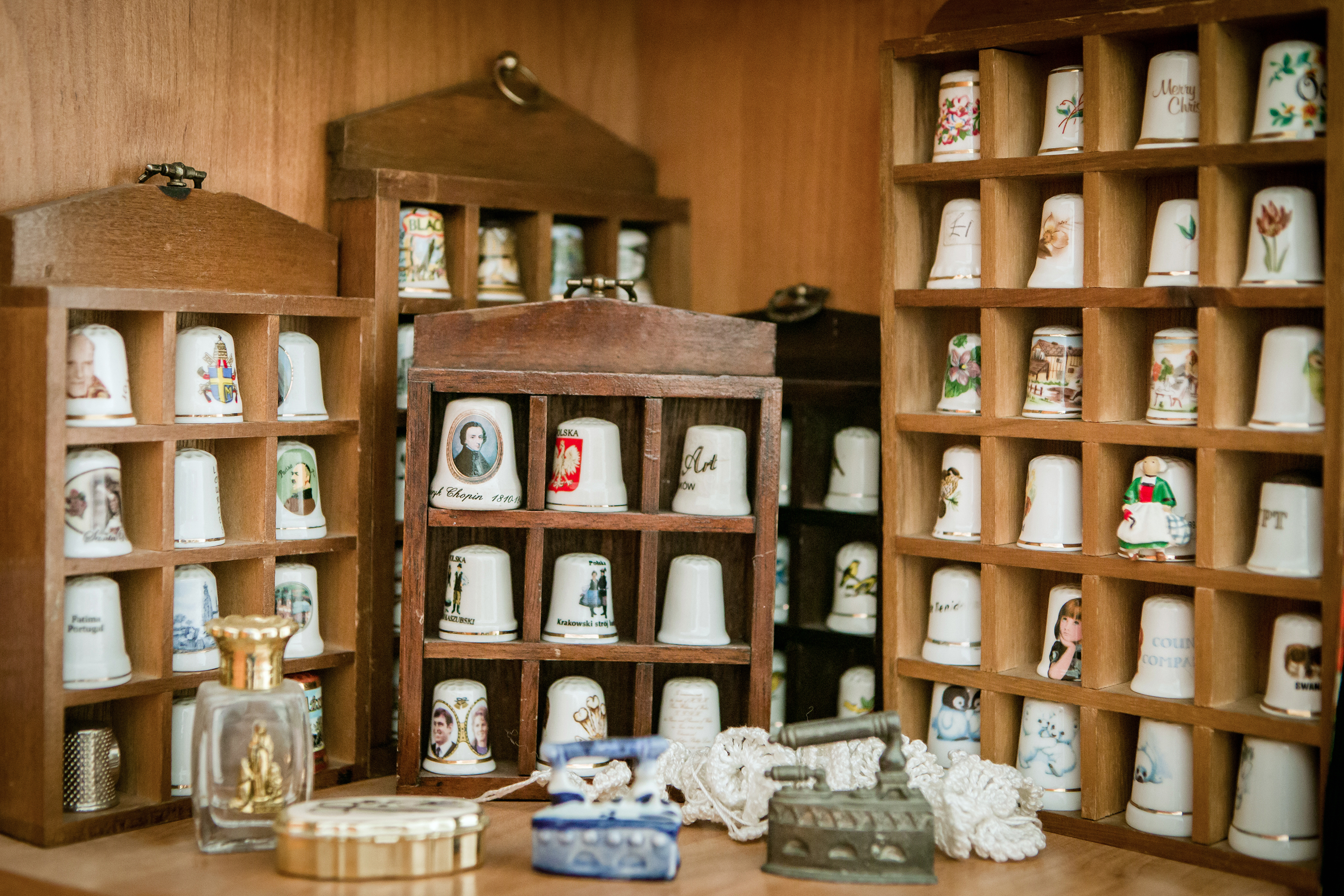 You also don't do commissions?
HD: Never, I wouldn't be able to part with it. If I embroider, for example, Lemko apron using a very tiny cross on a linen, and I work on it for a year because I have other things to do, then for what kind of money could I sell it? Or a headscarf that I make on batiste, I pick out two threads at the time, cry, take lot of breaks… People nowadays don't want to pay for a handcraft. It's better to pass it on, but somewhere that they can appreciate this kind of thing. Many years ago I made for my friend a very pretty doily of a richelieu openwork embroidery. I told her that if she cleans it she has to iron it well on the inside. And she said: 'Halinka, don't you worry, I will put it in a mangle'.
What advice do you have for people that would like to start embroidering? Maybe some words of encouragement?
HD: Come to the 'Lud-Art' Association, where we can teach you the techniques of lacemaking and embroidery. In the group like ours you can learn a lot, fall in love with those techniques. It's a therapy for every one of us. You can quiet down here, because every piece of work is a kind of a silent companion.
It's beautiful that you keep up the tradition of women's gatherings.
HD: Yes, it's true. You can calm down, enjoy. It's fun.
How to relieve the spine during embroidering? How to take care of the eyes? Do you have any tested methods?
HD: Of course I do. You have to keep the distance of 30 cm from the work piece, then you don't tire you eyes or spine. And surround yourself with greenery. I embroider at the window with a view on the garden. Green is neutralizing tired eyes. I glance at it and I calm down.
But you don't work with a magnifying glass?
HD: No, I have one, but I don't use it. I have problems with my sight so I take a lot of breaks.
What's your current dream , what would you like to do next?
HD: I don't think I have dreams. I have a lot of work pieces started, but I don't think that I must finish them. Now I have the new challenge: I'm going to make Rzeszów embroideries. I would like to make couple of aprons, headscarves, Rzeszów's rańtuch headscarf, but I don't want to make a list of tasks because later I'm miserable that I wanted it so much but it didn't work out. When the time is right. I don't make plans. But I'm very hardworking, and my husbands says I'm addicted to the embroidery.
Mrs. Halina, thank you very much, I wish you further success and I keep my fingers crossed for you to accomplish everything you wish for!
---
Interview from November, 2019.
Interviewer: Joanna Zawierucha-Gomułka / Rzeczy Piękne
Photos: Bartosz Cygan © Rzeczy Piękne
Editor: Dorota Smoleń
Translator: Dagny Zawierucha
---
The project is financed by 'Stypendium Twórcze Miasta Krakowa'