Witold Gertner is a carpenter, locksmith, and musician in one person. For over 40 years he's been renovating and reconstructing old harpsichords and pianos. Not so long ago he single-handedly created a copy of Ioannes Moermans' harpsichord, made in Antwerp in 1584. 'It's mainly handmade, using carefully selected materials. No plywood or the latest strings' – he says. We talk with Mr. Witold about the profession of piano tuner, who repairs, renovates, and adjust old instruments. Is it true that the essential features to do so are the perfect pitch, patience and manual skills?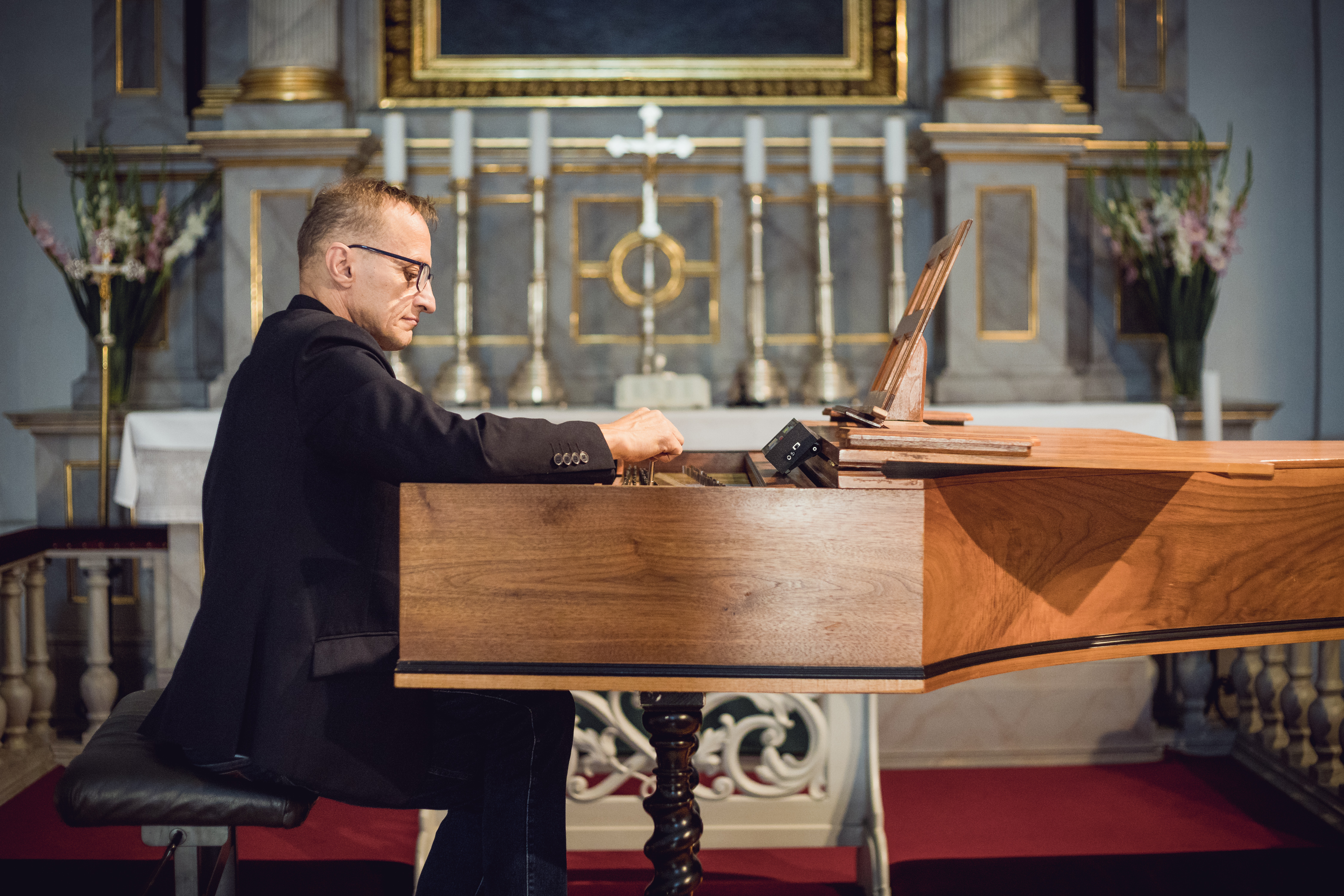 You walked a long, interesting, and, at the same time, complex career path. How did the passion for old instruments mature and develop in you?
Witold Gertner: I took an interest in instruments quite early. There was a piano in my family home, my dad used to play it. Sometimes he tuned it himself, taking it apart, and if there was something serous going on with the instrument, master Jan Rajkowski would come by. I would be watching it with great interest. Since I can remember, I've been keenly interested in what's inside the instrument.
So you've been attracted to all those mechanisms, that hold a great secret inside, since childhood? There must be someone who instilled passion for tinkering in you, isn't that right?
WG: That's right. When I was about thirteen years old I took an interest in the horology. There was a neighbour who got me into the world of watches. In the evenings, especially during holidays, we used to sit together and tinker with their machineries. After that, I got interested in motorbikes and cars. And then, one time,  when master Rajkowski came to my dad to repair the piano for the umpteenth time, I stood beside him and peeked at what he was doing, nagged him and asked for explanations. At that time he said to me: 'When you have time, come by my workshop in the State Higher School of Music (now the Academy of Music in Krakow) and see how I work'.
You're from Cracow [pl. Kraków]?
WG: No, I was born in Tarnow. For some time we used to live with my parents in a mansion house near Cracow, we moved a lot to many regions of Poland, because my dad was working in the food industry. I graduated from the musical school in Krzeszowice.
So when did you start working in the field of musical instrument reparation?
WG: It was in the 70s. I remember it was hot summer, without telling anyone I went for a ride on my motorbike to Cracow. I was going to a workshop that was placed at the Starowislna Street 3, to the master Jan Rajkowski who came from Lviv. It was a place where he repaired musical instruments. That's how our collaboration started, it was all about slowly introducing me to the topic of rescuing and renovating musical instruments, ordering me various jobs, smaller or bigger. When I turned 17 I started to come by more often, in my free time of course, because at that time I was attending a vocational school of locksmithing. Why this school? Because it all helps you in life. You have to be able to deal with various jobs by yourself, make some extra element to an instrument, if it's a special, one of a kind piece. Last time I was repairing a Broadwood's square grand piano, and there's practically no parts or tools for it left.
When I turned 18, the master offered me an official internship. He'd dealt with everything and took me in for a part-time job. I graduated the vocational school, then I got an internship at the carpenter's, Mr Staszkiewicz's, God rest his soul, in Zablocie area near Telepod, because I wanted to learn how to operate machines. I was interested by it, because some of the piano's parts are carved by hand. I used to think that I could use machine's help, but it's not the solution at all. Sometimes you have to make a platband, and you can't do it with a machine, you have to do it by hand, with a normal hand plane, the master used to call it rabanek, or a small plane, called hobel. The master often used German names, he used to say 'Pass me the sztamajza [eng. chisel]'.
How do you remember master Jan Rajkowski?
WG: I worked with Mr Jan Rajkowski from 1976, officially from 1978 to 1988. He was the best, he did everything, made instruments from the scratch, the whole woodwork, wood polishing. There was no technology or compressors, you had to do everything by hand. He could make any element of piano's machinery, there was no spare parts, like today there are.
The beginnings of the career might be hard, because these are the choices a young adult make, not knowing yet what he wants to do, only following his intuition.
WG: I got hooked on it pretty early, just like on the motorization, I don't even remember when was it exactly 🙂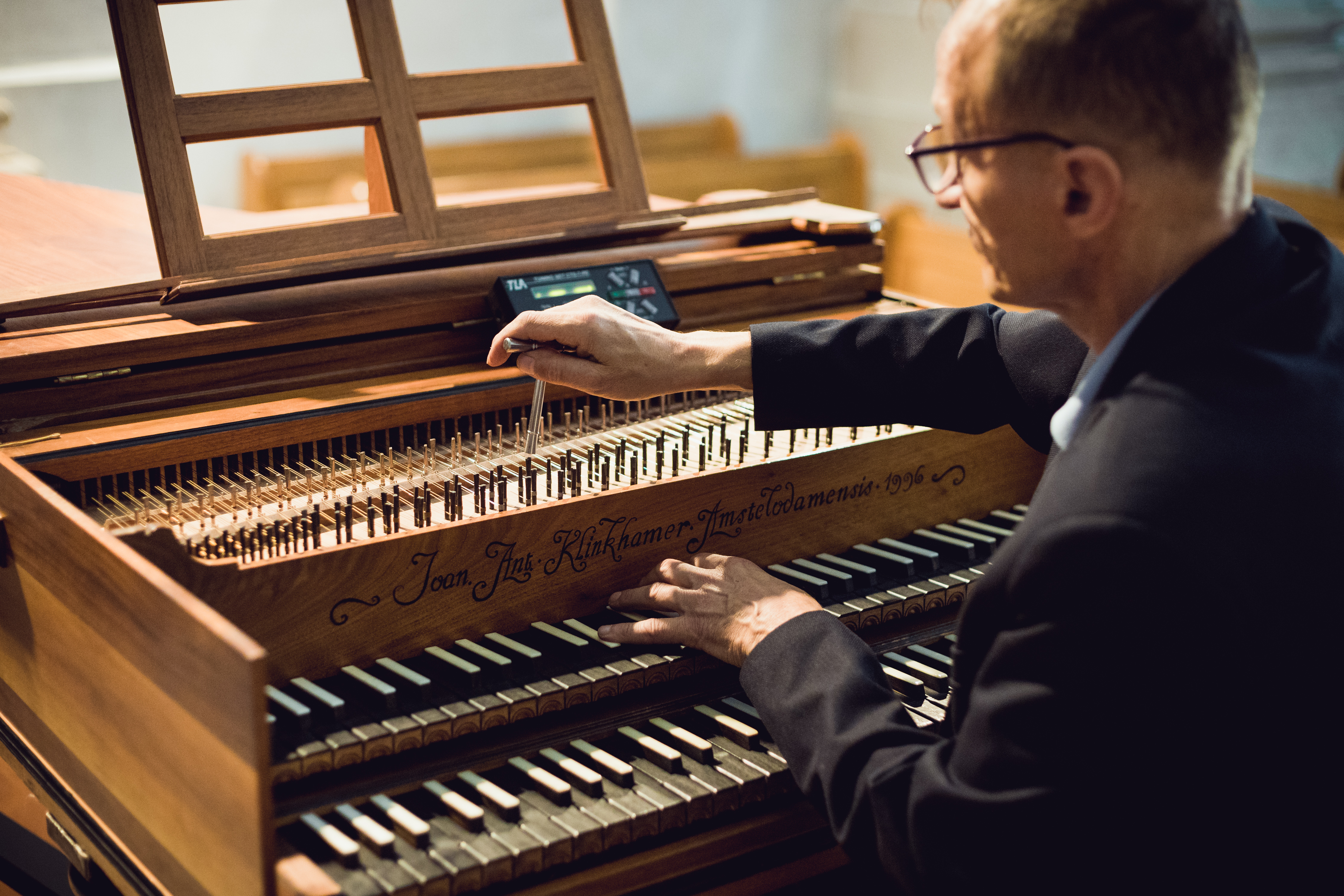 Why the musical instruments?
WG: Because I used to play them myself and I've always wanted to work with muscial instruments, I wanted to know what's inside them, how are they built. Nowadays, I still play many instruments, like accordion, electronic keyboard, harpsichord, piano and trumpet.
What was a person who works in this kind of field called back in the 70s? Someone who was building, tuning, and repairing pianos?
WG: In post-war years it used to be a piano building technician. In the 50s and 60s, there used to be Klavier Technik supreme diplomas – for a technician, who can do anything with musical instrument, that's what it said. Then it's changed name for a master diploma, or a journeyman of piano and harmony instruments. And that's how it is to this day, little has changed in this industry.
Do you still use the old methods of conservation?
WG: Yes, but not always. When repairing an antique instrument I use the old methods of conservation. It's different when it comes to harpsichords, because they used to be painted with oil lacquer brush, on a varnish, with the addition of natural pigments – just like in paintings. Nowadays, we have access to good natural lacquers and you can paint with spray, which gives a quick effect of finishing coat.
Do you remember the time you wholly tuned your first musical instrument and what was it?
WG: My first musical instrument that I started to tune was the Czech piano Petrof from the turn of the 60s and 70s. At that time in the Czech Republic they produced very faulty pieces with heavy keyboards, the keys were too long. The producers made a mistake, they were making it out of beech wood. It was a very heavy instrument. I was learning to tune on this Petrof piano by myself, because my master said: 'I'm doing all the technical work, but I'm not a tuner'.
Who taught you to tune then?
WG: Late Edward Szort, who was a tuner in the State Higher School of Music in Cracow. As a thank you for teaching me to tune I helped him to accommodate in his new apartment in Wola Duchacka neighbourhood. He was already sick at that time, later, in the 90s, he left for the United States. There, he was working in a piano shop and that's what he was doing for a living.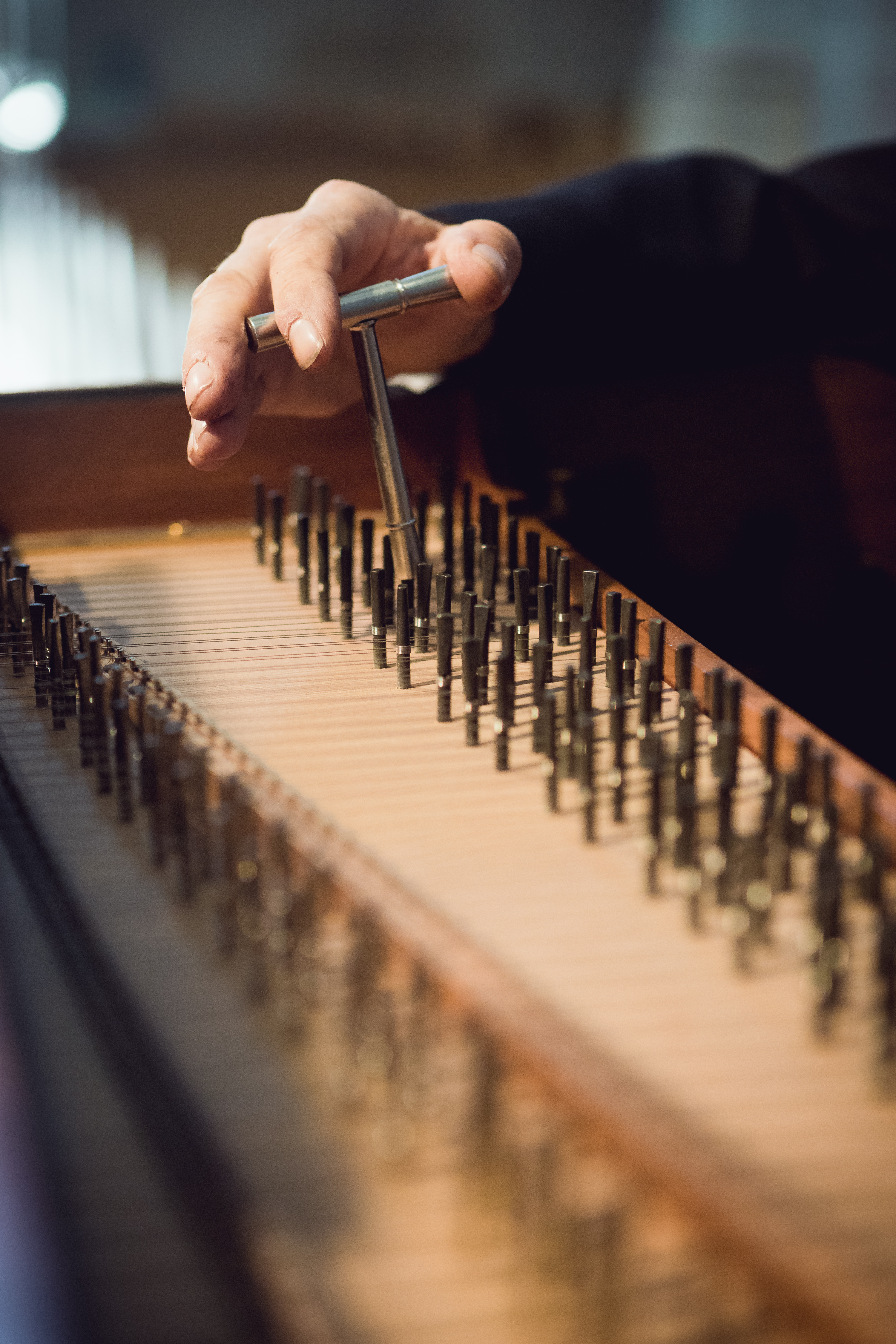 Was learning to tune a long process? I mean learning from the basics.
WG: You live and learn. But I started to tune very early. Mr Edward threw me into the deep end of the pool, I tuned and he corrected after me. When he got sick I was the one to take over the pianos he'd been tuning.
How many musical instruments were left for you to tune back then?
WG: 36 instruments. I had to check on them all the time. That's what the work as a tuner in PWSM (the State Higher School of Music in Cracow) is all about, taking care of many instruments, keeping them at the level of the tuning fork, so in the proper parameters. The son of my master was a corrector. He was getting rid of mechanical failures, because I just couldn't keep up. I was working basically from 8 AM to 10 PM. Including Saturdays and Sundays, and nights. Every second night I was coming by after 10 PM to remove a defect and tune.
So it was a so-called night shift?
WG: That's how it was, working at nights. I used to work like this till 1989.
And then what? The better times came?
WG: Then I repaired a Bechstein piano for the Villa Atma, the Karol Szymanowski Museum in Zakopane. My work was being evaluated by master Bazylewicz, who worked in the Krakow Philharmonic. He was retiring at that time. Then the director of the Philharmonic offered me a job so I transferred to the Krakow Philharmonic. I learnt a lot there. There were field trips around Poland, I started to tune harpsichords, for example radio ones. The Cracovian Radio Symphony Orchestra used to have its headquarters in Krakow Philharmonic. There were two harpsichords: Ammer brand – for practising, and Neupert brand – for radio. Master Bazylewicz didn't like harpsichords, he used to say that it's a backup musical instrument, a 'leprosy', so to say, that you have to take special care of. I was gradually learning how to tune harpsichords. There were world-famous harpsichord players coming to the philharmonic, like Elzbieta Chojnacka or Bob van Asperen, who taught me how to work with intonation of plectrum in harpsichord. In every musical instrument you do the intonation manually, like hammers (in pianos) and plectrums (in harpsichords), but additionally you intonate the instrument with tuning, so the quality of the sound is clear and pleasant to hear.
So every musical instrument requires separate attention when being tuned. And what do you think about the modern manufacturing of musical instruments?
WG: Technology is moving forward. Nowadays, musical instruments are being produced either mechanically or manually, but the latter are very expensive. It's become normal that a modern, mechanically made piano works well for 5, maybe 6 years, and after that it shouldn't be used for concerts. That's why, in the International Chopin Piano Competition, you can see only the new musical instruments.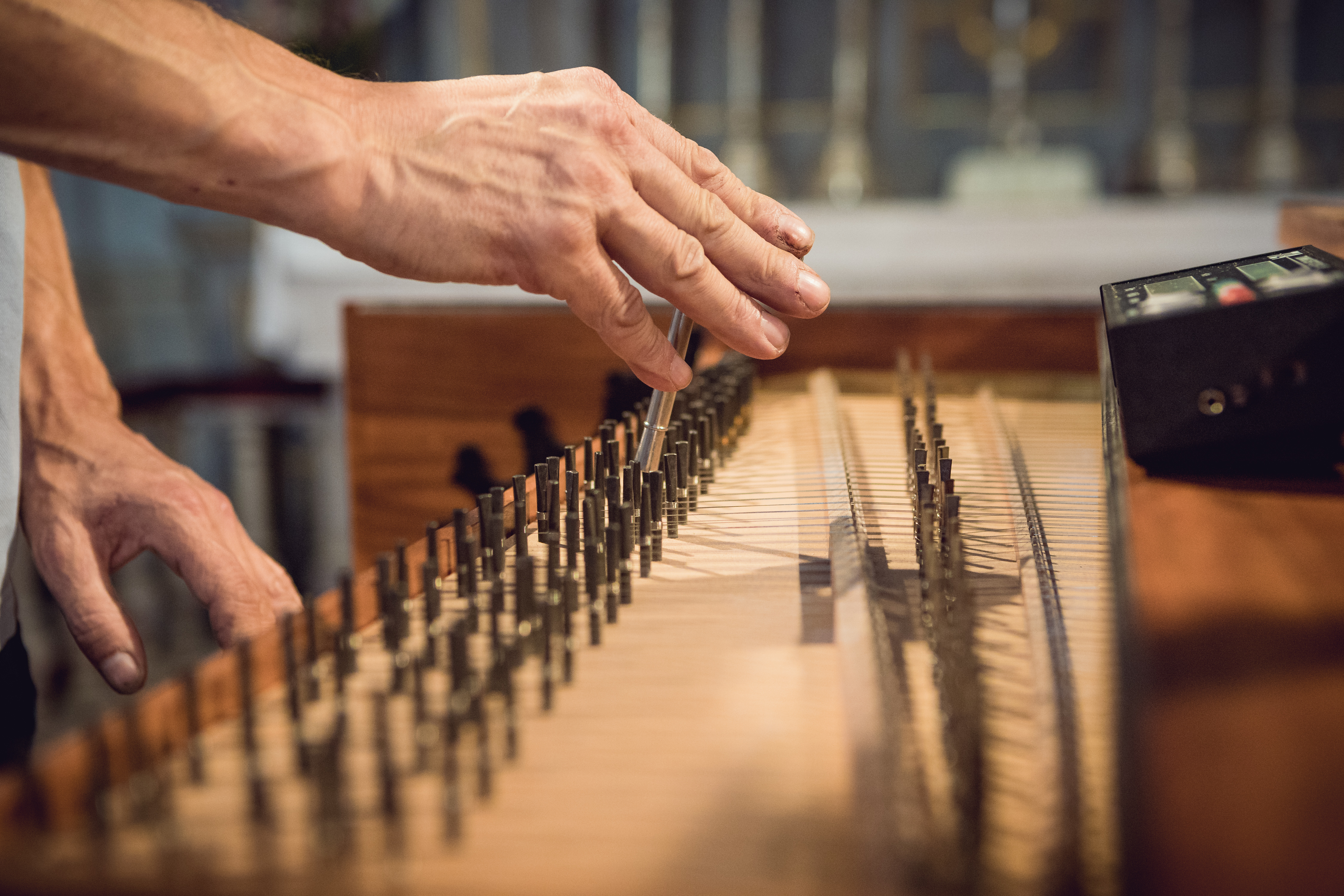 But a good musician can play any musical instrument, right?
WG: Yes, as long as the piano is operational. But a lot depends on the pianist. A good pianist can intone the sound of the musical instrument by playing it, even if the instrument has some flaws.
In 2018 I was following the 1st International Chopin Piano Competition on Period Instruments, watching the competitors struggle to play on period instruments. We're not really sure how the 19th century pianos used to sound in their glory days, when they were solo instruments. The 19th century musical instruments differed from one another, even if they were created by the same constructor. They have nothing in common with the present mass-production ones. How is it today?
WG: There was a variety of action mechanisms at that time, because those who were inventing the instruments strived for perfection. Today, there's only one type of action mechanism, it's the English one with a triple repeat sign. This kind of action, compared to the former ones, is more advanced and improved. That's why the modern piano has far better actional repeat sign than the old one, so the hammer is faster in action and sensitive to the key's pressure.
What's the difference between the old and new pianos?
WG: The old pianos have muffled, velvety, warm sound, because in the very first pianos hammers used to be made of chamois leather (there was no felt nor forming press), and the new ones have glassy and metallic, tin sound. Felt used to be different back then, not so pressed and hard like today. That's why the musical instruments before used to have different sound, a warmer one.
Which musical instrument has the most beautiful sound for you?
WG: It's hard to answer this question. It depends on the instrument. There are musical instruments that are perfectly made – like those from before the war, the ones with the English action. After the World War II, they still used the same, good materials to produce pianos, unfortunately, shortly after that, the production was getting improved more and more, changed its technology and made work easier. I still happen to find some old parts, especially in pianos. And these parts are good.
Answering your question: the mystery of bringing out a beautiful sound from a musical instrument is the ability to intone the whole action of hammers and in the tuning, if there is not too many unwanted aliquots in there (they pop up during resonance), but only as many as there should be.
So it's about bringing out these subtleties?
WG: Yes.
I've been wondering, what kind of pianos do young pianists choose, those who take part in piano competitions: Yamaha, Steinway, Fazioli, or Kawai?
WG: Everyone picks Steinway because it's very popular, but also Yamaha because the company made the new Yamaha for concerts, in the new technological system. The Japanese are producing better and better pianos, of course, but it's nothing more than a machine's work.
Who makes the best pianos, in your opinion?
WG: The Americans. I'm talking about the brand that's in the world's best, the Steinway. But it's also about the preparation of the musical instrument because, even when the piano is the best, if the tuner doesn't prepare it well for a concert, none of that will work.
You've been working with old and new musical instruments for years. What musical instrument would you recommend for learning to play piano, for an everyday intense study?
WG: I would never recommend an old musical instrument for the intense study, from the technical point of view. A student who plays everyday, plays for hours, has got to have a reliable musical instrument, the one that works. A student would play it for 15 years and then it would need the overall renovation of the whole action mechanism. As for the old instruments, they require a special care, they're getting out of tune a lot, you have to take care of them very much. For example, Yamaha holds up an intense everyday training for 15 years maximum, because the elements of action mechanism are made of synthetic materials, they're plastic, even the hammer shanks are plastic.
Nowadays, the new piano has a 2 years warranty, like a car. Modern pianos have spare parts as well.
Does it mean that there will be less or more work for renovators?
WG: Musical instruments are less sustainable, they last shorter. It's a different kind of work, as well. We're advancing, people are playing faster, the old piano action mechanisms used to be different, people were playing slower. So there is work for tuners, and there will be.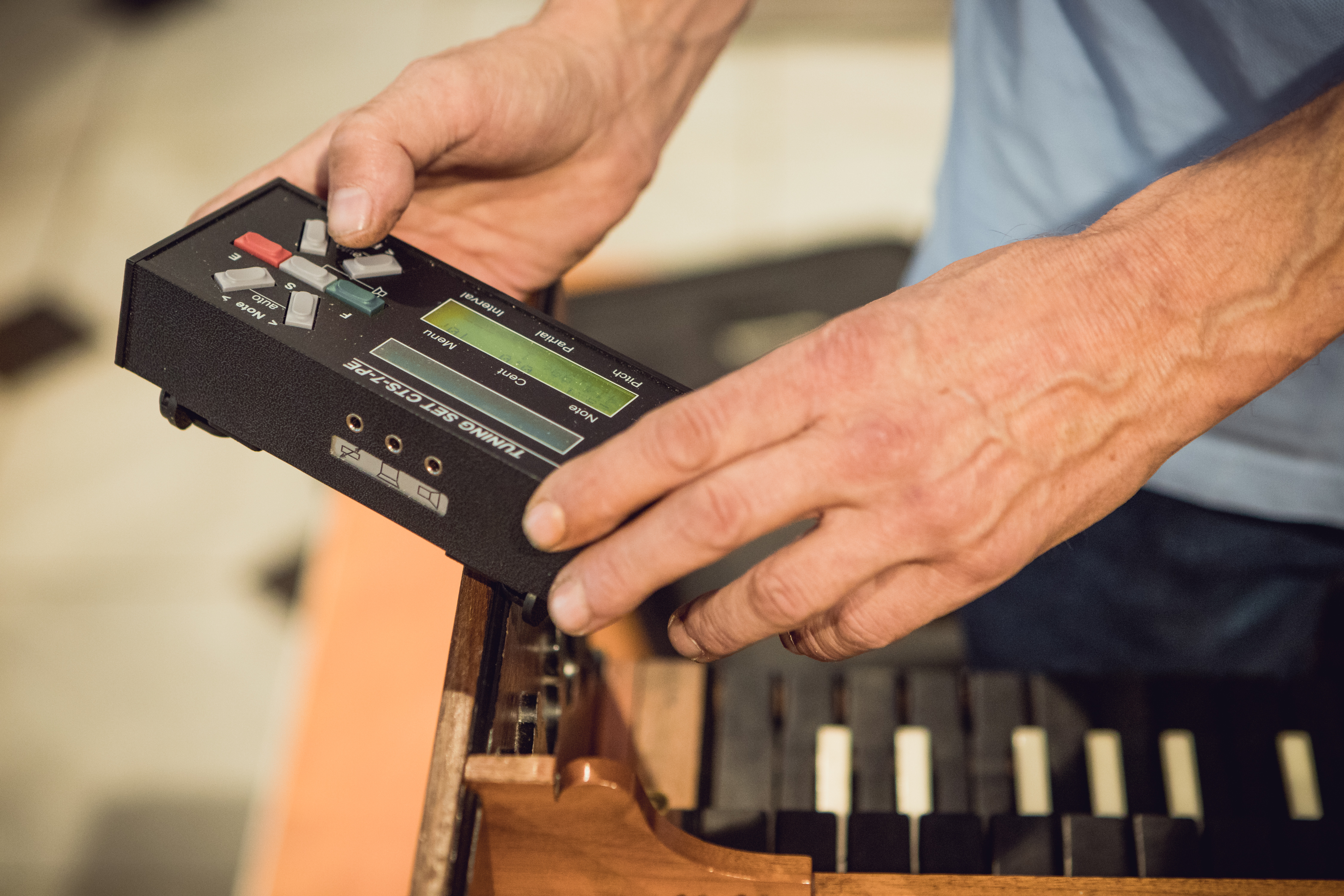 What does a tuner have to remember when tuning?
WG: Every musical instrument requires separate attention when being tuned.
Is it essential for a tuner to have features and talents like: the perfect pitch, patience and manual skills?
WG: Yes, it's very important in this profession. The perfect pitch is necessary for tuning. Patience is essential in doing high-precision jobs like intonation of plectrums in harpsichord, or piano action mechanism. And the manual skills are needed for creating a missing part, or a part that is no longer sold, by hand.
How does a tuner and an artist collaborate?
WG: It's all about the mutual agreement. It's the most important during work. You have to communicate with each other. The musical instruments need to be prepared in the way the pianist expect it to be.
Who's your role model in the field of musicology?
WG: Jerzy Waldorff, a musical critic who used to follow piano competitions and had a great knowledge about the execution and playing the musical instruments. He's been my role model since my childhood, I was raised on his radio shows. He used to say things like: 'Halina Czerny-Stefanska played and, at the same time, danced through the piece of Frederic Chopin'.
Mr Witold, who is your favorite pianist?
WG: I have two favorite pianists. It's Ignacy Jan Padarewski and Arthur Rubinstein. They were masters of intonation. Even at times when they forgot their sheet music, they would always deal with it and get out of any situation by improvising, in a way that no one would notice.
Do you like your job?
WG: Yes, very much. I meet with a lot of interesting musicians from around the world. The pleasure is, amongst others, that they play on the instruments I've built.
Mr Witold, thank you for the interview and I wish you lot of persistence in the hard job like this. We cannot wait for the presentation of your newest replica of harpsichord.
---
Interview from November, 2019.
Interviewer: Joanna Zawierucha-Gomułka / Rzeczy Piękne
Photos: Bartosz Cygan © Rzeczy Piękne
Editor: Dorota Smoleń
Translator: Dagny Zawierucha
---
The project is financed by 'Stypendium Twórcze Miasta Krakowa'