Images of artistic beauty are also coming from that Beauty, the one that's above everything else. /St. Augustine/
Robert Rumin is an artist who uses clever mix of traditional and modern themes in his Byzantine icon-inspired paintings. After more than twenty five years of creative work he's managed to establish his individual language of artistic expression. Robert's icons are written  on not so typical surfaces, made from old wood. They're exceptional, emanating with spiritual strength that you can't say no to. They sure are an interesting source of research on modern religion.
See photojournal of the meeting with the artist >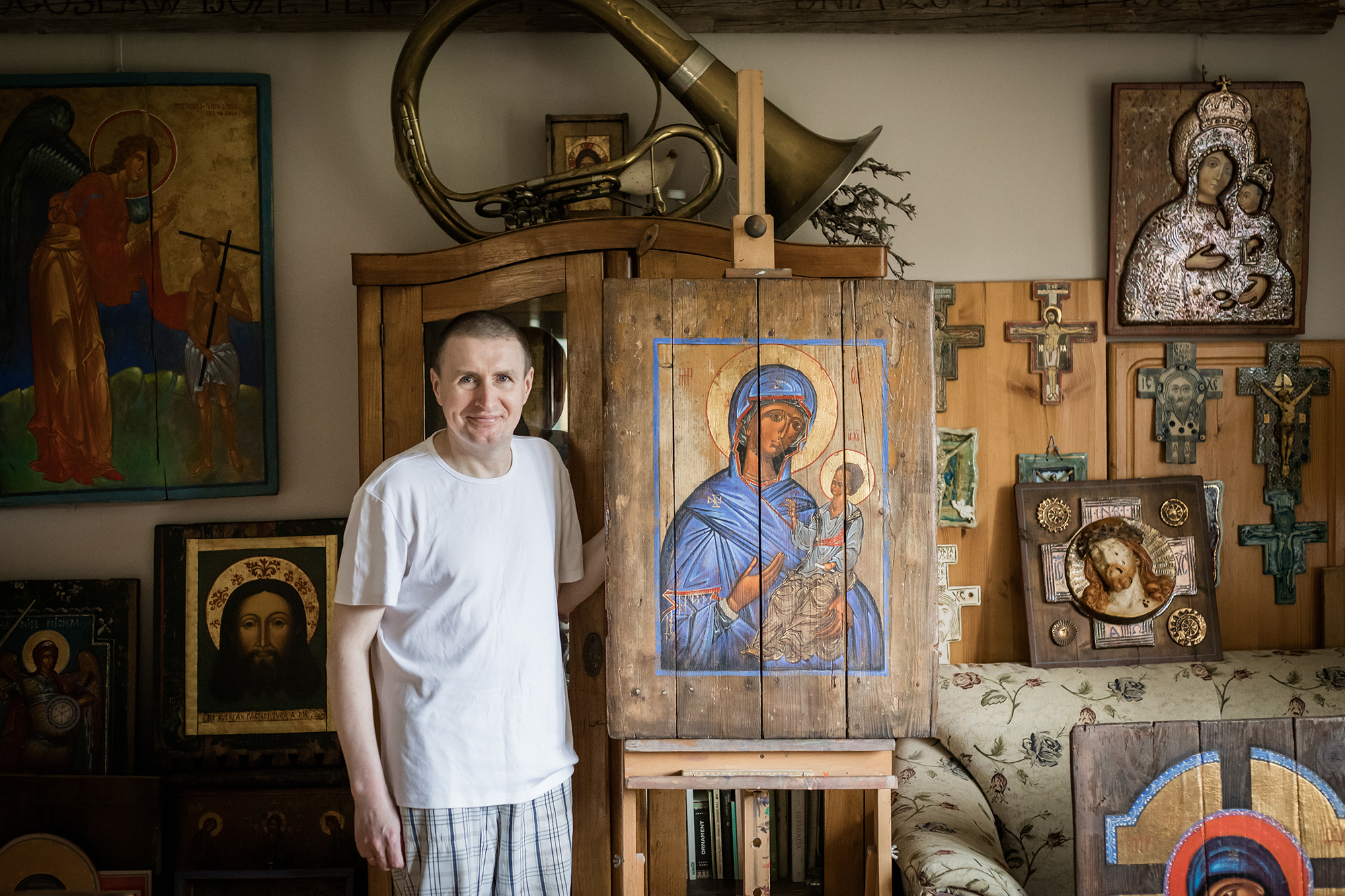 Rzeczy Piekne: We're here, in your house and workshop in Jamnica near Nowy Sacz, a house unique in so many ways. First of all, it's filled with your beautiful paintings and colorful ceramics made by your wife Ewa and daughter Jagna. There's a warm and welcoming atmosphere that surely attracts many guests. Is this kind of artistic house the place that gives you shelter and peace to work?
Robert Rumin: Of course it is. And the guardian of this peace is my wife, Ewa. She's the one who takes all the problems and worries upon herself and leaves me with a cloudless sky. Ewa is the heart and the soul of this place. Thanks to her our house is home and shelter for our children as well: Jagna and Filip.
You're an artistic family.
RR: Yes. My wife and daughter make ceramics art and my son graduated in architecture.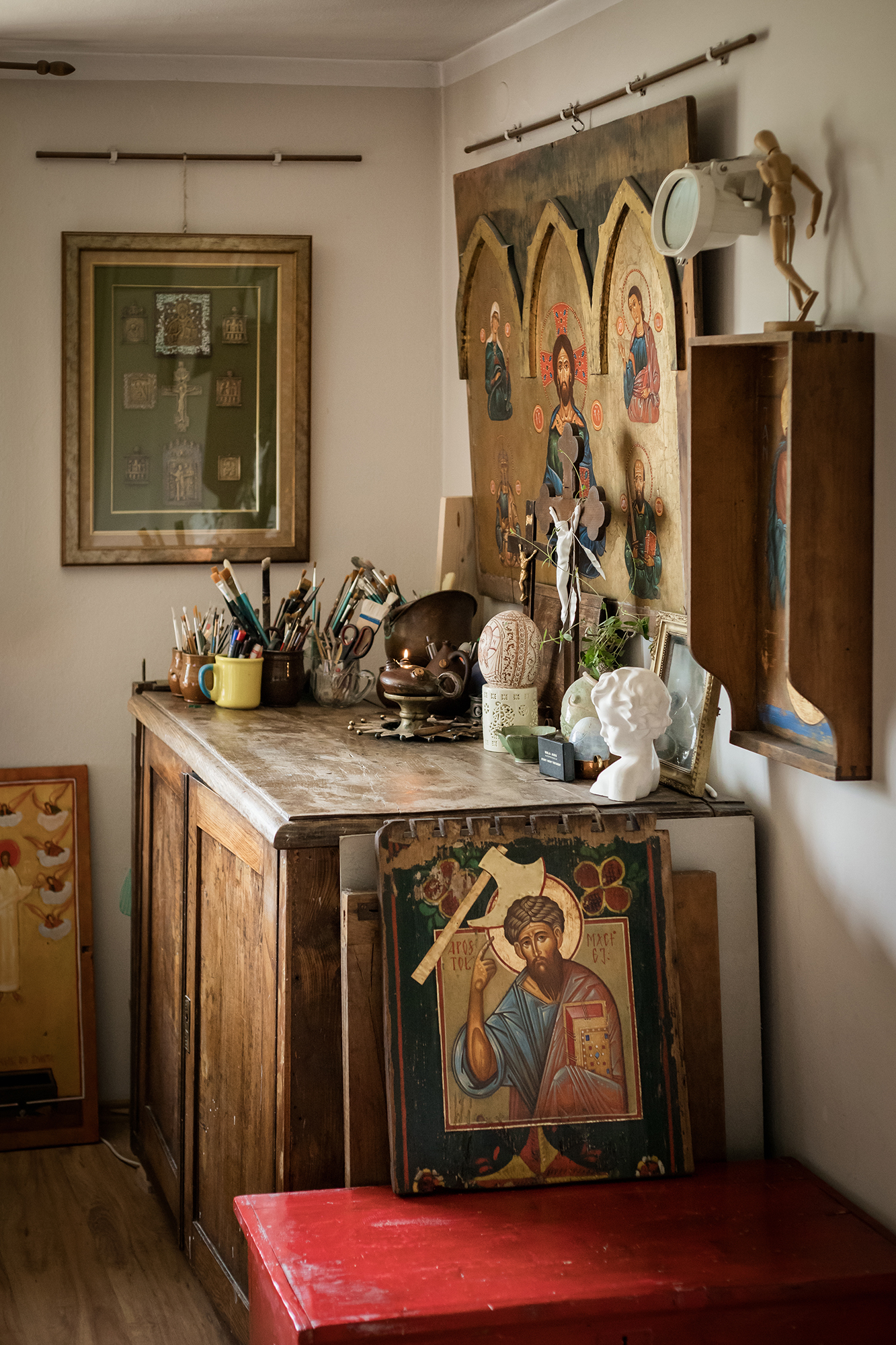 Let's start from the beginning. When and where did you start your journey with painting?
RR: I was born in Nowy Sacz, I lived at Jana Matejki Street there. Pretty early on, my parents signed me and my sister up to an art class at the local Community Center. There, under the supervision of Ms. Anna, my journey with painting began. I guess we got along pretty well, the paints and I, because I chose the Jan Matejko's Art School in Nowy Wisnicz [pl. Państwowe Liceum Sztuk Plastycznych im. Jana Matejki w Nowym Wiśniczu] for high school. It was the good old days of drawing, painting, and sculpting. I met my wife there.
After graduating I worked in the Sadecki Ethnographic Park [pl. Sądecki Park Etnograficzny] for couple of years. I had an opportunity to take a good look at the icons that were exhibited in the Orthodox church, in the Museum, or the Gothic House. I was painting landscapes, portraits and my first religious paintings at that time.
Do you remember your first icon?
RR: My first icons are images of Black Madonna from Czestochowa and Our Lady of Perpetual Help. Both of the paintings are placed in the Saint Casimir's parish in Nowy Sacz. Only after years did I find out those are 'real icons'! So when I first encountered an icon I wasn't even aware of it. Then I read, watched, and learned more about the topic. It was the 80s so I read Russian publications from 'Kalinka' bookstore located in the main square of Cracow [pl. rynek główny w Krakowie]. I copied the icons from the books while studying them, only to learn after few years that icons weren't actually invented by Russians but it's a heritage dating back to the first centuries of Christianity.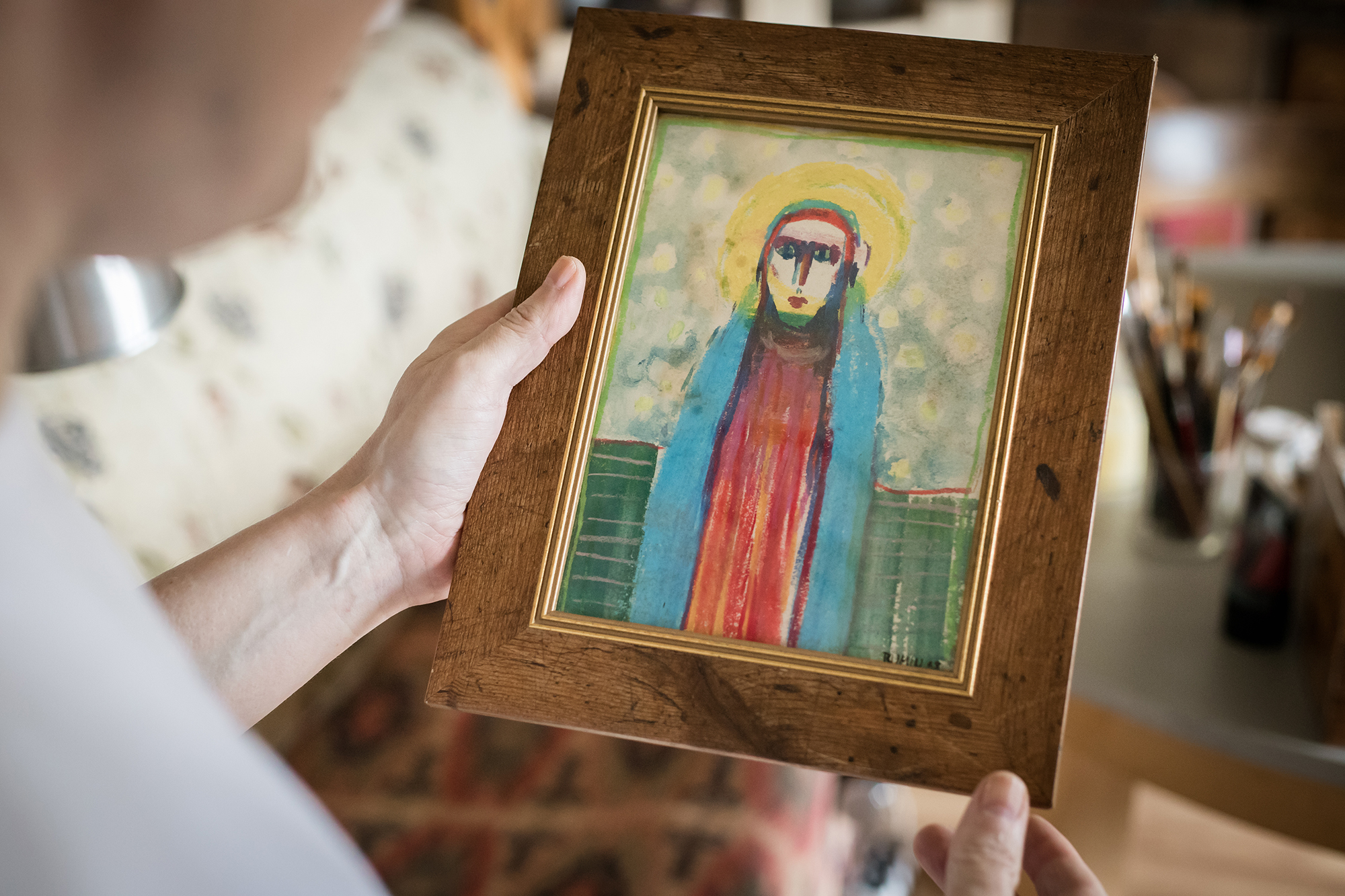 Let's look into art history and the origin of icons then.
RR: The word 'icon' comes from Greek and means 'image', 'painting', not in an artistic way but as a symbolic representation of truths of faith with the use of colors and iconographic symbols. You don't paint icons but write them, transferring what's unwritable to the language of painting. The very first icons used to be made on raw wood without canvas, primer, or gilding. At that time, the sole desire to create an image of a saint was more important than the skill or technology used.
The first Christians didn't need any representations or pictures because faith in Jesus and tradition of the Church were still very young at that time, and stories were passed down verbally. Three hundred years after Jesus' death, the group of his followers spread all around the world, thanks to his apostles and students. The Word of the Lord had to be linked to some image, the one that could speak to pagans from Roman culture. Not many of them could read or write anyway, so an image – the icon – became some kind of gospel in colors and symbols. People listened to the Word of the Lord and, thanks to the icons, they could imagine Jesus, Our Lady, angels and martyrs, and various scenes from the Gospel: the Last Supper, the Crucifixion, the Ascension. It had been made very clear that they're not portraits nor accurate representations of saints or biblical scenes. Icons were to be a symbol and to make praying and spiritual meeting easier.
Where were the icons usually painted? Can you explain the symbolism of colors and gestures of the figures?
RR: Traditionally, the icons were made in monasteries. Monks, due to their vocations, spent more time on prayer, study of the Gospel, and fasting of course, and so, in that state of spiritual ecstasy, they could be at service of the Holy Spirit, who guided their hands and brushes, so they could show something that can't possibly be depicted in form of the icon: the world divinized by God. They used all kinds of symbols, colors and gestures for that. Gold symbolized holiness, devotion to God, God's glory. Purple was the symbol of power and wealth. Red meant love and sacrifice. White was used to present divinity, pureness and innocence. Blue was for heaven, but also spirituality and mysticism. Green: presence of the Holy Spirit. Brown was the symbol of earth, matter, poverty. Jesus Christ's gestures meant either blessing or teaching, or the fingers of his right hand were shaped into monogram of Our Savior ICXC (IC – Jesus, XC – Christ).
Every icon has description, so there's no doubt who is it about or what scene it represents. Besides the color symbolism, it's easy to distinguish few types of Jesus representations: Mandylion – face in glory, radiating with holiness, Pantocrator – the one who creates everything and watches over everything, with a book and fingers of the right hand in the shape of ICXC initials, the Great High Priest is Christ depicted in liturgical vestments.
Images of Our Lady have few types of representation as well: Hodegetria, pointing her hand on Jesus – it's the one like the Black Madonna of Czestochowa. Eleusa, the loving one, with her cheek pressed to Jesus – it's like the Holy Mother of Kalwaria. Oranta, with her hands up like when we pray during the Fátima prayers.
There's an amazing beauty emanating from those holy images. What do you think is the secret of icons?
RR: The secret and the greatness of the icon is not only its beauty but the spirituality that it emanates with. This type of painting is not about the artist, icons are not signed, but about the Holy Spirit who speaks through the icon's writer. Writing an icon requires humbleness and diminishing your own input on behalf of the Image that it represents.
What does your work look like and what's the process of exploring a topic or a motif of your choice?
RR: Every icon is created in an individual and unique way. It's not some manufacturing process that you can explain as it is. Truth is the most important – the idea, the message that you want to pass on. It can be a part of conversation, a song you've heard, biblical readings, and even more – a description of some biblical scene from 2000 years ago that I'd like to apply to today. What goes around comes around, everything's being repeated all the time…
What does this intimate everyday connection with the icons give you?
RR: Meeting with the icon was life-changing and revised the concept of painting for me. Exploring the secrets of workshop and language of iconography is like transferring to a different world, a world of harmony, love, and peace. To be on the invisible side of existence is the goal that every artist is trying to seek, and it takes their whole lives sometimes. To be ready for the moment your eyes open and you can see everything that's always been hidden, but that you could still feel deep inside your heart.
Your art is made on old wooden boards that you give the second life to. What does this material mean to you?
RR: I like to paint on really old bases, they remind me of life of a man, his flaws and weaknesses.
In reality, the process of preparing a board as a base takes several days. I place canvas on the board, then few layers of primer. I search for a primer suitable for given theme. When I first started to dig into this topic I was basing my knowledge on few text from art conservation books, because those were the only ones available. That's why the icons I've written are being created in intuitive way, since the beginnings. To write an icon, as you do, is secondary. The most important thing in the icon's world is faith that the work of the painter is good and comes from God himself, and any preparation or technology processes have their reference in symbols.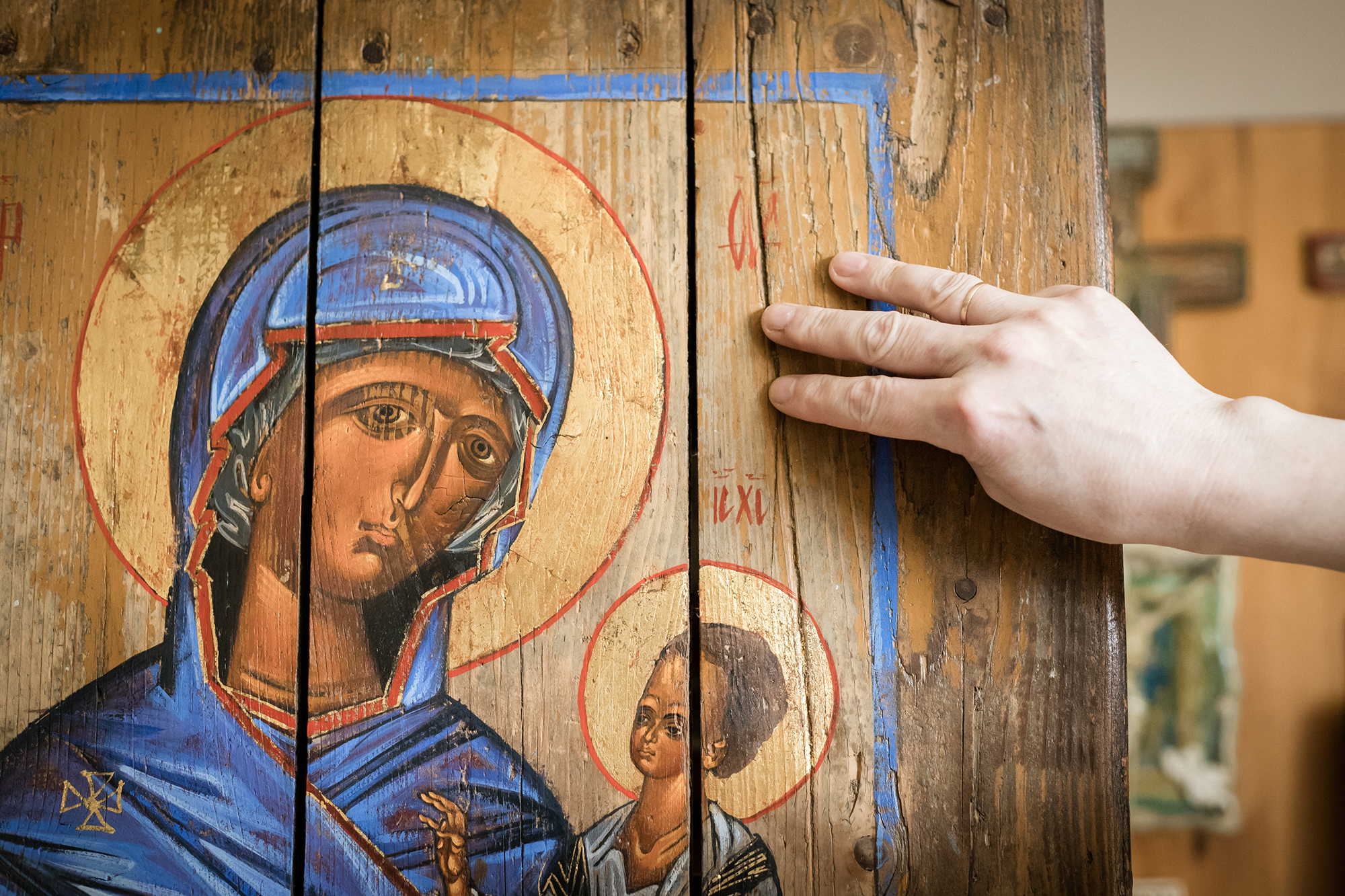 It's said that icon is a 'painting made by a not human hand'. Can you feel the presence of God when you're writing an icon?
RR: According to tradition, Jesus had left his reflection on a cloth, then passed it to the king of Edessa, who was cured later. Icon painters are trying to recreate this moment.
I feel the presence of God every second, not only when I'm writing icons. Painting is like a conversation with God for me – like a prayer.
Which saint is especially important for you and why?
RR: The most important in the iconography are the Father Lord, the Son, the Holy Spirit. Mary, the Mother of God, Our Lady, and the Queen of Church is also the most important. Then archangels and all saint of the Church, and, among them, the saint of our time – pope John Paul II.
And Saint Rita, patron of the Impossible Cases? You made some beautiful paintings of her.
RR: She's the saint for our times. She's the promoter of the difficult and impossible cases.
Aren't you tempted to dive into a different topic, like landscape?
RR: When I spend my every day in the world of icons, other topics like portraits, landscapes, still lifes seem to be of less importance. I have very little time for painting itself. I can only spend few hours a day on it. That's why I choose what's most important. And the most important is eternal life.
For centuries people believed that icons have protecting power. How do you think, why do people love icons so much?
RR: Icon as it is, in the sense of matter, is a mix of wood, few grams of plaster, linen canvas and natural pigments, derivates from various minerals bound with egg yolk. That kind of setup has no power. It gains power only when we realize, deep in our hearts, that icon is a symbol and a place where we can contact our Father Lord and All the Saints. There's also a deep faith – experiences of God's presence of many generations.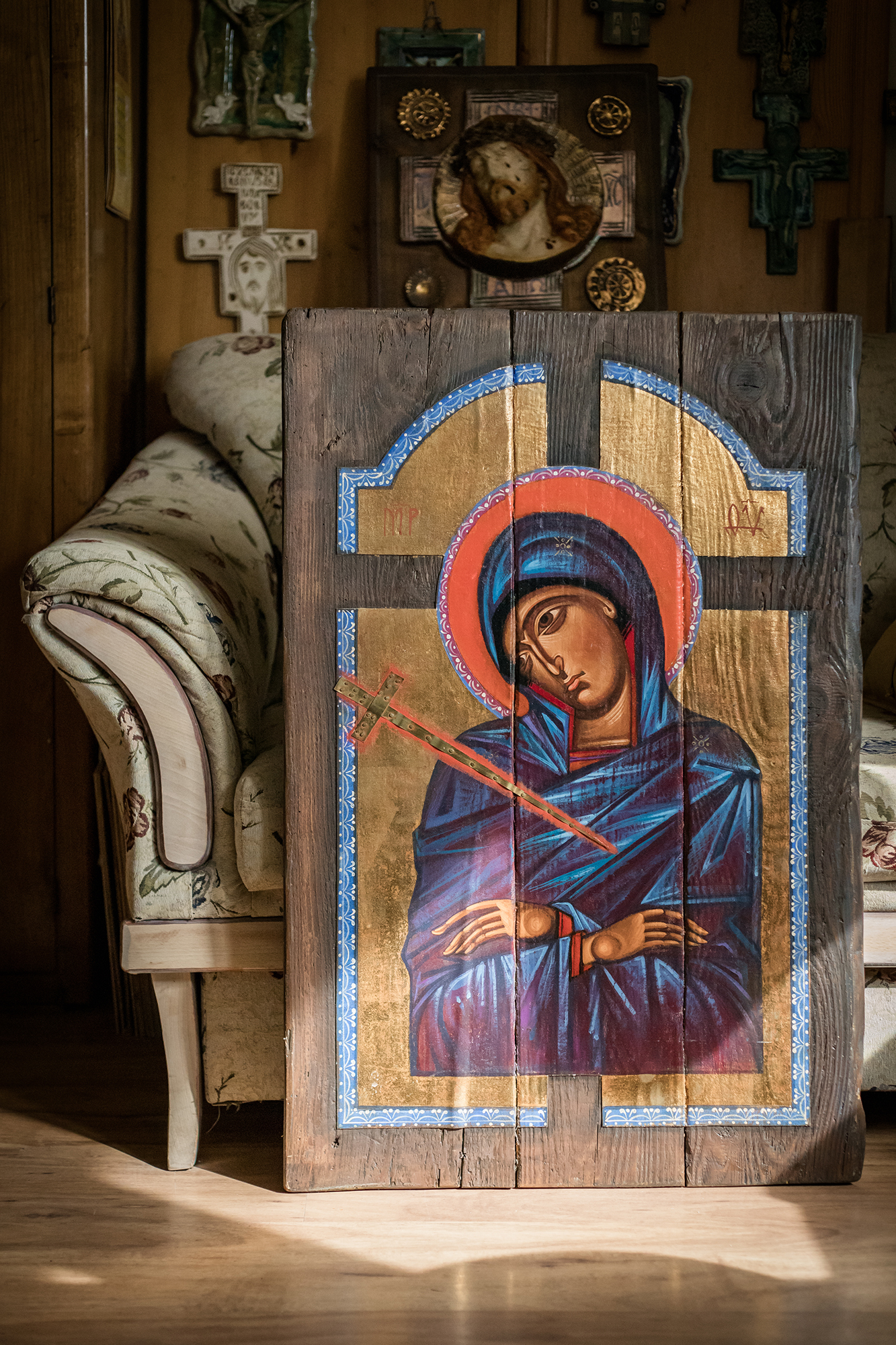 What's the most important for you right now?
RR: I enjoy every day that's given to me!
What would you like to paint in the future?
RR: …an icon, that's for sure.
It was a pleasure to visit your house. Thank you for your time. We wish you a lot of health and strength to paint!
---
Interview from October, 2019.
Interviewer: Joanna Zawierucha-Gomułka / Rzeczy Piękne
Photos: Bartosz Cygan © Rzeczy Piękne
Editor: Dorota Smoleń
Translator: Dagny Zawierucha

---
See the documentary 'Niebo' [eng. the sky] from 2011, directed by Jan P. Matuszyński, about Robert Rumin's illness.
---
The project is financed by 'Stypendium Twórcze Miasta Krakowa'