Andrzej Lichota – a versatile artist; painter, cartoonist, film director. Since his debut in 'Przekroj' magazine in 1998 he's published nearly 6 000 drawings in some of the most important Polish weekly magazines and newspapers, such as 'Polska The Times', 'Polityka', 'Wprost', 'DziennikPolski' or 'Rzeczpospolita'. He made 60 animated short films, many of which broadcasted on television. He's running the TED Foundation that offers support for skilled kids and young people. He's forever busy, always on the road, but he found the time to invite us to his workshop in Cracow [pl. Kraków], where we could take a peek at him working on a huge art series, Corrida.
See photojournal of the meeting with the artist >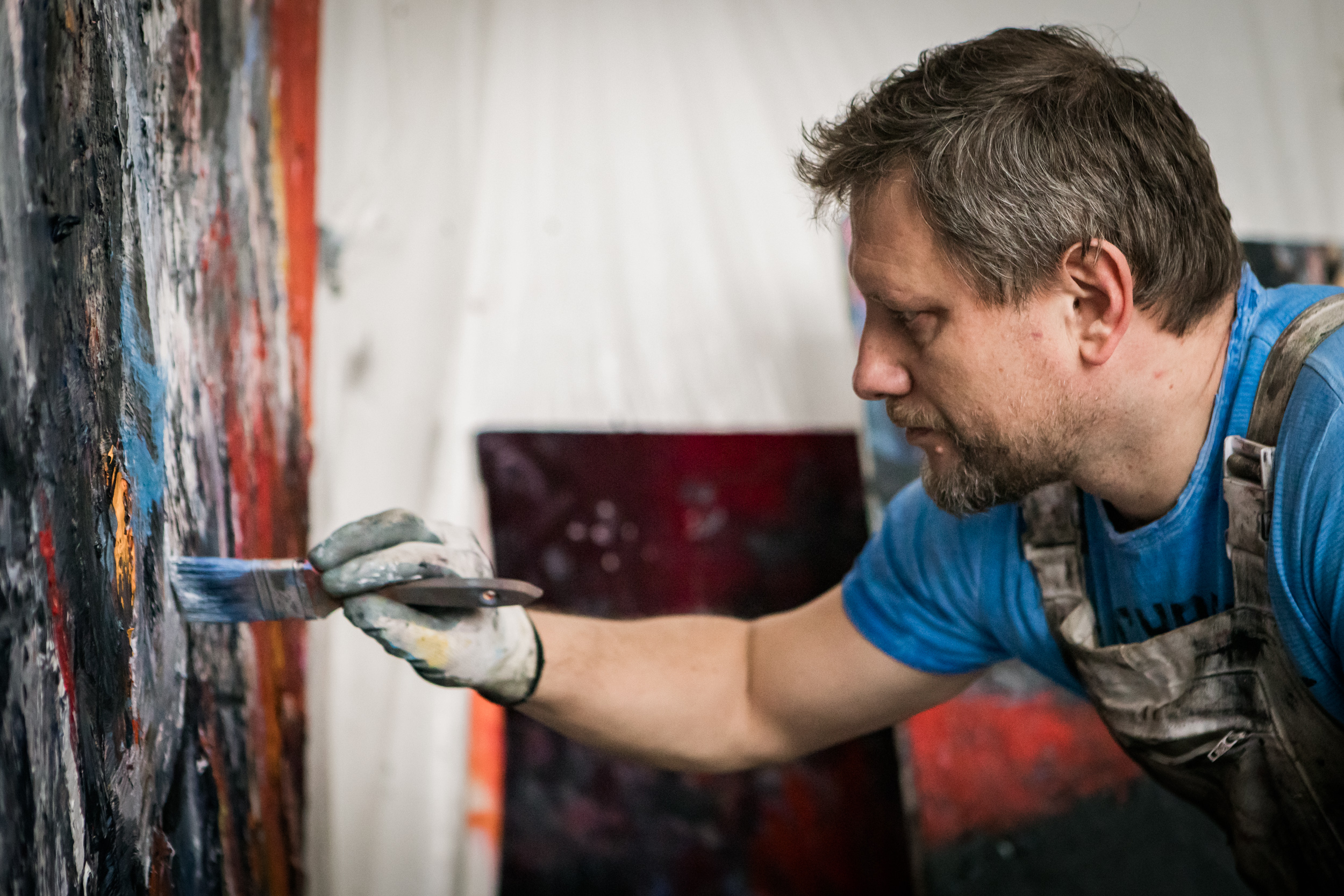 Rzeczy Piekne: Tell us about your beginnings – where did you grow up, how did the idea to start living by art develop within you?
Andrzej Lichota: I come from a small town where in the community's mentality – at the time when I was growing up – there was basically no contact with high culture. From what I remember and from my family's stories it appears that my art aspirations were cut short in early stages. When I was 5-6 years old I used to draw on walls with a nail, not much to my grandma's liking as it was her place I decorated like that.
Did your parents somehow guide you to do art lessons?
AL: Actually, they were trying to talk me out of my art aspirations. So, in a way, I was going 'against the flow'.
I was closer to music culture because my dad used to play two instruments (clarinet and saxophone), he finished junior music school in Cracow, he was in military band, had a band together with his friends. I could say that my family was sensitive to some artistic aspects, mainly musical.
It must have been an important moment for you when you decided to apply to Kraków Academy of Fine Arts [pl. Akademia Sztuk Pięknych w Krakowie im. Jana Matejki].
AL: I was very hesitant but also very mobilized. During the exams I soon noticed that I lack in manual skills because my trainings were limited to the art lessons on a rather low level… The real thing started 4 months before the exams, during the workshop on Smolensk street (Academy of Fine Arts department). I was attending it on the weekends, I was painting and drawing a lot, then I was still trying to make something at home. That was the first time I painted a nude.
Did you have any other option? Did you see yourself in another field that interested you, as an occupation?
AL: I didn't want to. I gave up on plans to go to the university of technology, foreign trade, robotics etc. I could apply for other majors as an electronic engineer. I could get in two majors even without the entrance exams because I passed my mock exam [pl. matura] pretty well, and I got some good scores on Olympiads. That's why my choice of career was a shock to my family, especially to my dad – when he realized that I'm applying to Kraków Academy of Fine Arts he wrung his hands.
But luckily for you – and I suppose for your parents too – you got in to the Academy majoring in painting in prof. Misiak's workshop and that's how your first serious artistic struggle started…
AL: There was no going back at that time. From the beginning I got my first honors, e.g. for a classic drawing. I wasn't that bad at painting either, as I was using acrylics and temperas during the first year so it was pretty easy for me. The struggle started with the second year when I switched on to an oil paint, that was my first time with it as a real matter.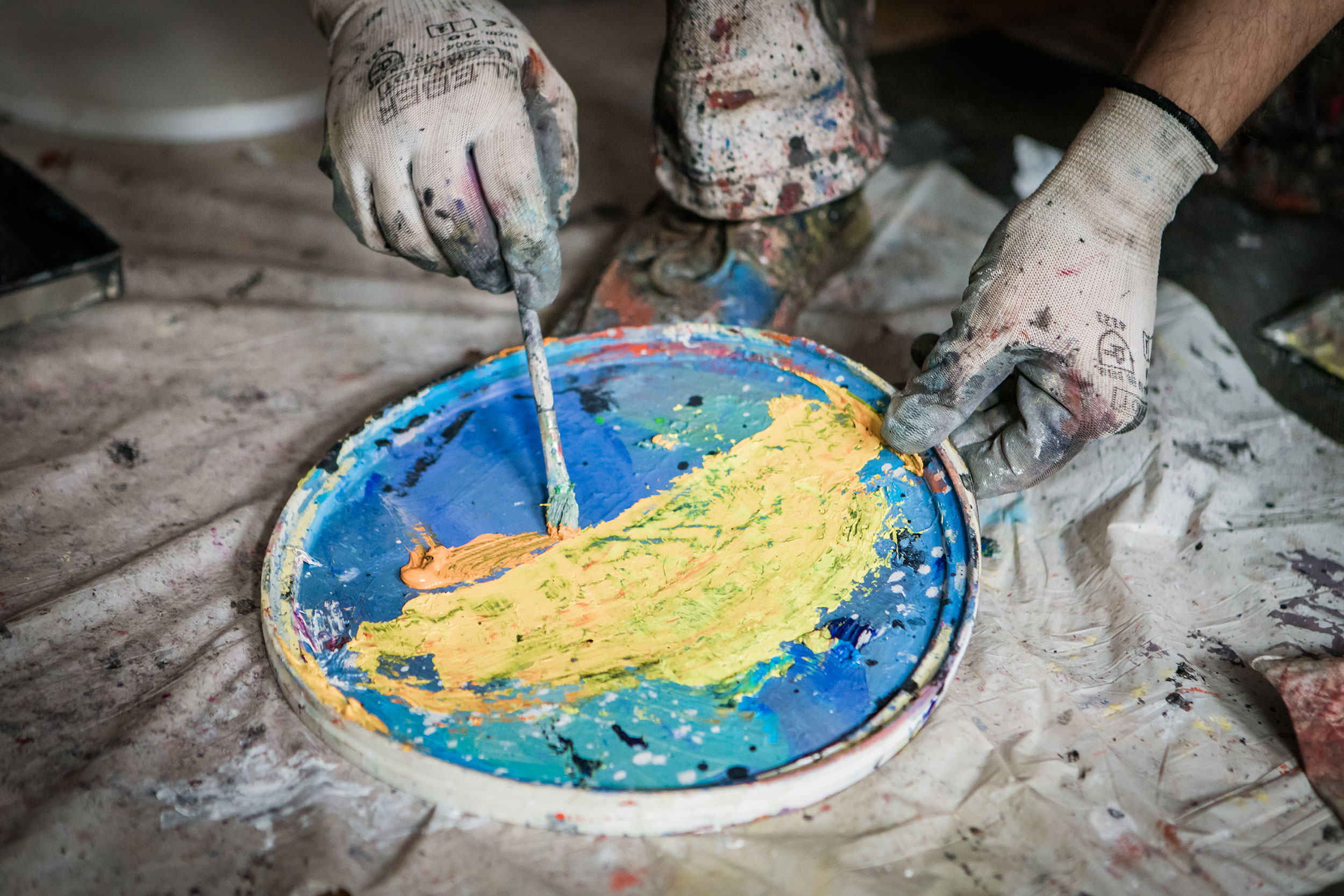 What did you struggle with?
AL: It was a struggle with patience, time and no preparation to use this medium. I was used to getting fast results but still, I was looking for new experiences with manual skills so I reached for the oil paint. And it turned out to be difficult, so the first 6 months in the new workshop were a nightmare. I made two small paintings during that time.
I can see that the beginning wasn't so easy…
AL: Yes, I considered leaving the Academy, I wanted to take leave of absence and go to India. But I got over it and… it's good. My mom motivated me at that time.
Did those struggles with painting skills were the reason for you to set painting aside after finishing the Academy and take up drawing and film-making? I wonder because now I see that art explosion of yours and honestly, I can't wrap my mind around the fact that you had given up painting for so long…
AL: I never stopped painting, I just didn't use brushes and hands, my eyes and head were working non-stop though. Besides, those inspirations that I have been saving somewhere within me are now being expressed in my paintings and are resulting in following series.
Are you asking what was the main reason? A fire in the workshop – a story somehow trivial but very tragic for me at that time, because most of the paintings back from the Academy that I kept in the workshop and most of the new ones that I was preparing for an exhibition got destroyed. The paint on the paintings almost melted…
What was your answer for that huge of a material and artistic damage?
AL: A deeper answer came to me after 6 months, more or less. It was related to my expectations, the art. I figured it wasn't a good time for me to paintso I focused on drawing more.
Nothing happens without a reason. Now one can see that the years you've spent on drawing and animation, a longtime collaboration with magazines – these were very important for you.
AL: I set a goal for myself at that time, that after 10 years of working in other art fields that were maybe even on the verge of commercialism, I come back to painting. And if I come back, which I was really expecting from myself, then there will be nothing to hold me back – things like no place to create, no time or no money for tools, etc. I was striving to reach the state that in not so easy Polish reality would be comfortable for me. And it took me more than 14 years…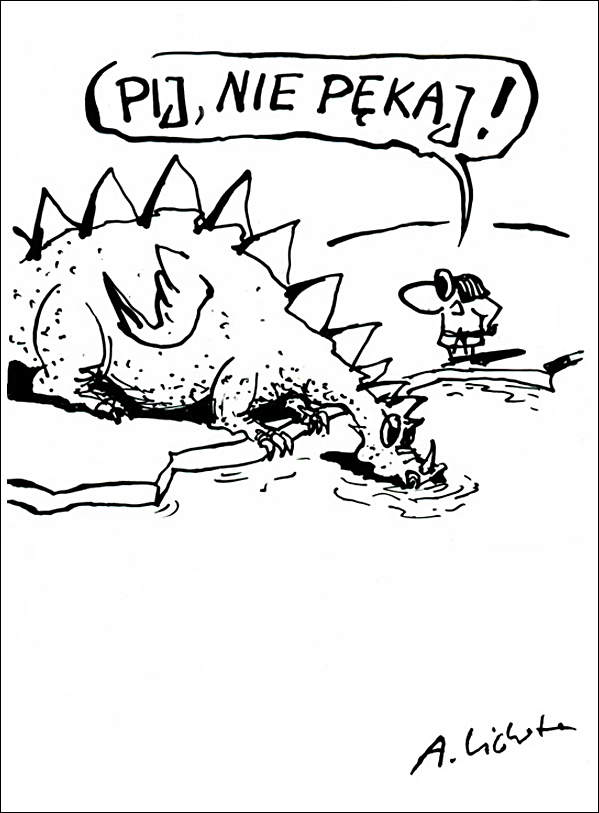 What was the impulse for starting to work so intensively?
AL: The impulse dawned on me during my trip to Australia. It was a huge dose of experience, colors. That was the impulse that couldn't be suppressed or silenced. It wasn't easy for me to wind up the collaborations with few editorials or companies that I had been working with for years. Especially if people know you, recognize you, congratulate you on the success, etc. I had my own columns in few of the serious editorials, a series of animation broadcasted ontelevision, few books and albums released. I took part in preparations for full-length animation for 'Floppy Bear' [pl. Miś Uszatek] as a development director. I managed to finish and publish my game on the AppStore, or I happened to be on the jury in few international festivals… But some of the political affairs at that time made me cut this stage out somehow. There were no good words or thoughts in that field. I felt like I wasn't taking part in a reasonable social discourse anymore, that me being there had lost its meaning. The political pulp and growing hatred were floodingpeople's eyes and heads. I started to miss developing myself. Magazine illustration was a jugglery for me, it was all mind games, jumping between one guess to another. That intellectual training was really fun but the thoughts that you put into a drawing form are usually alive for one day, a week or a month – like a diary. Alright, maybe the movies last longer. Sometimes I re-watch them for fun.
To what extent is the art a part of your daily life? Is painting a daily ritual for you? Maybe you give yourself a deadline for the creative process, focus on it and then it's time to rest?
AL: Consistency is my weak spot. I can be consistent of course,for some period of time. The physical and intellectual effort in creating a painting is huge, condensed. Lifting up, moving, hanging up, moving in and out, then there are exhibitions, etc. We're talking about paintings that have parts reaching 200 x 150 cm and 16-20 kg in weight. It leads to physical exhaustion which then affects the mental state. It's better not to paint with your head heavy, especially when putting the final touches to the paintings because it might end up badly. I did that few times and learned that you just can't do it. Ruined painting results in frustration, especially if it looked good or was almost ready. And you cannot get rid of that feeling of frustration for a long time.
Do you paint listening to music or in silence?
AL: It depends. Sometimes I deafen myself with music because I need a pace.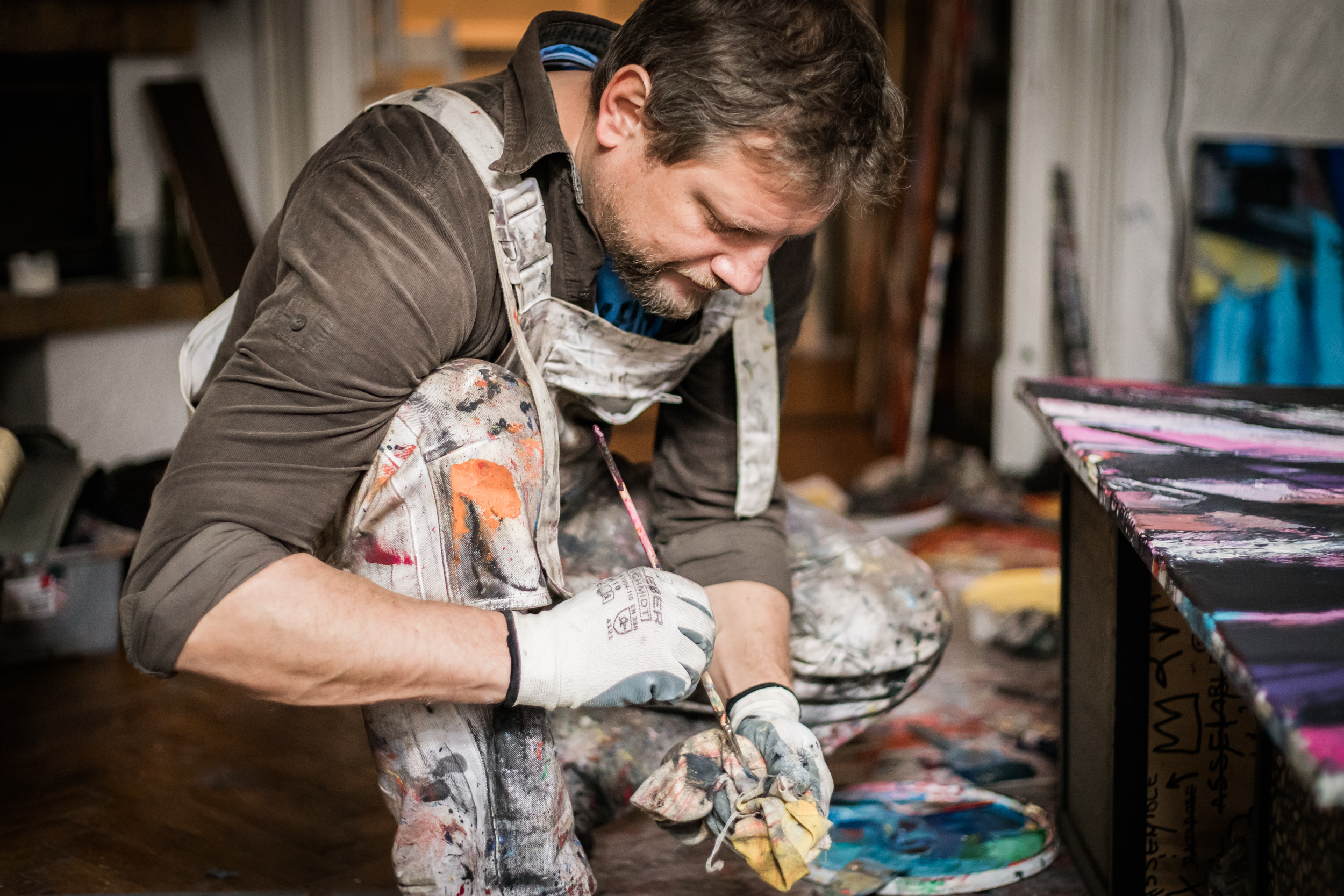 Does deafening bring out some particular result?
AL: When you paint – at least in my case – it opens up some areas inside you, one more sensitive than another… You bring out that energy, you don't even know where is it coming from. It just shows up, activates. Let's say a painting is not yet on the nuance stage when I finish it, but I still work on its energy, I put layers of texture, bases for the final composition… At those times I need a completely different drive than in later stages. Layering in oil painting makes you work on it for months, you come back to it. And you have to come back to a painting with the same energy. It's like waiting for some inner activity, for seeing the composition as a whole and tuning yourself for that day, the moment or period of time (it might be a week, a month of creative process like that), when all of the sudden you put everything aside and start to paint.
It's mysterious and wonderful. Some kind of a glimpse of super-consciousness, when the intellect and intuition are coming together irregularly, forming some links that an artist reins in and manage to do what he wants.
I remember your first paintings, the more balanced and composed in aspect of composition and use of color. But now there's a lot of expression in your work, still very controlled though. I saw you painting, every brush move is sensible and well-thought. It's more of a meditation on colors, shapes. How do you see it?
AL: There is some truth in it. Of course there are paintings that came to life in a geyser of emotion, you could say, fast. But now, working on a painting takes me quite a long time. It's never, maybe almost never, like a painting is ready in a week or two. Creative process is not only about working on material, canvas, wood, paper… The compositions that interest me at current stage are far more complex. I am still going through some creative studies, experiments. At first it was about the material. Now I work more with color and composition.
When I came back to painting after a long time I was aware that within the first year there might be no painting made at all, that when I'm painting I could be completely dissatisfied with what I'm doing. At the same time I set no boundaries to myself – if I have to put 20 kilos of layers on a painting then I will do it; if I have to scrap these 20 kilos off then I will do it. If I have to pierce through a painting, walk through it physically then I will do it.
Creative process is a way of a meditation?
AL: Hmm… Maybe it's a pursuit, some path to the enlightenment. I think of an art in a sacred way. Art is really close to the inner needs of something extraordinary. It transfers you beyond the temporal existence. It slows down the speed of time. Obviously it's also about building your own visual reality, but there's something else there, something far above it. The substance and depth. Some universalism of existence. It's just that, through art, you can develop a spirituality. I think.
Or maybe it's about inner purification, setting yourself free from something that's inside you?
AL: It's about walking through yourself. Paintings have various energies, sinister or expressive at times, but I easily walk through those most expressive ones and there are brand new worlds opening up in front of me, otherwise closed. There's a difference between following the artist's hand and movements that he did to create a structure, dynamics, composition – and entering it. It's an integrate feeling, as well as following the footsteps that provoked that action to create it at all.
When browsing the museums I look closely at paintings that attract me. But now there's not much that catches my eye, it's not like it used to be. I don't mean it like some classification of art, like the ancient, avant-garde or contemporary ones. I used to need much less to bring me satisfaction. Now I need more serious structures, some echo within me, to approach a painting.
Where is that expression of yours coming from?
AL: It's just like that with me, maybe you can't see it at the first glance 😊 I may give off a calm and balanced vibe, but that volcano is lurking. I think expression is my second, hidden nature. The work on a painting may start off as a 'so-so', sometimes because of some color inspiration, some hazy theme I'd like to take up… Although themes are usually huge in my case… Like when I was doing animation I was immediately making the whole series. When I was drawing I drew thousands of pieces, then it became a project for full-length movies. So I'm in a need for large formats as well. Large format is a way of expression for me, it makes me feel artistically fulfilled. It doesn't mean I don't like painting in a smaller format – I just don't do it so often.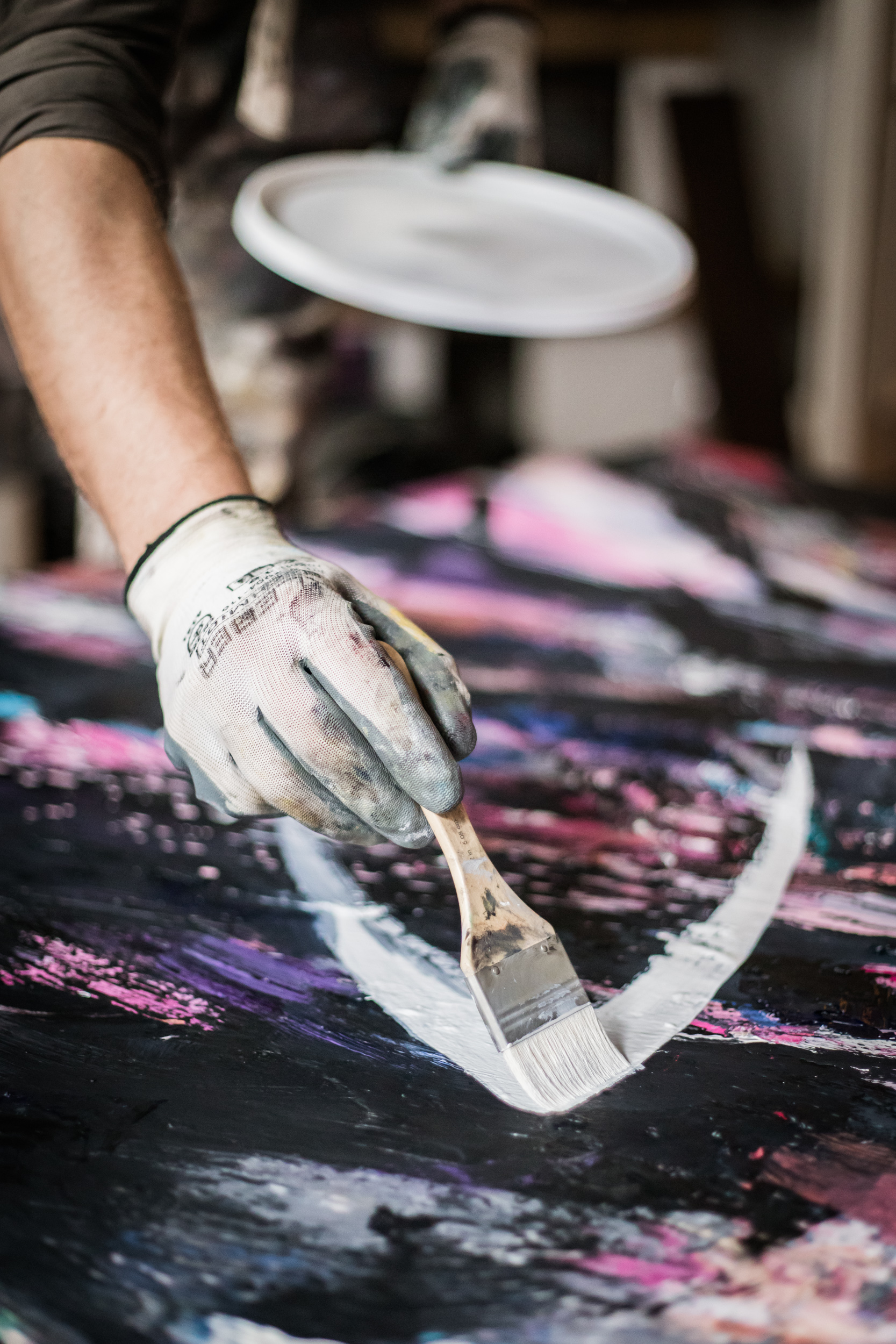 In your triptychs every composition (every one of the paintings) is a separate piece but still exists as a whole, creating a network of relations between color, form and other crucial elements that are translating into the final result. Could those paintings exist on their own?
AL: They only work as a whole for me, I can't imagine separating them.
Can you tell us about your artistic inspirations? I know that travelling is one of them.
AL: Travelling, music, situations, places. The Corridaseries is a reference to a tradition and situation, but also to travelling, at some point. Change of place is making you more sensitive to the circumstances, you devour everything more intensely, you become more fresh, so the stimulus and sensation reach you more strongly and fully. To be honest: it would be hard to name the artists that didn't travel, didn't care about it. Take for example van Gogh and his journey from the Northern Europe to the South – and think about how much it affected his art. Rembrandt may have not travel a lot but he did enjoy looking at Italian paintings, I think he was even buying them. They were his inspiration. So that mobility – travelling after inspiration, searching for it, wanting to be alert at all times in anticipation – that's what I need.
What do you search for in art?
AL: Art is an attempt to defeat time. There are a few artists that reached the timelessness in their art. You can become a carrier between some stages of development of the civilization or society – it's fantastic. Art is a kind of a radiation, manifestation of freedom or rebellion. Mankind is trying to understand the phenomenon surrounding us through spiritual experiences and intellect, what's visible is forever fighting with what's invisible, and when you make art you get to experience both sides. But we're also making small steps forward. For me, art is emanation of life and individual need of everyone, smaller or bigger. In the artist's case it may be like that: I have my own 'I' and I'm not afraid to use it…
Describe your style in three words…
AL: Hmm… Contemplative expressive abstraction.
What's your biggest success, in your opinion?
AL: A day of making a panting – if we're talking about artistic successes. It's very hard to paint for the whole day, and do it well. So a day after day like that – it's brilliant on its own!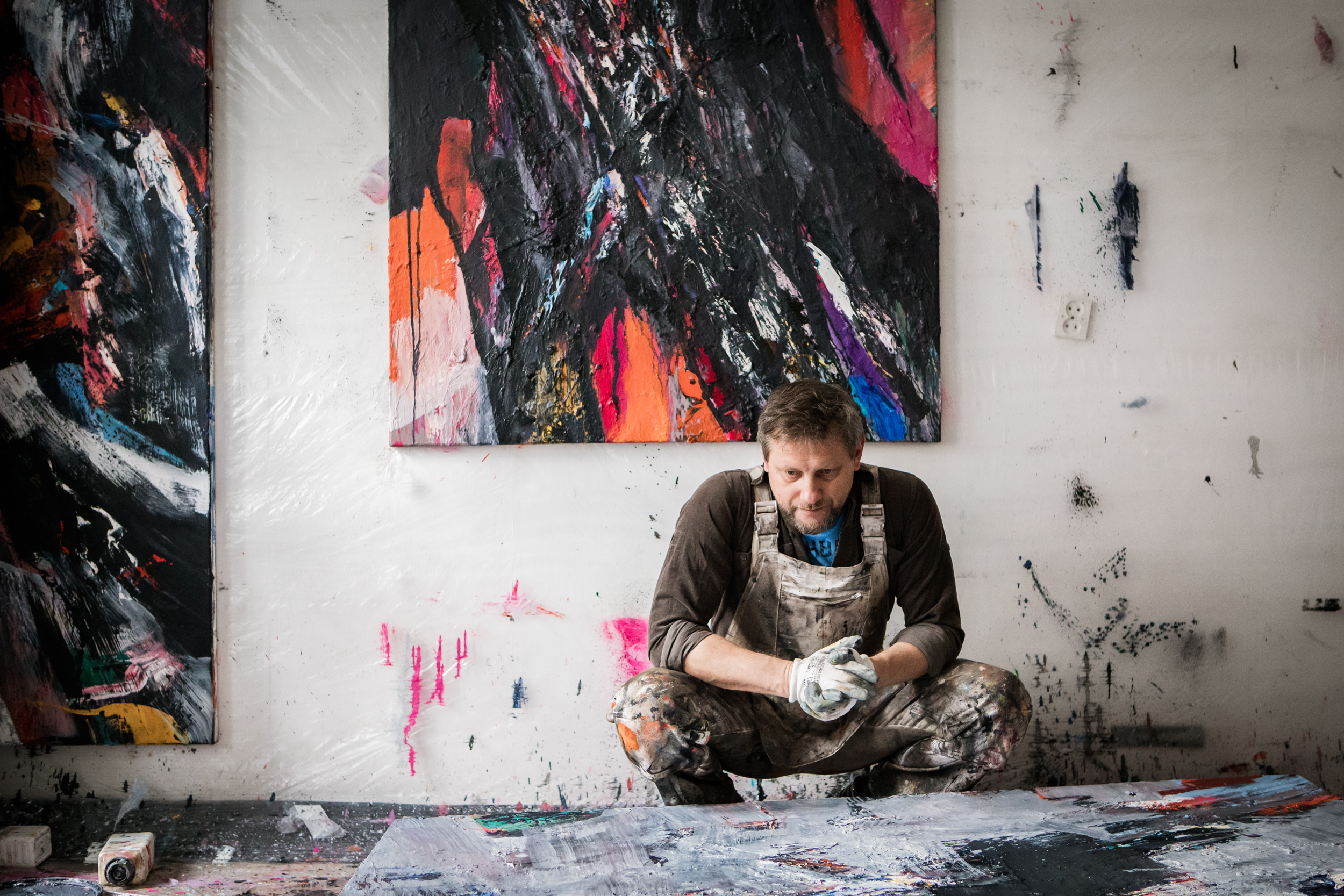 What have you been doing for the past year?
AL: I continued my work on Corridaseries. It was a battle with having no light, few months of horrible weather that doesn't encourage you to be in a good relation with yourself and have any desire to create. Those details, journeys, they have a great influence on your work. The skill to leave it all behind a door or on a street – that's a challenge!
You're the perfect mix of two functions – the artist and the art dealer in one person, but it surely takes up a lot of your time… there's never enough of it.
AL: I just learned a bit of self-organization and self-control because as a cartoonist I managed myself as a company in a contact with few subjects. Movie directing and managing 25 people on the set served me well too. It's bringing the results now.
What artists do you look up to and for what?
AL: I've always been looking up to the artists that don't compromise, although their artistic skills are not always the best. They reached far for life and it shows in their paintings, art. Rembrandt van Rijn, Leonardo da Vinci, Pablo Picasso for sure, Willem de Kooning, Francs Bacon are very important for me. I really like Anselm Kiefer, Richter, Mark Grotjahn, I follow the works of Hirst, Davenport. Roman Opalka has a special place in my heart, particularly his element of madness, in a sense, shutting yourself in numbers, quality and time. And Wojciech Fangor – his 'suns' are fascinating. Magdalena Abakanowicz…
There's this one painting that I think of as the best in the Louvre, Raphael's Portrait of Baldassare Castiglione. Unusually modest in execution – black, range of ocher and gray, and subtle, almost invisible red accent – the masterpiece.
What is a waste of time for you?
AL: Not being yourself. Fear, complaining, worrying. Meaningless things – the ones that when they happen you don't draw any conclusion from, you don't learn or develop.
Thank you for inviting us to your workshop and talking with us.
---
Interview from March, 2019.
Interviewer: Joanna Zawierucha-Gomułka / Rzeczy Piękne
Photos: Bartosz Cygan © Rzeczy Piękne
Translator: Dagny Zawierucha
---
The project is financed by 'Stypendium Twórcze Miasta Krakowa'