Magda Maślerz is a jewelry maker with passion. Since the beginning of her professional life she's been making her dreams come true, one after another. She's fascinated by the potential of goldsmithing – one of the oldest art crafts a man can make – sheset up the first private school of goldsmithery in Cracow [pl. Kraków] – Xerion. There, she managed to gather a group of people with similar interests, that's still increasing in number. Why is Magda fascinated by bones and how does she integrate that organic matter in her work? She answered these questions and many more in our interview.
See photojournal of the meeting with the artist >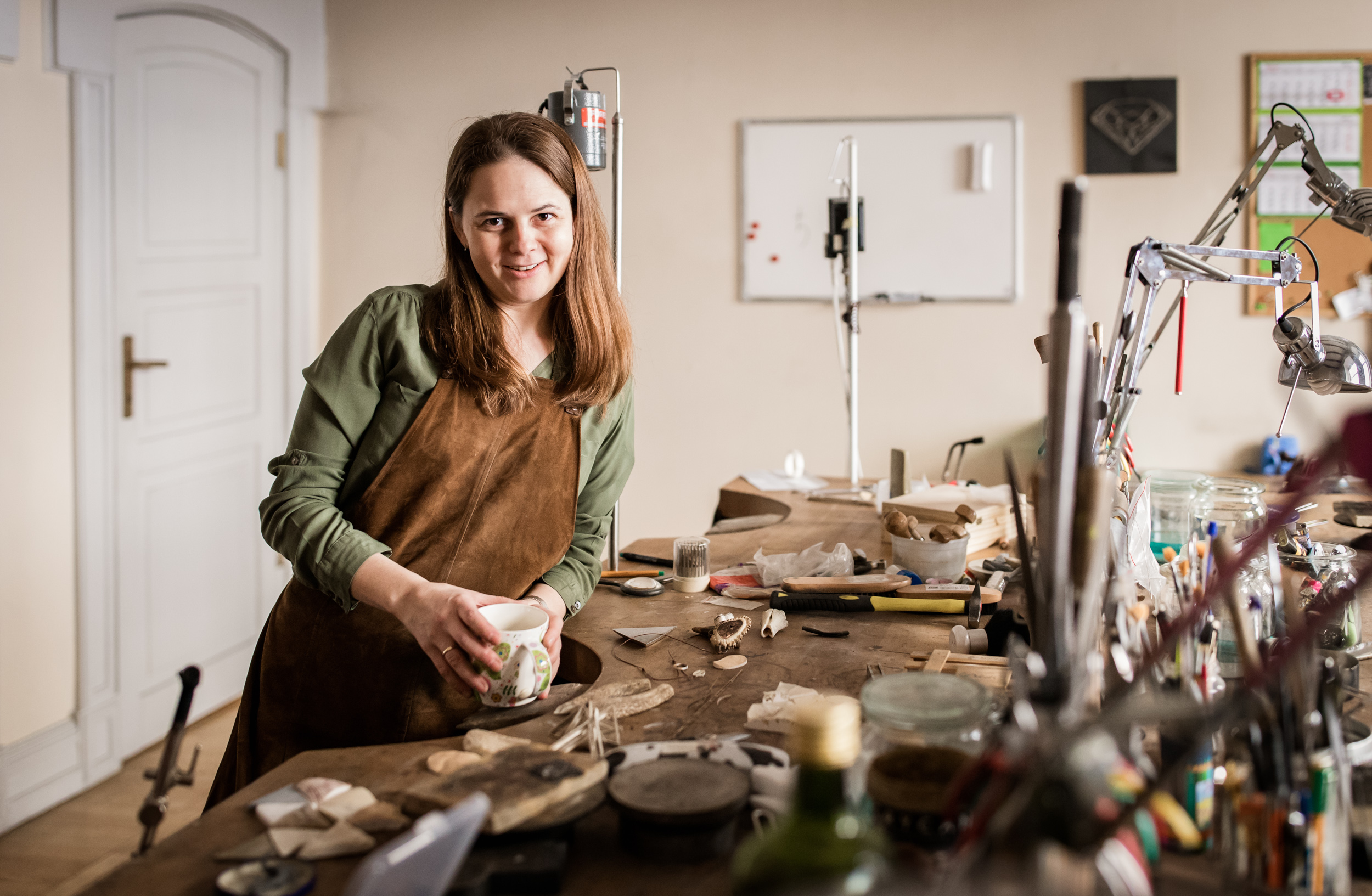 Rzeczy Piekne: Your workshop is beautiful, how do you find places like that?
Magdalena Maslerz: Fast 😊 I found it almost immediately, and I couldn't believe that I managed to stumble upon a place that cheap and good. It seemed odd to me, almost impossible… So I asked my dad to go and check out the place with me, tell me where the catch is. He went and… we didn't find any. And that's how I ended up here 6 years ago.
What made you fall in love with this place?
MM: The location, the interior… I like it that there's one main room and other small spaces. I really like the door in this workshop, and that you can enter it straight from the hallway… I like the table that we're sitting at right now, facing each other and talking.
How much time do you spend here?
MM: I'd love to spend all day every day here. If it wasn't for eating and sleeping I wouldn't leave this place… 😊 there are times that I spend 12-13 hours in here.
You work intensely.
MM: I work a lot, but the common sense tells me to slow down. I have to remind myself: hello there… take a break now, go for a walk, read a book that's not related to goldsmithing.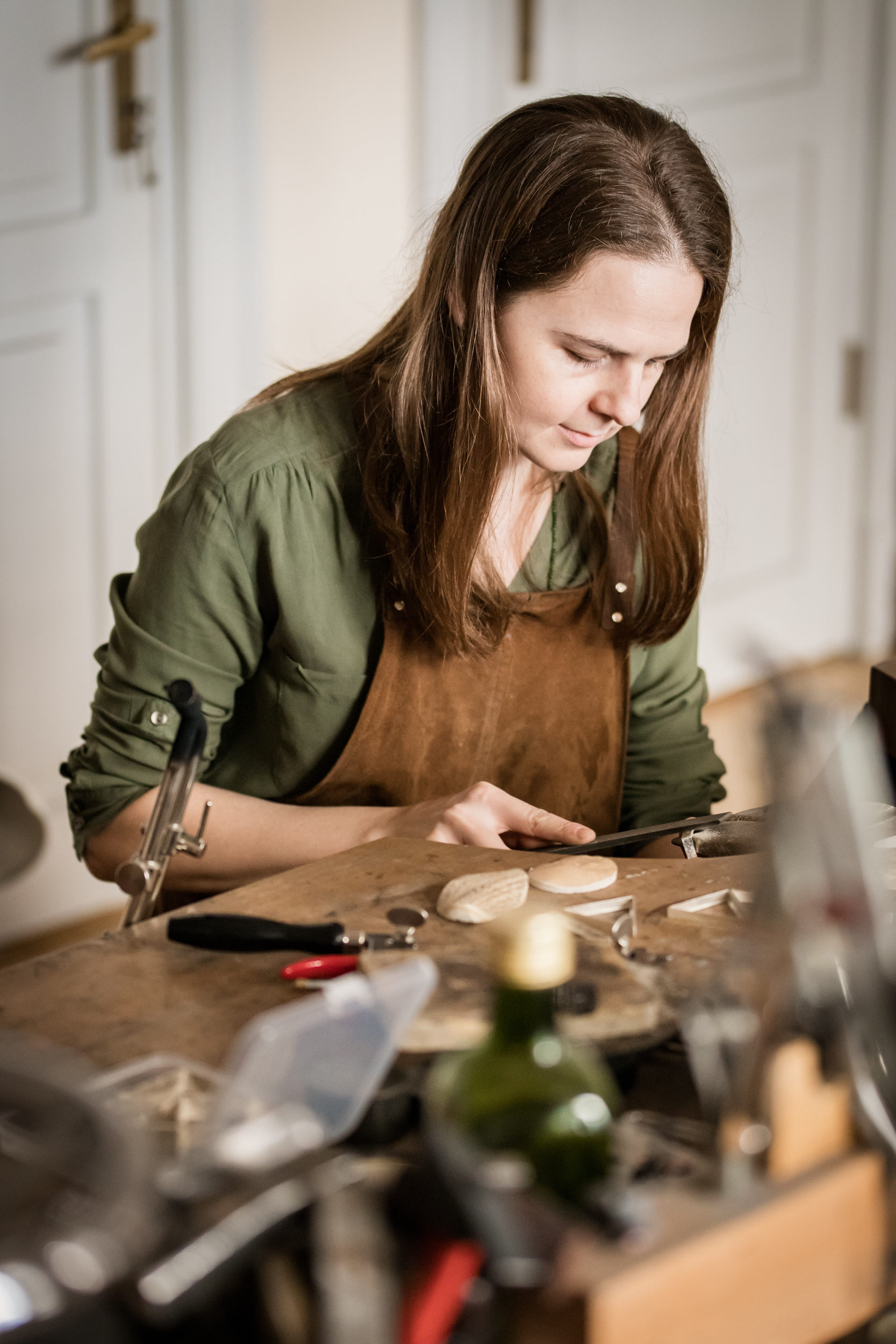 When did you realize that making jewelry is a job for you, when did you start to feel that it's something you want to do in the future?
MM: I've liked jewelry since I was a little kid, I was fascinated by trinkets, and even when I was barely talking I used to steal my grandma's rosaries 😊 Then I tried to make my first necklaces, circles. It's always been my hobby, but only at the end of my studies did I begin to feel that it's something that I HAVE TO do, that it's something that I can't imagine living without. I decided to give it a try – I signed up for an internship at one of Cracovian jewelers' and that's how it started for real.
You just mentioned your first master. Who was he, how did you find him, how did it all start?
MM: My master, Mr. Tadeusz Henzel, now retired. I owe him much of my growth in the goldsmithing field. You could say I met him by accident. When making a decision to train in this field I needed some advice to make sure that it's right. I had no one around me who would make jewelry so I decided for a 'random pick'. I had my portfolio printed out and a plan to just have a talk about what I'm doing and ask for advice if it's worth it. I was lucky that it was Mr. Henzel I reached to. That's how our collaboration started. After the first meeting Mr. Henzel decided that he'd let me try it out, and after that I started to spend most of my days in his workshop.
When was it exactly?
MM: In 2011.
So it was the time that jewelry was still a niche profession. Now the market's changed completely. You can see how the jewelry industry has grown over the past 8 years.
MM: It's true. There used to be small jewelry stores that were shutting one after another. Big chain stores were entering the market, online sales were expanding. And those goldsmiths that were running small shops had no chance or didn't want to adapt to the new environment. It was hard for them to stay afloat, one could say the profession was going through a crisis. Now it's all changing. There are a lot of young people that make cool things, a lot of amazing creators…
A lot of older people are getting used to the Internet as well, have more of a civil approach…
But tell us more about your teacher. I know that he convinced you to startyour own school. Why do you think he did that? What was his reasoning?
MM: First of all, we like each other and we get on well, despite a huge age difference – 39 years. Mr. Henzel has two daughters – one is my age – but none wanted to follow their father's footsteps. And then there was me – sharing his passion. What brought us together as well were… bones. After our first meeting, when Mr. Henzel noticed I use bones in my works, he asked: 'So how do people react, seeing jewelry made like this? Are they not angry?'I learned that one time he showed a purse made of an armadillo's back and some of his clients accused him of murdering animals. He knew well what I loved about bones, despite the fact that he'd never used them himself.
We understood each other well. The rules were simple: he was teaching me, he was my master. If I didn't like something, he used to sayto me: 'You're a guest here and if you don't like it then go on, there's the door'. In other words: 'You do it on my terms'.
He introduced you to the secrets of the profession in a harsh way. He did it very consciously, right?
MM: Yes, very much.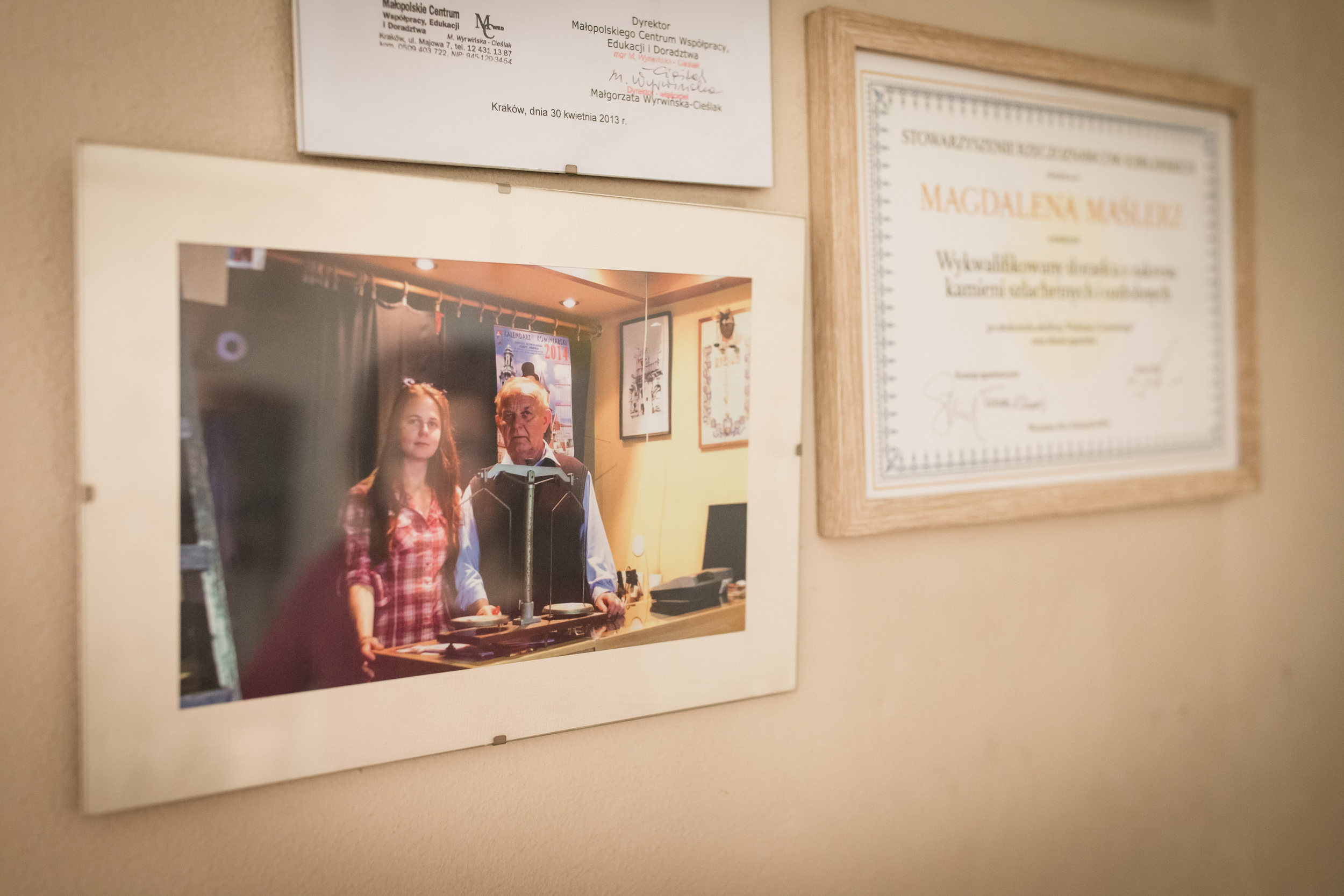 How much did you make of the huge amount of his experience?
MM: Extremely much, he taught me everything and he kept no secrets from me, and I am so grateful about it. He talked a lot about his youth, how it all started for him, about jewelry industry and the tools from older times. We ran a jewelry repair business so we talked about various repair techniques. It was a valuable time for me.
He taught you the skill but also had a mission to pass on all of his jeweler's experience to you?
MM: I think so. Then I learned that I'm his 13th student. The lucky thirteen 😊
When did the thought of starting a goldsmith school pop in your head? How did the beginnings of your small business and all of the logistics look like?
MM: It was Mr. Henzel's idea. At first he offered me to take over his workshop because he was already tired and wanted to retire. But I didn't want to be left alone with all of that, I didn't want to work office hours. Then he suggested to start my own goldsmith school. He said: 'You already have pedagogical education, you like people, you like doing what you do and I think that you're a good fit for that'. I laughed it off at first, it seemed like a joke to me. Then I thought, why not? It would be something fulfilling for me, something that I would really enjoy.
Did you do some research on the market? How did you start?
MM: I already knew the market but I did some deeper digging when I started to think about the school more seriously. I found the place that we're currently in, I decided to apply for a grant and were so blessed that I got it. It happened so fast – I rented a workshop in March, I got the grant in June. I had the workshop, the money so… I hit the road.
What are the rules of your school? What do you want to pass on to people that end up here?
MM: It's a place for anyone to learn making jewelry on their own. My job is to pass my knowledge on them. I try to answer every of my students' questions and I encourage them to ask, to search. I managed to set up a small library which may look modest but it's full of cool knowledge.
How does a course in Xerion look like?
MM: The students are coming here once a week for 5 hours, sometimes more often. We start off easy, like cutting out a simple necklace with a saw frame, then making a ring without a stone or frame to learn many ways of soldering on one object. Then comes a ring with a stone, earrings, projects on a similar level of difficulty. When these topics are covered, with the beginning of the third semester, they start making all sort of things, like a skull with rotating eyes or a signet-ring with a compartment. If one's putting together a collection during the course, we advise on what to buy and what's not worth it, because we also buy a lot of tools and there's been some misses as well, so we have a good outlook on the situation.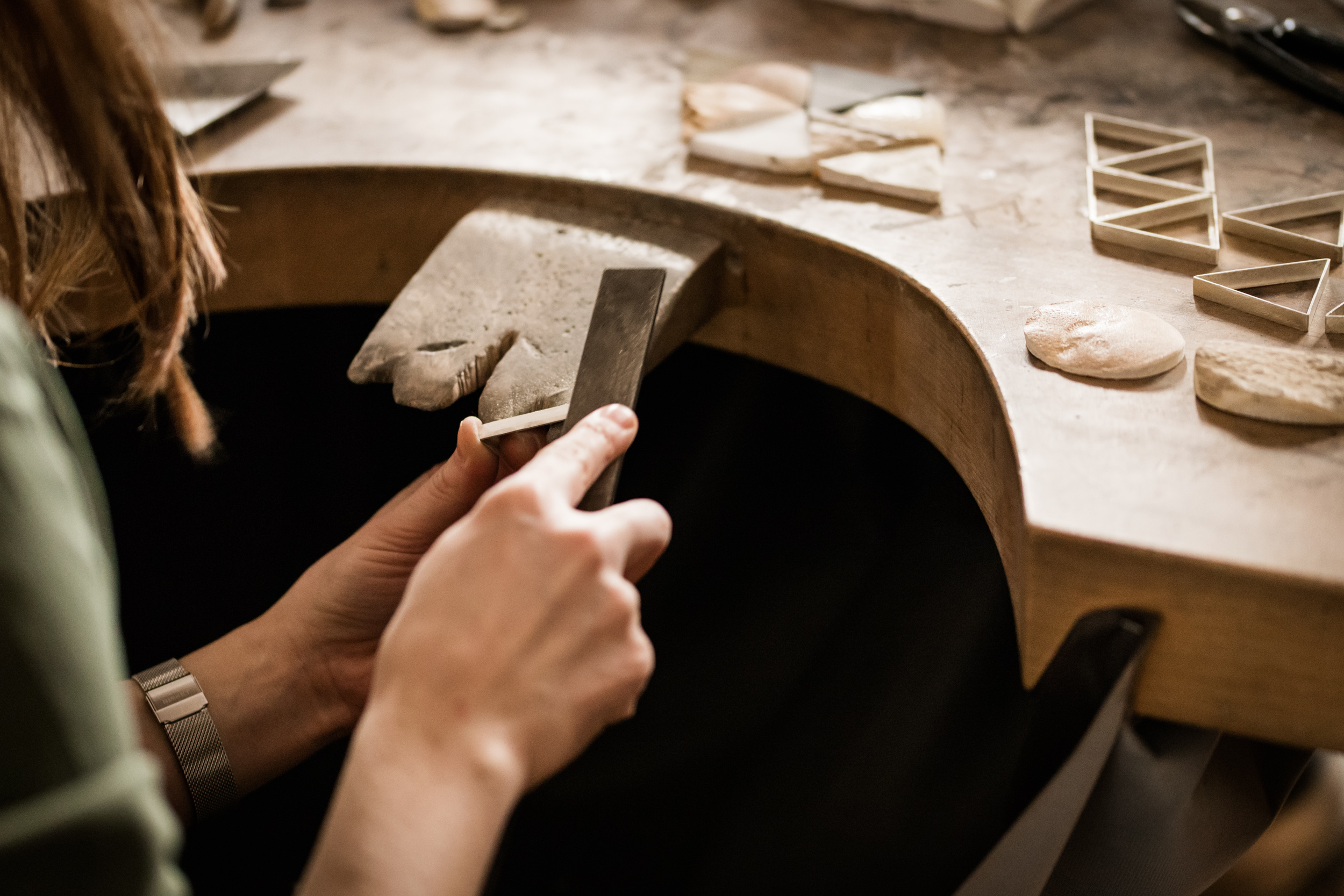 It's just like in an art conservator's job: not all tweezers are good, not all scissors are precise and sharp.
MM: Exactly 😊
Are you taking care of all the logistics or do you have someone to help you with that?
MM: My husband helps me a lot, he's a programmer and a musician. In the free time he advises me on marketing and the Internet matters, like online sites. I have one person for marketing, who gives us ideas for development, comes up with flyers' design, works on graphics, etc. I also have two employees helping me full-time. I myself enjoy taking care of management stuff, company shopping, etc.
So you have two of the qualities of a good boss: you're resourceful and rational.
MM: I know what I'm reaching for and I try to be self-disciplined.
Are you an artist or a craftsman?
MM: Oh, that is a very hard question. Sometimes I'm this, other times I'm that. One time I'm a businesswoman, the other I'm an artist or a craftsman.
Let's move on to your work. Where do you seek for inspiration, how does your creative process look like?
MM: It's not easy to answer a question like that. Every goldsmith takes inspiration from nature, that's for sure, but also from architecture and geometry. I always have my sketchbook at me so when something catches my eye, usually some small detail, I draw it. It's only later that I come up with ideas on how to use it. But it's also the other way around – I find a bone and the product itself inspires me to create something beautiful. Bones are the natural sculptures, they're beautiful on their own. When people think about bones they see skulls, spines, not so pleasant things. I use them in a different way – I take out something from a bigger piece and I show it to people. They usually have no idea that my jewelry is made of bones.
True, you might think that it's some interesting stone or ceramics.
MM: I wear my own jewelry a lot so I often get to watch people's reactions, let's say I'm on a tram, and they notice what I'm wearing… I see a look of surprise at first, then a gleam in their eyes: is it really what I think it is?
Exactly, you picked bones for yourself. Why?
MM: They picked themselves 😊 a bone gives a very nice feeling when you touch it, just like skin – kind of cool but warm, neither matte nor slippery, it's something in between. Touching bones gives me a lot of pleasure. But how did it start? I don't remember when exactly, but I think it was the time when I found a jaw of a marten and I made one of my first brooches from it. I also remember the time when my college classmate and I wanted to make a necklace from animal's spine but we weren't sure which one to choose. Our friend Ewa who studied veterinary said: 'A rat's spine, that would be something!'. She also suggested to go to a butchery and ask for a pig's tail. Of course we made necklaces from those tails later, but the visit at the butchery was a horrible experience and I would never want to do that again.
About the rat's spine – I'm still looking for it, although I have quite a collection of bones by now. Who knows, maybe I'll find it eventually?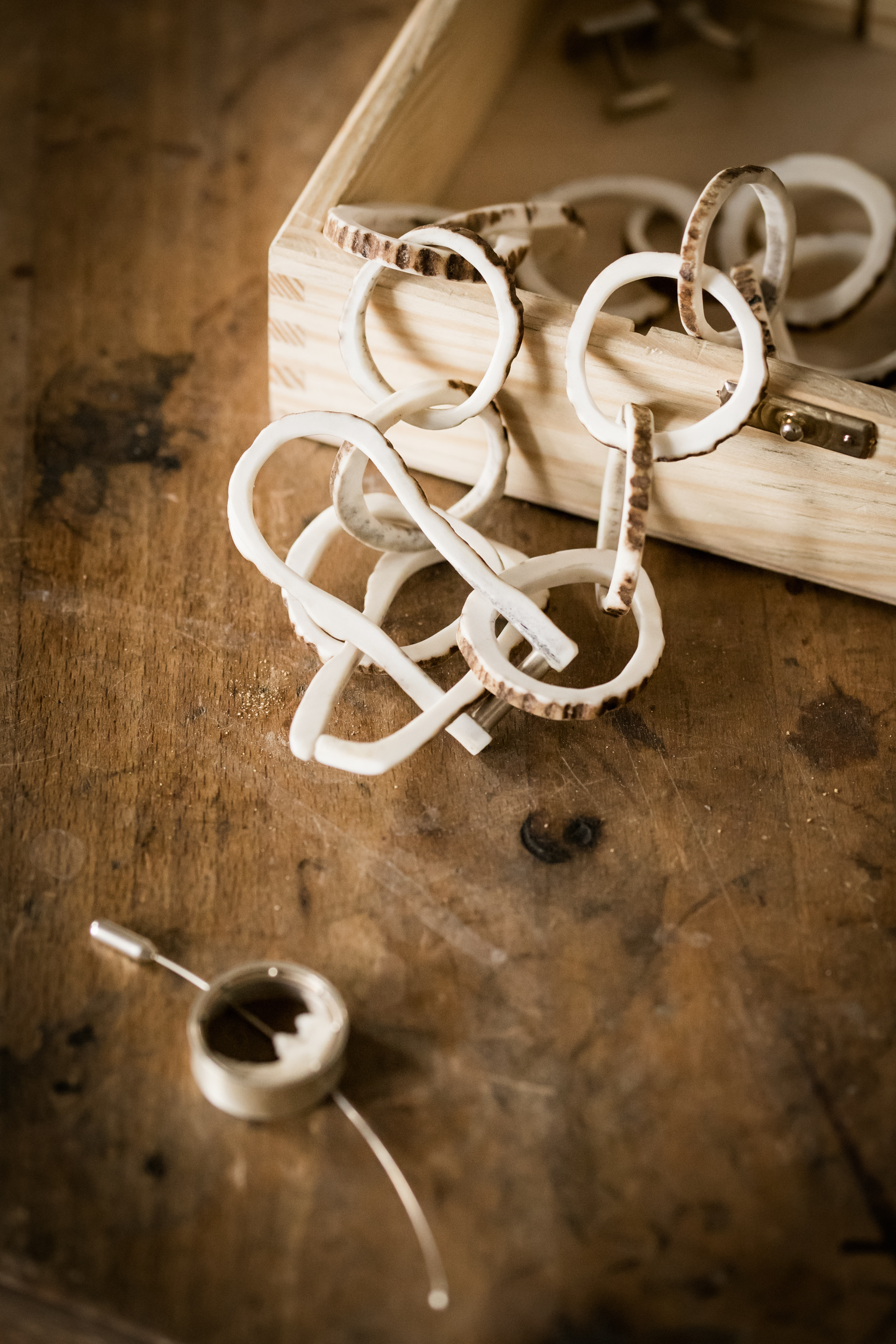 After hearing this story I think you're a bit of an archeologist.
MM: When I was young I wanted to be an archeologist because of the book 'Mister Automobile' [pl. Pan Samochodzik]. Fortunately, I got over it.
What exhibitions are you in? Where did you show your works most recently?
MM: The furthest place I did an exhibition in was China. I try to get into lots of shows to display my jewelry. Currently one of my works is in Latvia, I've been showing up with some of my bones on a Legnica Jewellery Festival [pl. Festiwal Srebra w Legnicy] for the past few years. I even got in to the main exhibition three times there, which I think of as a personal success. The Natural History Museum in Siena also has one of my bones – 'The Turtle' [pl. Żółw], and I noticed they display it along their own turtles.
Turtles?
MM: Siena is divided into contrade, or districts, and every one of them has its own symbol. The Siena Art Institute is in a turtle contrada. There are turtles everywhere: on the fountains, doorknobs, flags, apartment's ornaments, there are even brass turtles crawling up one of the buildings. And I had a bone that reminds me of a turtle, I found it at the Baltic's shore. I brought out the animal shape, and gifted it to the Art Institute's headmistress. I wanted to thank her for such a warm welcome. And the Institute is working closely with the Natural History Museum, so the headmistress gave the turtle to the museum.
You went to Siena on a scholarship?
MM: On an artist-in-residence program, it's kind of a grant, you get an access to a studio and accommodation in the city center in a beautiful apartment. I was working there for a month on a jewelry collection made of bones and resin. At that time I had an idea to introduce some color into my work, but in the end I prefer the 'off white' version. Nevertheless, I'm very satisfied with those works and the residence program itself, because of the valuable connections I made with other artists.
Who's your jewelry guru?
MM: David Bielander and Otto Künzli – they are my favorite artists. I value them for the humorous approach to the art, for the ideas and skills. The things that they come up with are amazing!
You add comments to your works. Why?
MM: To some of them, yes. Sometimes I write comments because there's a clear idea I have in mind, sometimes I leave room for interpretation. The interpretation itself isn't the most important though – I hope that when people look at my work they get the urge to commune with it, touch it… Just like with Japanese porcelain or a beautiful stone.
Those short stories you add to your work on the Internet site – it's one of the good aspects of existing online and sharing your experiences and thoughts.
MM: Yes, sometimes I want to tell a story – how did I get ahold of a specific bone or what do I know about it.
I can see you like creating things. Some of your works could be called objects. You've mentioned earlier that bones remind you of sculptures. Do you like to cross boundaries of what jewelry is to people?
MM: Yes, I think so, even if I'm not always aware of it. I like the process of creation, inventing. I like sculptures and working with dimensions. During my years at the university I thought about majoring in sculpture but I don't think my physical abilities are enough so I quit sculpture and focused on the small format. But I don't want to call my jewelry a sculpture form. I care more about the fact that my work could be worn – that's what determines if it's a jewelry for me, kind of the opposite of the current trend for the jewelery-objects.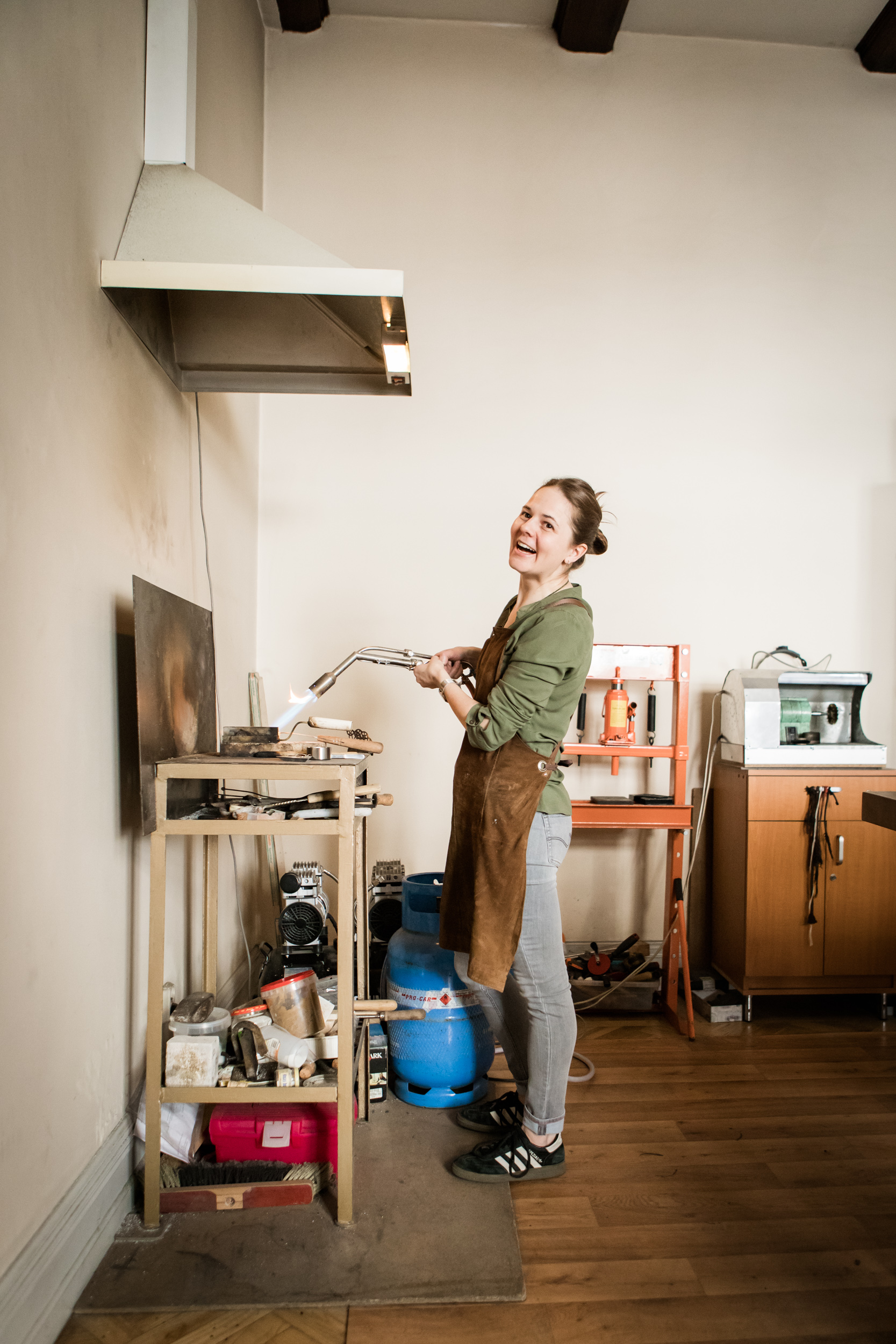 Do you have any dream projects you want to do in the future?
MM: There's a lot of things I want to do and I think I will, even if I was retired already.
How about now? Is there anything you want to do in two or three years from now?
MM: There is no thing that I haven't started already 😊 I'm one of those people who do it if they want it, I don't put things off till later. I feel that I'm in a good place, on the right path.
What do you think – what's the biggest accomplishment of yours, as of today?
MM: The school, I think – it's a tough project on many levels of course, but very rewarding. Another accomplishment would be exhibitions, I'm always happy when my works are gladly accepted and I hear positive feedback about them. The more fun the exhibition is, the happier I am that I can take part in it.
I understand that when you talk about the school you mean your educational activity.
MM: Yes, but not only that. It was more about creating a place with specific atmosphere for me. I managed to create a community, a place for exchanging knowledge about goldsmithing, the experiences, a space for lively discussions and exchanging artistic ideas… Students come back to us, we're happy that they're succeeding.
Do you think the modern society, overwhelmed by technology and information flow, should pay more attention to crafts or manual work because, on the one hand, it gives a sense of fulfillment and, on the other, brings satisfaction and relaxation?
MM: Of course! I have to say YES, because I myself do that. We've been talking a lot about it with my friends and some of them – especially those working with computers in big companies – tell me that they have this huge urge to create something from the scratch, might it be a notebook or fixing a kitchen cupboard, because those are the times they stop feeling like a cog in the machine. It's satisfying – making something from the beginning to the end. That's why I think people must work manually to feel human, it brings the inner peace.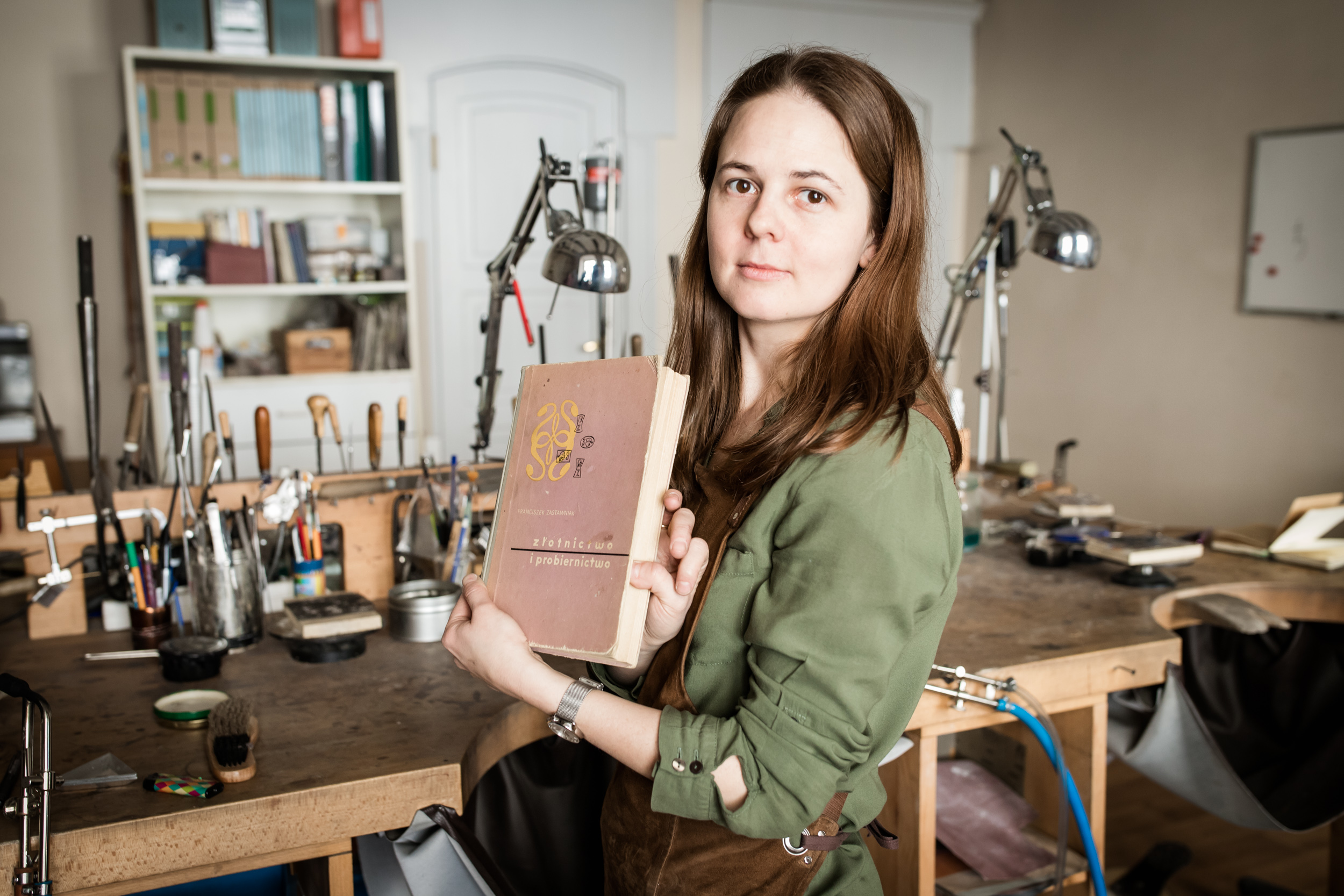 As humans, we're programmed to create, even if we don't really realize it.
MM: It's true. There's an event in Cracow called A Week of the Brain [pl. Tydzień Mózgu], and that's where, during a lecture of already deceased prof. Jerzy Vetulani, I heard that a man creates because he feels the need to, and that's the only thing that makes him different from an animal. I thought it was an interesting point of view and it made me see art in a different way.
What would you say to people that want to start making jewelry?
MM: Fortune favors the bold 😊 that's what my dad used to say, and I think he's right. I would also add: if you don't try now, will you ever?
Name three things that make a good craftsman.
MM: Precision, endurance, patience and creativity, of course. A craftsman must be creative, might it be to picture his own path to reach a goal – sometimes you have to go around things, or come up with an idea on how to go around it.
Do you have any other passion, apart from goldsmithing?
MM: I have a few. I read a lot, I like to travel and drink tea. I really enjoy studying my exceptionally vivid dreams… If I did a jewelry collection based on my dreams it would definitely be one of my weirdest projects! And it wouldn't make a lot of sense 😊
We wish you a lot of inspiring dreams then, the ones that will give you ideas for new jewelry!
---
Vocabulary:
Borax – white salt used in goldsmithing as a solder (for soldering) and a melter (makes the melting metals more likely to combine).
Burner – a tool used for soldering metals, such as gold or silver.
Crucible – a chamotte container in which metals may be melted.
Saw frame – a tool used by a goldsmith for precise cuts in metals. You put a thin blade on a saw frame.
Soldering – combining two pieces of metal with a third one of a lower melting point.
---
Interview from April, 2019.
Interviewer: Joanna Zawierucha-Gomułka / Rzeczy Piękne
Photos: Bartosz Cygan © Rzeczy Piękne
Translator: Dagny Zawierucha
Magdalena Maślerz's website  >  magdalenamaslerz.pl
Xerion School of Goldsmithery > szkolazlotnictwa.pl
---
The project is financed by 'Stypendium Twórcze Miasta Krakowa'