Wiola Sowa, one of the most talented Polish directors of animated films, winner of multiple awards in Poland and abroad, accepted the invitation to our project 'RzeczyPiękne'. Her interests include universal topics that touch on the subject of the condition of human nature, relationships, growing emotions and their influence on our lives. We talk about shaping of the Artist's career pathand an important research topic that she sets for herself during creative work. There's a formal beauty resonating from Wiola's movies, on the layer of substance, image, and sound, and that's why we cannot wait for the latest art piece of this prominent director, that is currently being created in Cracow.
See the photojournal from the meeting with the Director >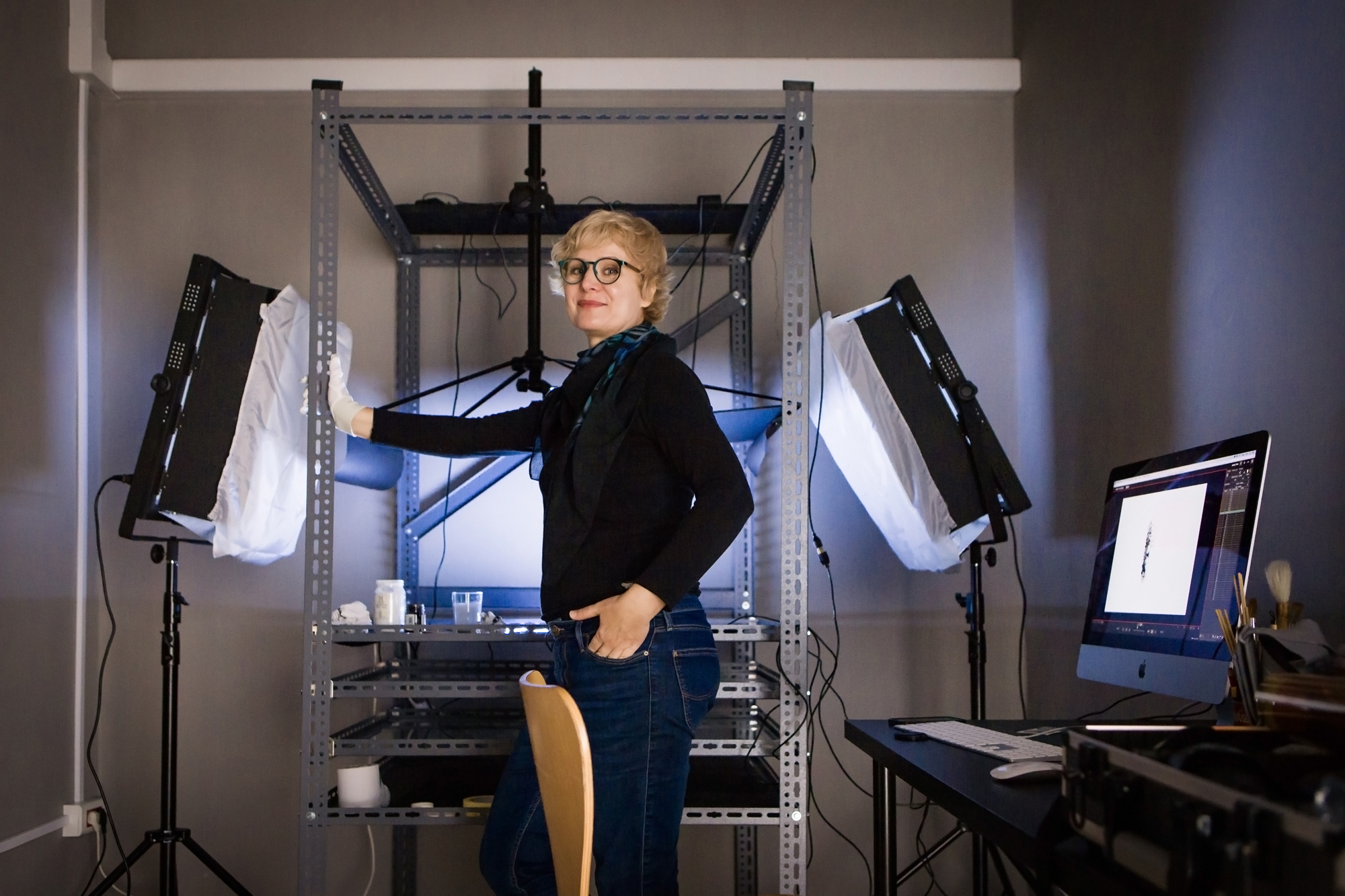 Rzeczy Piękne: Tell us what do you do.
Wiola Sowa: I make animated films, but I also make mixed media movies, mixing animation with documentary and feature films. The motivation to create a new movie is the topic, that shows up in the form of series of questions that bother me, and demand answers. They're about various realms: relationships, social relationships, visual fascinations: graphic and performative-theatrical, and obsessions about sound and music. The key element is also the skill challenge, a new (for me) method of work, to strain yourself looking for the solution of the ideal effect. This 'innovator's spirit', that complicates life, I don't like the most in myself, but without it I wouldn't be interested in making movies at all.
What movie genre you reach for the most and why?
WS: When there's an idea for a movie I decide on the genre that it's going to be made in, I don't feel restrained by any preference and I willingly go beyond animation. However, there are ideas that can be made into animated films and animated films only, because of the very specific way of portrayal and a totally different film language, impossible to be made into a feature film or documentary. That's why the animation is totally still my favoritemovie genre.
Where do you look for topics for your movies?
WS: The topics I cover are in fact documentary. I draw inspiration from observation, events, stories and experiences of real people. The attention is always focused on particular person and their personal experience, and yet it's universal. The focus is mainly on the emotional side of the characters. The individual topics (because there are some that came up to me) create something like summary points of particular parts of life. Some people write diaries, some have blogsites, I make movies.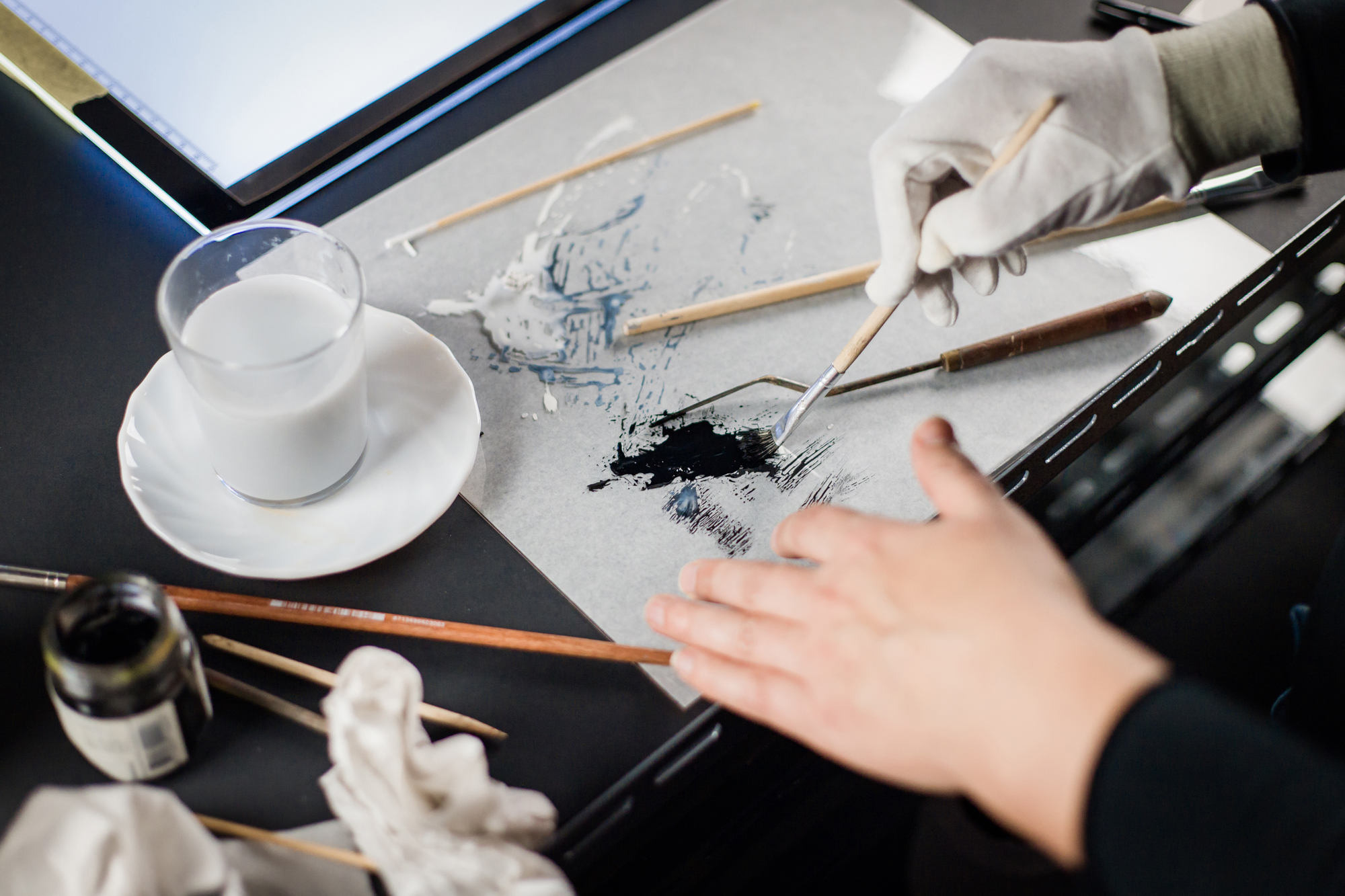 Let's travel back to your past. Tell us how were you growing up and what were your first major artistic steps.
WS: I was raised in a family of women. We were the only one like that in the neighbourhood. I had a very happy childhood, I didn't feel like I was missing something. But now, when I'm grown up, when I see a relationship between father and daughter, there's a thought in my head, a surprise that I don't know those feelings at all.
My mom is a very independent person, she always has been and that's how we were raised. When she sent me away to the Art High School after my primary education, to the other end of Poland, it was clear that it would be good for me, and it was. NowyWiśnicz was a special place, a magical place. The school building was covered in the students' art works: ceramic reliefs and sculptures, porticoes around the doors (or just on the walls, as if the door was magically hidden), stucco tombstones on the corridor's walls, atlantes bigger than students, and a view through window on a castle and a beautiful hillside landscape. Plus the living together in a dormitory. When you read about art groups that made their mark on the world, they often had a characteristic point that you could define by the experience of communal living. When people form very close relationship, kind of a friendship, there's always a great potential in it. That's how it was in PLSP (National Art High School, pl. Państwowe Liceum Sztuk Plastycznych) in Nowy Wiśnicz, to someextent, of course.
Then it was the University – the next and I guess important stage in your life?
WS: I chose the Academy of Fine Arts in Kraków [pl. Akademia Sztuk Pięknych w Krakowie]because of the animated film. I had considered studying at the National Film School in Łódź [pl. PaństwowaSzkołaFilmowa w Łodzi], but at that time I felt like I still need a thorough training in the art field. I ended up in the Film School anyway – for my postgraduate studies.
I studied at the Faculty of Graphics, Academy of Fine Arts. Although I was avoiding the workshop, I was definitely 'contaminated' by graphics. It manifests itself in the form of love for textures, grains, and limited color palette.
The Animation Studio had been at the analogue stage at that time. In the span of five years of studiesthe first Amiga computers appeared, but generally we were making movies on 35 mm films. My diploma movie 'Between us' [pl. Pomiędzynami] was made on a Czechoslovakian camera Cinephone from 1926. I have no idea how it ended up in the studio, but it might date back to the times of Urbański (KazmierzUrbański – animated film director, founder of the animation film studio at the Academy in Kraków). Students are working on it up to this day.
'Between us' (2000)impressed the public and critics. It was recognized during the 5th editionof OgólnopolskiFestiwalAutorskichFilmówAnimowanychOFAFA [eng. nationwide festival of authorial animated films] and got the Special Prize for artistic features awarded by the jury of 9th ETIUDA in Cracow. It's a lot, for the starters 😊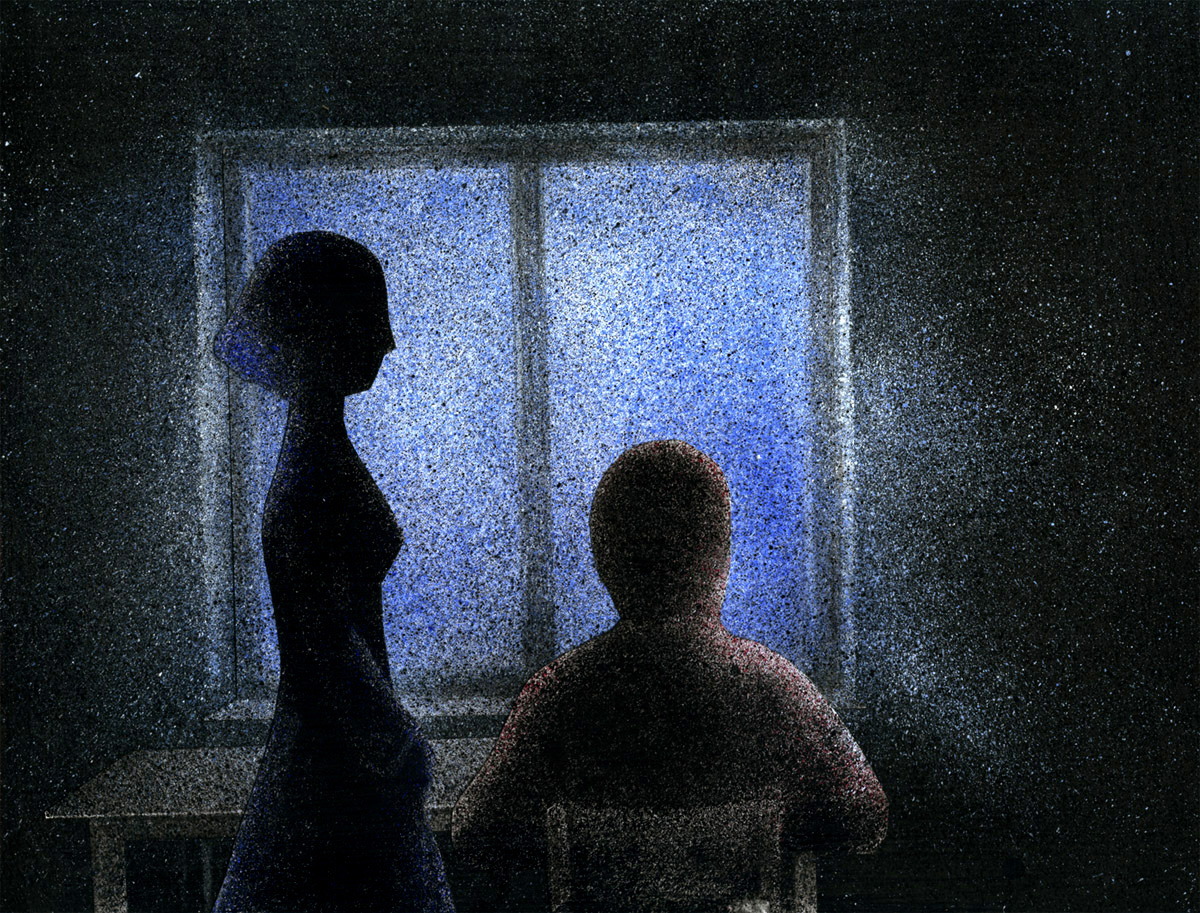 WS: It was 'Between us' that was the kind of first point in life that summed up my experiences. The movie depictsin a simple way the differences in relationship, that emergewhen the relationship is forming. High school, especially the time at the university, was the moment when the relationships were forming. Wherever you looked, couples were forming, breaking up, forming the new ones.
What do you want to tell in 'Choruses' [pl. Refreny]?
WS: In 'Choruses' (2007), my professional debut, I'm dealing with the topic of single motherhood, and the repetition of destiny in next generations. You could say that I'm making a break with family. It's not very original but clearly necessary, as (now I know) almost everyone is doing so, in one way or another. Filmmakers in films, artists in art, etc.
However, this movie is important for another reason –because of my artistic decisions made at that time. You can see all of my fascinations and obsessions, that are coming back in the followingprojects, finding a new form of artistic expression, every time. My film language was shaped in 'Choruses'.
What's the construction of this picture?
WS:The movie is composed of many elements: visual side, staging and cinematography side, music and sound (including dialogues). Different approach to these elements make or break the way a story is told. In 'Choruses' there's few fascinations: the first –about the way of telling a story using movement and rhythm of this movement (a tad contemplative), the second – about the way of composing and framing scenes, the third – working with the voice in the function of dialogue (which is not a dialogue in the strict sense of the word), with the sound and music. It's developing with every movie, and I don't mean it's strictly evolution,but more like exploration of the possibilities.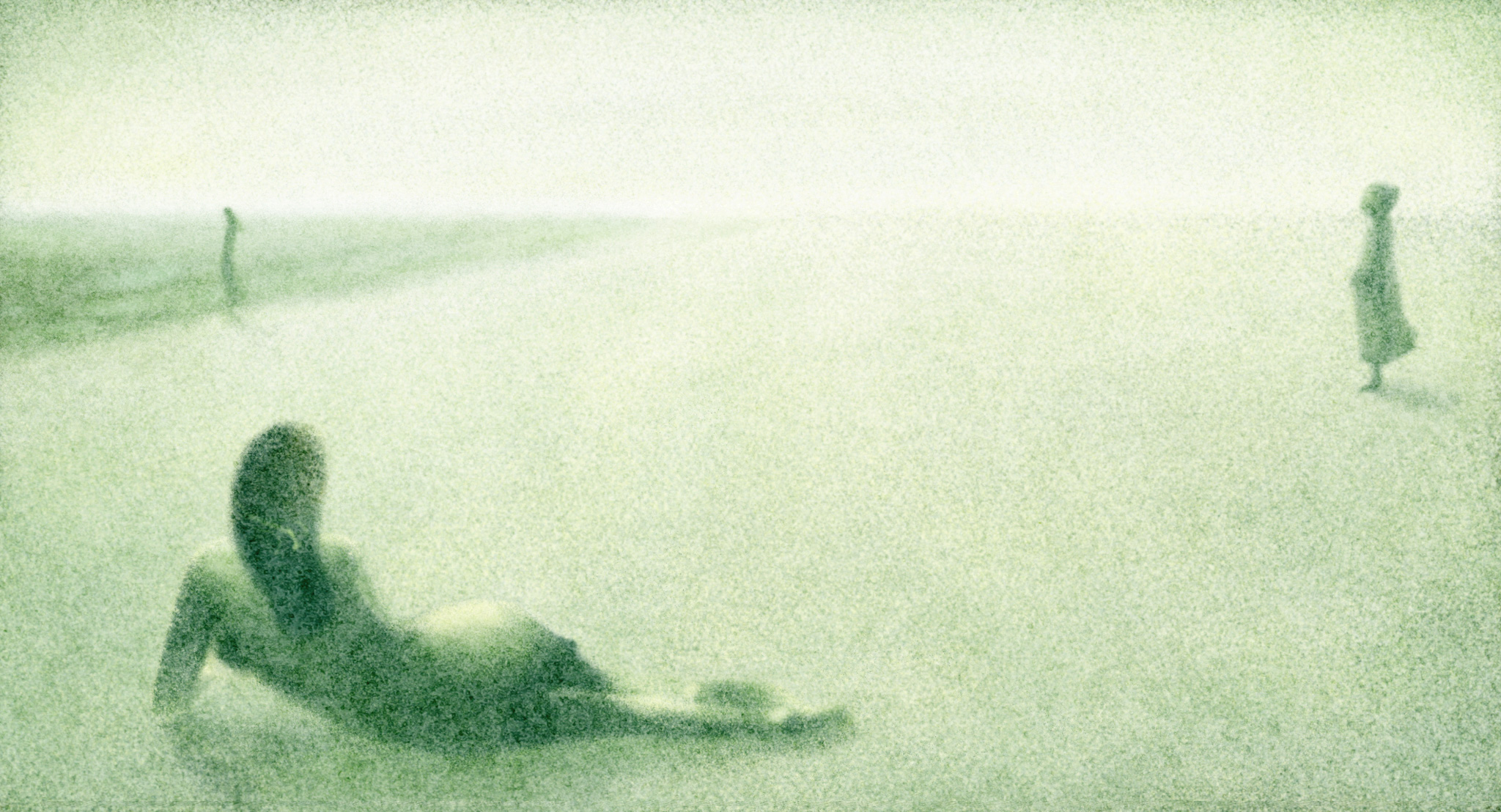 Which of these stages is the most challenging?
WS:Ironically, working on the script takes the longest time. First it's just general notes, the topic, draft of the story. I come up with something, then I denymyself on another page, and so on. If it starts to be too much, I read it and organize it, rewriting it on the computer. That's where the treatmentis made, then the script, or more like couple of versions of the script, then I print it out, cut it into stripes and make a new version out of it. And then many more versions.
One time I found a dusty roll, it was my script at the stage: selection of story developments on the stripes glued to a Bristol board, that I'd already forgotten about. I peeked inside and there it was, a totally three-dimensional installation art, because the stripes had been glued on one sides only, the others were 'flying' in every direction. I thought at that time that it was the weirdest form of script I'd ever seen, with the stories put into a 'tube of time and space'.
Then there are explications, moodboard, first designs and, simultaneously, decisions about staging, sound and music. It just all occurs at the same time, although it derives from various inspirations and it's spread over time.
What's your process of thinking about staging, setting particular scenes?
WS: The visual side is always the resultant of inspirationsof a certain artist or art movement (Utamaro, Hashiguchi Goyõ, Will Barnet, Edward Staichen, Edward Boubat,ZofiaRydet). Whereas the most important inspiration that expands my thinking about staging, rhythm of the scenes, character's way of moving, and the meaning behind a single gesture, is theatre, specifically dance theatre (CompagniaMossoux-Bonté. Pina Bausch, Jan Fabre, Alan Platel, Krystian Lupa). Theatre operates with created movement, so the HOW is equally relevant, and sometimes even more relevant than the WHAT, because this HOW determines the emotions. Exactly how it is in animated film.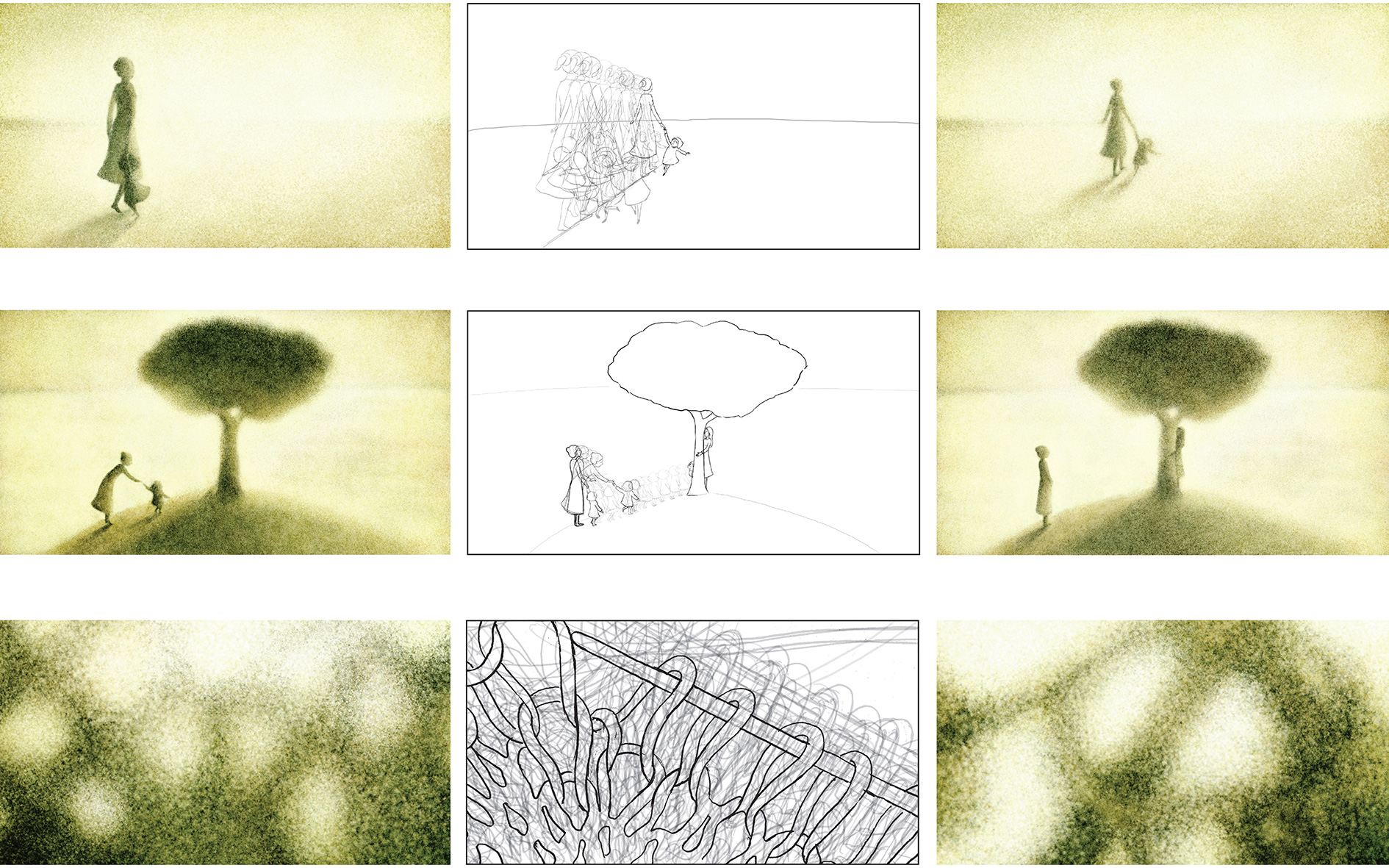 The fascination of human's voice has also its originin emotions, because it's the human's voice that affects us emotionally the most. The sensitivity to rhythm and tone of a voice is reflected in thinking about sound and music. It's evolving in next movies, taking on a whole new shape: from onomatopoeias, through aliquots and melisma, to polyphony.Similarly, musical instrumentation directs me more and more to the side, which my friend, a sound guy, jokingly described as a 'tribal music'. Although the whole concept is initiated by me, at this stage, the crucial influencebelongs to work with composers and sound designers. In case of a movie, it's specific kind of inspiration. I collaborate with cinematographer, actors, composer, sound engineer, and they all, exceeding my expectations, gift me with something that occurred out of the blue.A kind of inspiration by accident, but resulting from a high artistic level of those people.
I used to think that I'm more of a loner, and I would feel the best in the job that isolates me from people. I hadn't known that I enjoy working in a team. Now I cannot imagine working on a movie alone. Dealing with it by myself would be a real tragedy!
Your directorial debut 'Choruses' from 2008, with a suggestive music by Leszek Możdżer, brought a whole lot of international awards. What were you feeling at those moments? Did those awards give you a chance to complete some new professional plans?
WS: 'Choruses' brought me a lot of awards, and, what's most important, the chance to travel. It allowed me to see what kind of world I live in, see Poland in some perspective. Generally, it allowed me todistance myself from many things. I was 35-40 years old at that time. It's a time when a lot of things in life are being verified. A very dynamic time professionally, but also personally – emotionally. A time of attracting and pushing away. That was the time when the work on the script for 'XOXO kisses and hugs' [pl. XOXOPocałunkiiuściski] began, although the movie itself was completed couple of years after.
'XOXO kisses and hugs' is a sensual erotic story which perfectlydepicts your sensitivity to art, your huge directing skills. The story, picture, music are complementary, creating a beautiful film image. Complicated relationships are emphasised by movement, dance, physical expression. Tell us about the work on this movie.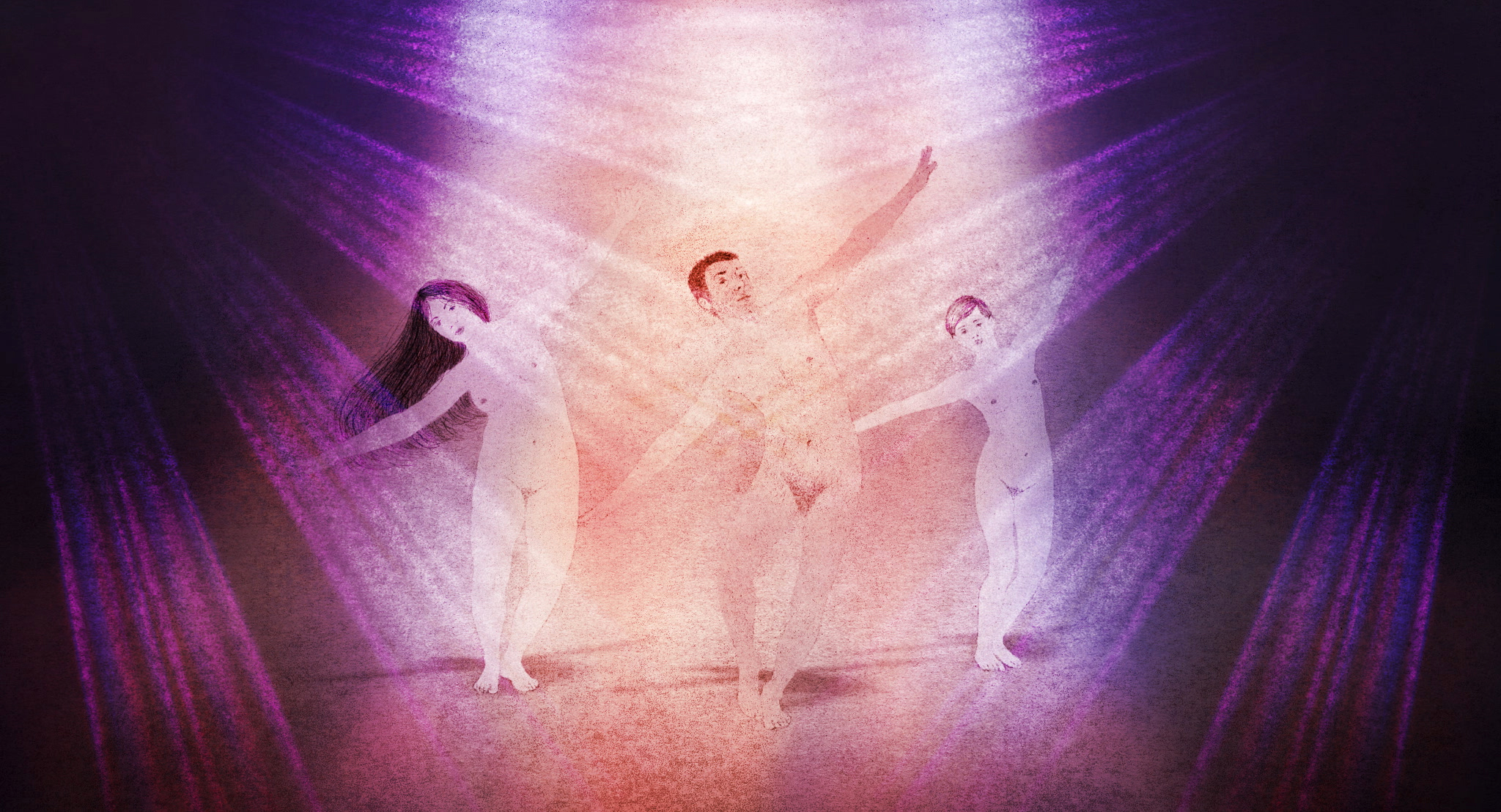 WS: I have to admit that the direct push for the topic wasn't a result of some philosophical thoughts, but it was because of wounded pride during one dinner… But let me start from the beginning. At the invitation of Sayoko Kinoshita, the director of the Animated Film Festival in Hiroshima, together with other film directors (Candy Cugel – the USA, Otto Adler – Switzerland, NicolasJaquet– France, Kotaro Sato – Japan), we were selecting movies for a competition program. One evening, during dinner, Sayoko showed us the works of her friend Toshio Saeki, who makes erotic art (based on Ukiyo-e). I'd never seen art works like that and I must have made a weird face because Otto told me 'Don't watch it, you're pale'. Otto is my very good friend, and yet, to hide my fluster, I told him I was just tired of masculine point of view on sensuality. Otto replied that I should make my own movie about eroticism. First I got offended, glared at him as if I was going to throttle him, and when I got back to Poland I started to work on it.
However fun it was at the beginning, working on this topic and then on the movie itself was pretty hard, because my artistic concept was complicated. It was supposed to be a movie about not being able to create close relationships, about feelings we call love, that have nothing to do with love at all. About a sensual view on physicality, which isn't very sensual itself. From the constructional point of view it was supposed to be a kind of performance, in which the viewer takes on the role of an observer, doesn't identify himself with the characters. It was a mix of three types of dancewith different kinds of expression: Synchro Dance – 'me for you', social dance –dancers are there for each other, and Contact Dance, in which, let's say, 'I experience'. Music and sound emphasised the physical side of the picture.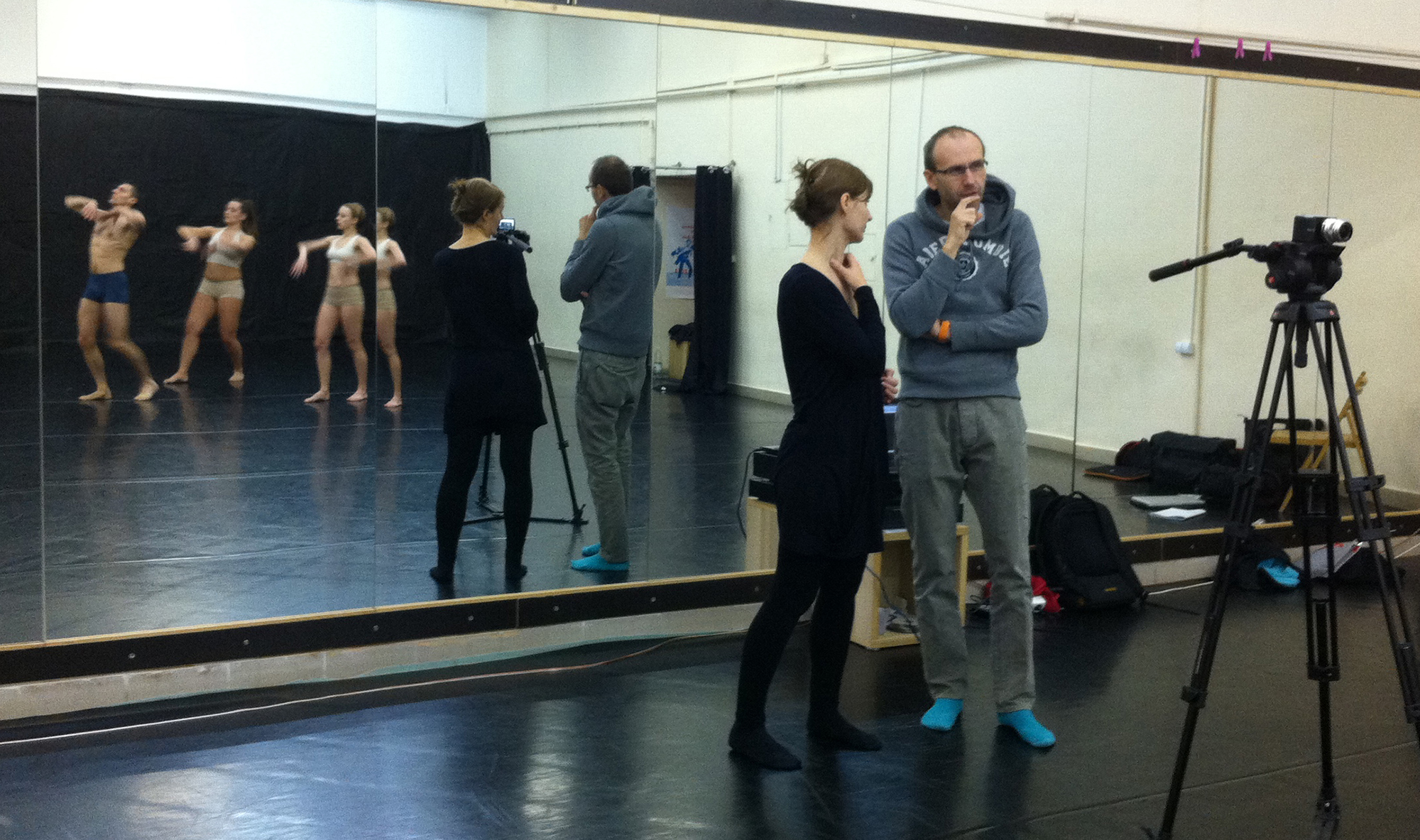 What are viewers' reactions on 'XOXO'?
WS: I love looking at viewers' reactions in a movie theatre. 'Choruses' was a movie that was getting very spontaneous reactions from the public. One time, someone ran out of the theatre after me to share his thoughts. It's different with 'XOXO'. It triggers opposite reactions from the viewers. It's difficult because of the nudity, but mostly because of the threesome topic. Every one of us has experienced being in a threesome of some kind and it's always accompanied with very complicated, mixed feelings. It's a movie about universal experience, but also about desire. It's kind of a movie that requires mature viewer, and personal experiences affect the reception.
What are you working on right now?
WS: I'm starting to work on the new movie titled 'Two Maries' [pl. DwieMarie]. It's a movie project that doesn't sum up any specific stage, like the previous ones do, but it recognizes what's underestimated –love of a husband towards wife, love of a father towards children.
The main character is going to be a man (it's new for me, it's always been women for me). It's supposed to be a movie about a modern man who has two sons, a wife whom he loves, and another baby on the way. He also has a motorbike – Harley Davidson 833. I really like this script, although, when I'm describing the plot to someone, they get heartbroken at some point. But that's how it is in a movie, the protagonist must suffer. It's a big challenge from the execution side, because it's going to be executed in two formats: as a classical movie and as a cinematic VR. Next two years are going to be very busy.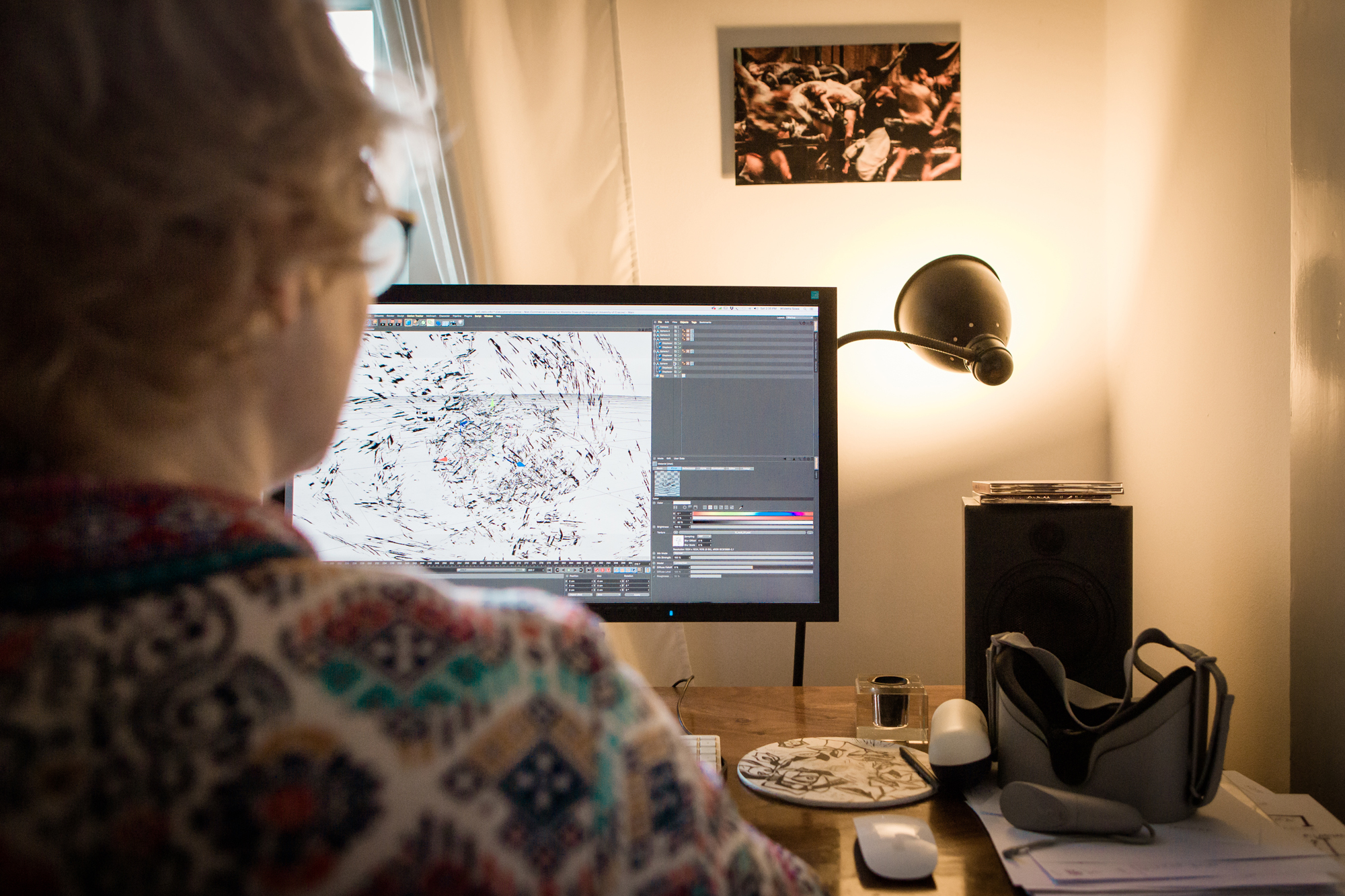 What gives you motivation to create new movies and take on new challenges?
WS:The questions about various topics that keep bothering me motivate me to make movies.
After finishing a movie, most of the answers are found, and it's the moment that I lose interest. The movie is left on its own, for the viewer who's unaware of my dilemmas. Meanwhile I have another list of questions in my pocket. There's a scene in 'A Room with a View' movie by James Ivory, where young George Emerson, leaving his room in a pension in Venice, comes back to turn away the painting that has his credo on the back side: '?'. Every time I watch this movie, I know it's about me. My whole life has been a permanent question state.
And I am, as a viewer, in a permanent state of anticipation for your next movie 😊 Thank you for the talk, Wiola!
---
Interview from January, 2020.
Interviewer: Joanna Zawierucha-Gomułka / Rzeczy Piękne
Photos: Bartosz Cygan © Rzeczy Piękne
Editor: Dorota Smoleń
Translator: Dagny Zawierucha
---
The project is financed by 'Stypendium Twórcze Miasta Krakowa'