In the new series of  'Creative jobs' we welcome Joanna Tor-Gazda – a guide around the world of style and fashion. Joanna reveals her philosophy of fashion, her love for hat-making,and encouragesto try different things when it comes to your style. How does she define 'beauty' and why is it an important part of life for her? What does she love about 1920s and Philip Treacy?
See the photojournal from the meeting with Joanna Tor-Gazda >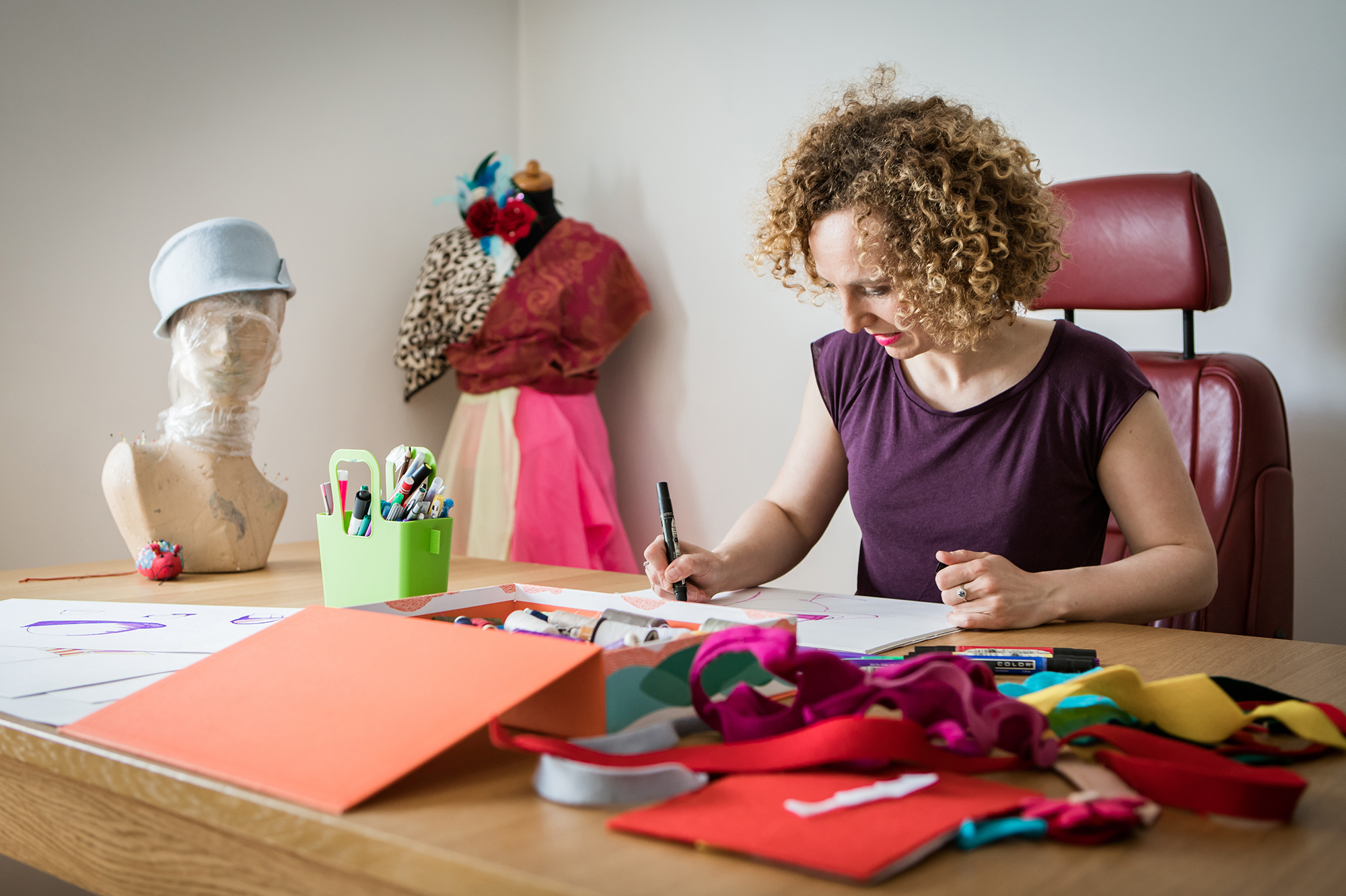 Rzeczy Piekne: You're a fashion designer or a personal stylist? Can you separate the two?
Joanna Tor-Gazda: I'm a clothes designer. I think you can separate the two, because clothes designer has all the constructing and tailoring basics too. At the Cracow School of Art and Fashion Design [pl. Krakowska Szkoła Artstycznego Projektowania Ubioru, KSAPU] I learned construction, modeling, sewing –creating a piece of clothing from the scratch, basically.
For me, creating an image has a deeper meaning. It allows us to visualize who we are, to create a true and beautiful illustration that fits in to our story, not some fake picture that barely lasts a second.
You call yourself a style and image coach.
JTG: I'm more of a style mentor nowadays.
Why is that?
JTG: I did finish a course for a style coach one time. Mentoring gives me more opportunities, a wider range of methods to describe a change, and picking the best solutions. Talking and exchanging experiences are the most important. A coach cannot pass down their experience, a mentor can.
How did the idea for setting up a business called 'Dostrajanie' come to life? What does it tell?
JTG: 'Dostrajanie' (eng.Tuning) was set up several years ago, when I was still working as a designer in a fashion industry, in one of the Polish chain-stores. Getting an inside look on designing system and mass production I realized it's not the system I want to work in. That's when I noticed it's just copying other companies' clothes. A piece created not because it's practical and aesthetical for a particular group of young women or to enhance their beauty, but of a low-quality, that's going to wear out in three months or so.
So the company didn't consider their needs?
JTG: We cared about the trends and what sales department was telling us. That's when I realized I didn't want to work in that system.My dream has always been designing for women that appreciate a good execution, a quality of a material and an individual approach.
I decided to create a workspace on my own. Truth to be told, it's been in the making since I was a teenager, helping my friends shop, arrange their closet and style them. I have a good eye for clothes and colors. My mom taught me how to sew when I was 10.  Since I was a child I've always been very interested in how are clothes made and how was the fashion changing, depending on the culture, social status or historic events. I knew how to change body shape with the right style even before I entered the school of fashion design. I have a soul of a searcher and I love to read and visit the museums of history of fashion and art, it's a great joy for me to learn people's stories through clothing.
During these years I've learned that a well dressed person is the one that is able to tune the clothes to their personality and lifestyle. That's how I came up with the name Dostrajanie.pl, it's just like tuning a radio, for a music to flow with no noise. The interpersonal communication is not only about words but the meaning behind them. Gestures, tone of voice, clothes, jewelry. There are some unnecessary noise in them too.
I help women discover their beauty and create a personal dress-code, that makes life easier. Well styled clothes give you a lot of opportunities. They can give you joy, energy for the whole day of work. It makes you connect with people easier.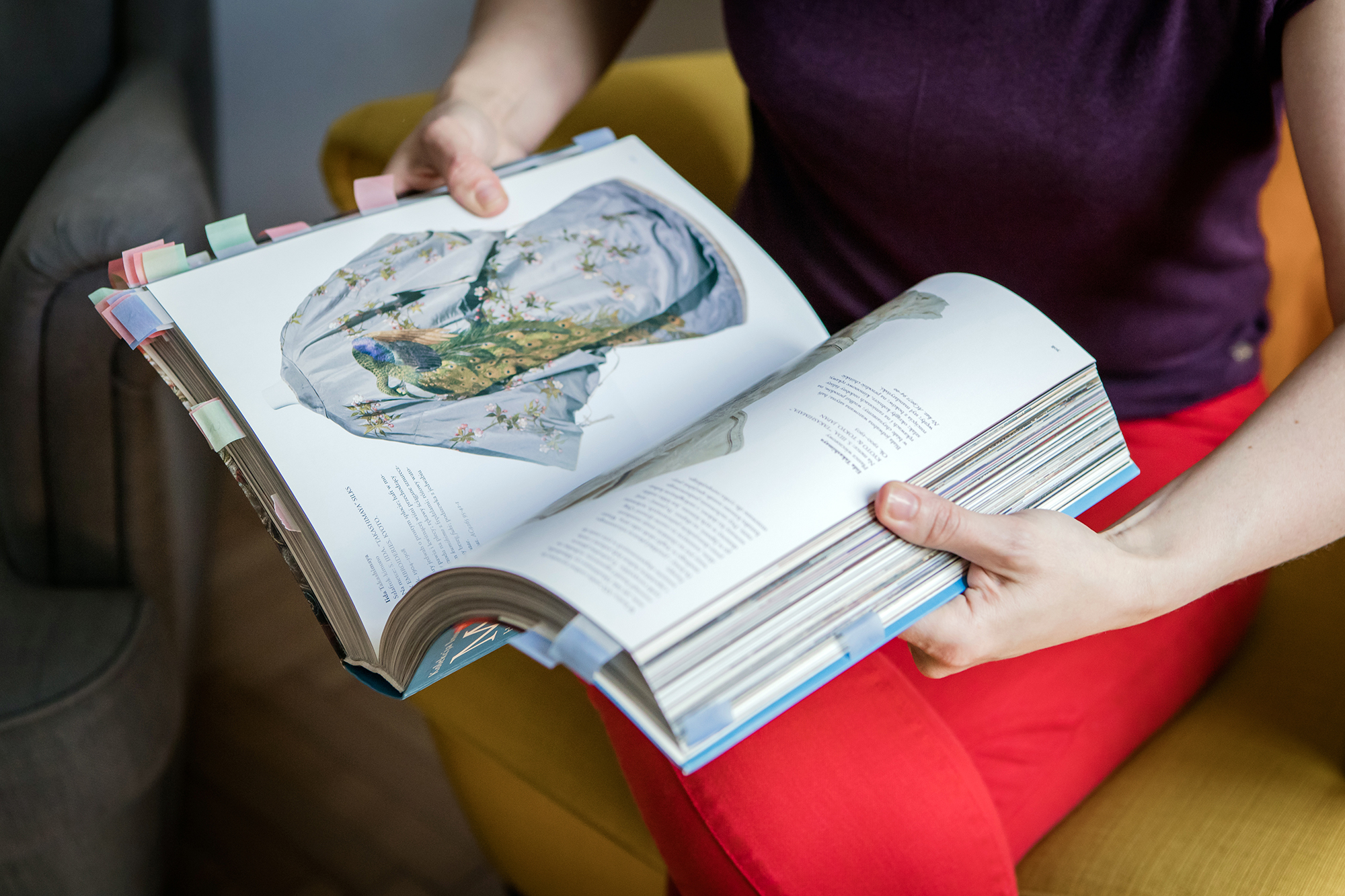 You talk a lot about your love for history of fashion. Have you ever thought about focusing your skills on, for example, costume design and working in theatre or movie industry? Have you ever considered it?
JTG: It was a dream of mine, once. I love historical, costume and fantasy movies. But I know that a costume designer's job is full of sacrifices, and at that moment, when all I dreamt ofwas to start a family and be a good wife and mother, it seemed impossible to me. It lingered on, as a fascination, something that inspires me, because the books about history of fashion that you saw at my place are my 'bibles'. When I look at these embroideries, the memories come back and it feels nice…
Now I make my dreams come true in a different way. Working with a woman on her personal style is similar to creating a style for a movie character. It's important to get to know the person, to launch imagination, but also empathy.
Which period of fashion do you like the most?
JTG: I love 1920s, or 1950s. Even though the times were difficult, Polish women still cared about their looks, they were very creative and could make amazing clothes from just a few pieces.
The 20s were a true revolution. Women started to wear comfortably but still with taste and class. Elegance, focus on details, those little hats that made everything look just lovely. The simplicity of dresses, the beauty of materials, the subtlety of colors. The clothes were full of expression, courage and lightness. As for women's clothing, there was a lot of mystery and flirt with surroundings in it.
You've got a real soft spot for hats, you make them yourself. Why?
JTG: It's like the first love of mine. One of the classes at KSAPU (or Cracow School of Art and Fashion Design) was hat designing. When I saw those shapes that you put felt kaplinhatbodies on, I thought I was dreaming a beautiful dream. To pass the class I was to make three hats but I made sixteen, and all of them were presented on the endoftheschoolyear show. They were theatre-artistic but I still wore some of them on a daily basis. I love making hats and wearing them. A hat attracts the eye to your face. It says a lot about your taste, sense of aesthetics and personality. A hat builds the character of style.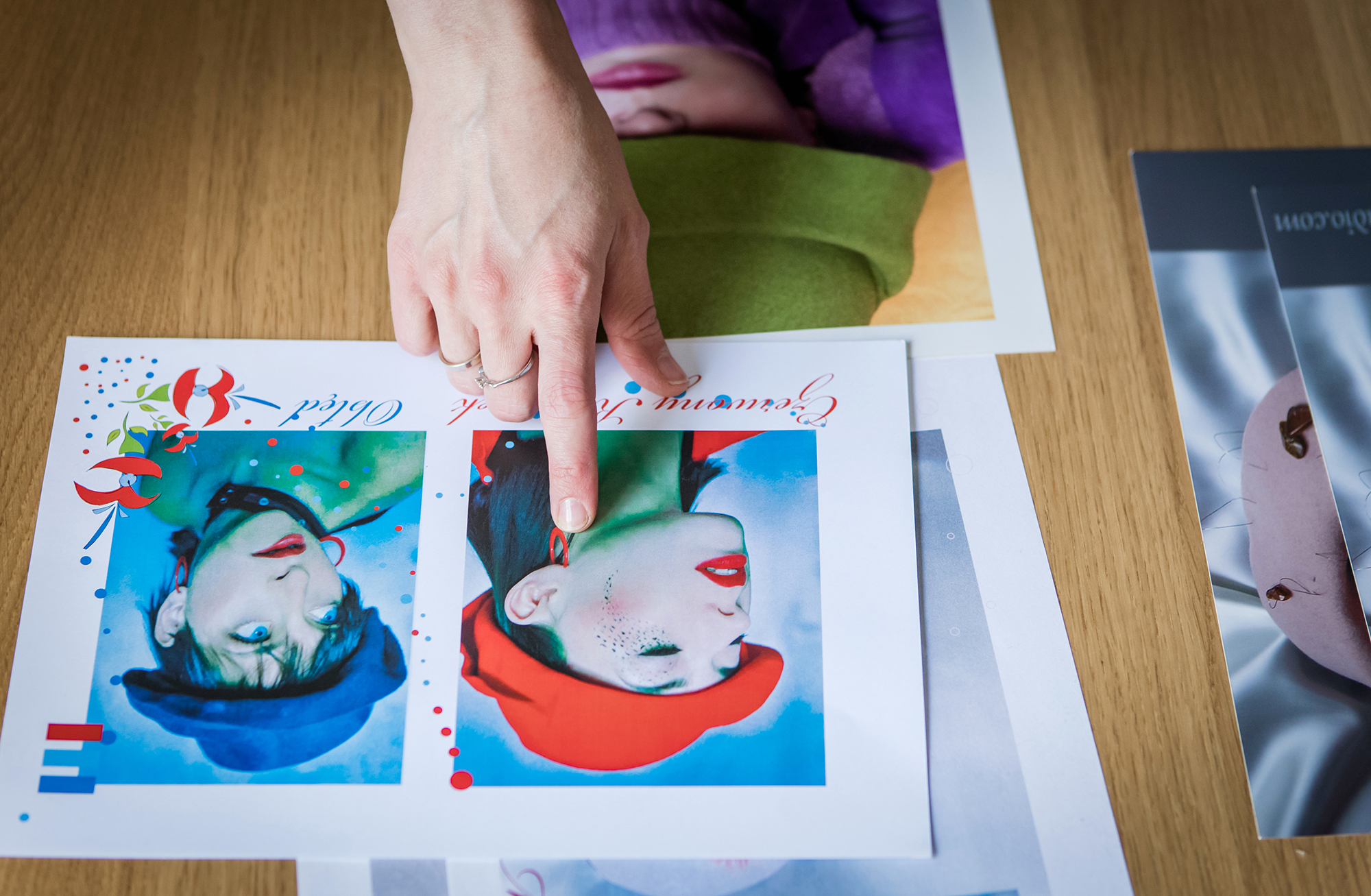 How often do you design and make them?
JTG: I make them once in a while. I enjoy the creation process itself. Matching the colors, shapes, accessories. The process of creation relaxes me. Sometimes I make hats for a special individual order, to match a specific coat, shawl, or for a gift.
One could say you're kind of a modern modiste 😊
JTG: I take an interest in the history of modiste and what was her role in society. I've read in one of the books about history of fashion, that a modiste was (in 18th and 19th century) some kind of a present-day stylist. She not only helped women to style a hat but also gave advices on colors, cuts and patterns of dresses. She had an artistic sense. She could match a hat to a face, gloves, handbag and other details that enhanced woman's beauty, so it pulled everything together.
You said that clothes are one of the methods of communication.
JTG: Anything that we put on ourselves: make-up, hat or clothes, jewelry, shoes, it's a form of a non-verbal communication. We are in control of our image, we decide if it's positive or negative. What we wear shows respect to others, we manifest our views and values, we give a warning, inform about a group we identify with, like uniforms of policemen, soldiers, medical service, subcultures.
Various professional groups or subcultures use these elements a lot, affecting our feelings and trust.
You create looks for women and men. Professional, business, but also daily ones. Who are your customers?
JTG: I have several groups of customers, some of them are searching for their own style, they reached a crossroad in their lives and feel like they have 'grown out' of their old style. People who want to change their jobs, get a promotion. Women who want tonotice some changes in their looks as well. There are also some women who run small businesses, they meet with their clients, subjects, potential employers on a daily basis and want to communicate better, build an image, leave an impression.
What inspires you and how does it affect your philosophy of fashion?
JTG: I'm very interested in psychology, especially the psychology of colors – how does color affect a man. I've been observingwhat people are wearing for twenty years now. I read books about psychology of fashion and clothes. I graduated from Jagiellonian University in Cracow (pl. UniwersytetJagielloński w Krakowie), faculty of management and social communication. My main interest was communication through what people are wearing. I also know that there are some illnesses that stop people from taking care of themselves. I'm also interested in the process of perception, how does our brain convert and read the visual impulses and how does it affect our emotions and interpersonal communication.
Your favorite designer…
JTG: My favorite designer is Philip Treacy. His funky hats are the pieces of art. He's a great artist, experimenter and a visionary. Sometimes his hats are minimalistic, sometimes they're monumental. He has an incredibly beautiful and individual style. He's collaborating with the biggest fashion houses and his hats are always in match with the outfits. It's not an easy task,since you need to maintain the balanceof the whole look's composition. A hat for Dior's collection must be consistent with the style of that fashion house. It's an amazing art. I like it that it's so mysterious, dreamy, crazy.
Helen Mirren – an actress, declared queen of the big screen, once said: I hate the word 'beautiful' because it's not inclusive. It's based on canons, so the stereotypes. And what does beautiful mean to you?
JTG: I strongly agree. I don't like that all the women need to fit in one beauty standard. We are so beautifully different from one another. In times of digital manipulation the image of woman's beautyis processed and far from the truth. That dissonance causes many problems.
For me the beauty of a man is a subtle mystery that hides in diversity and complexity of the elements of human body and soul.The true natural beauty is imperfect and temporary. Woman's beauty blooms when she has a connection withself-worth and recognizes her individuality. We search for the beauty because it gives us sense of relief and joy. The beauty makes us forget about struggles and gives hope. You can read about it in my book 'Nieporównywalniepiękna. Odkryjswójstyl I ukaż go innym' (eng.Incomparably beautiful. Discover your style and show it to others).
Where is your strength coming from?
JTG: It comes from the friendship with my husband, the love of my children and the Christian meditation,thathelps me build a personal connection with God. I love walks and slow jogging,that helps me charge my batteries. My strength comes also from meetings and talks with people with life wisdom.
If you had to choose one piece of clothing that represents a person and their style in a special way, it would be…
JTG: A hat 😊 Women who wear hats are unique, brave, know their worth and don't let anything get to them. When we put something on our heads we become more visible, but we can also become more mysterious.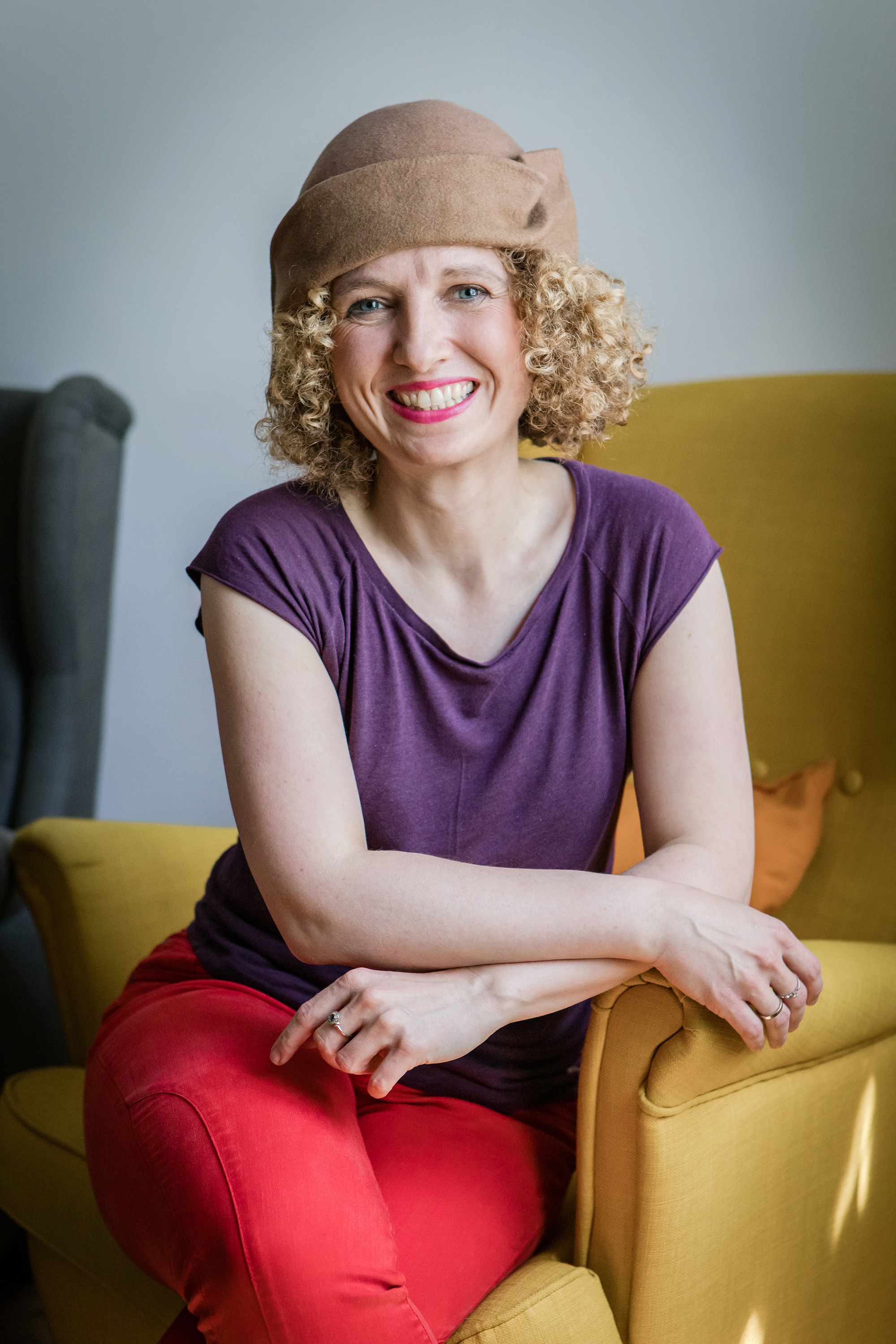 What are you reading at the moment?
JTG: It's a book by professor Karen J. Pine – a psychologist working with people with depression, amongst others. It's called 'Mind what you wear. The psychology of fashion'.
What else do you want to achieve in life?
JTG: I dream about making a 6-months online program for discovering and creating your own style. I want to educate and help women increase their self-worth and develop an artistic approach to life. I would like to create a community of supportive and kind women who are going to change the world, the one on a micro level, the local and, therefore, the global one too.
We wish for all your dreams to come true!
---
Interview from June, 2019.
Interviewer: Joanna Zawierucha-Gomułka / Rzeczy Piękne
Photos: Bartosz Cygan © Rzeczy Piękne
Translator: Dagny Zawierucha
*
Joanna's website: www.dostrajanie.pl
---
The project is financed by 'Stypendium Twórcze Miasta Krakowa'